Donald Trump U.K. Visit: President Arrives as Protesters Prepare to March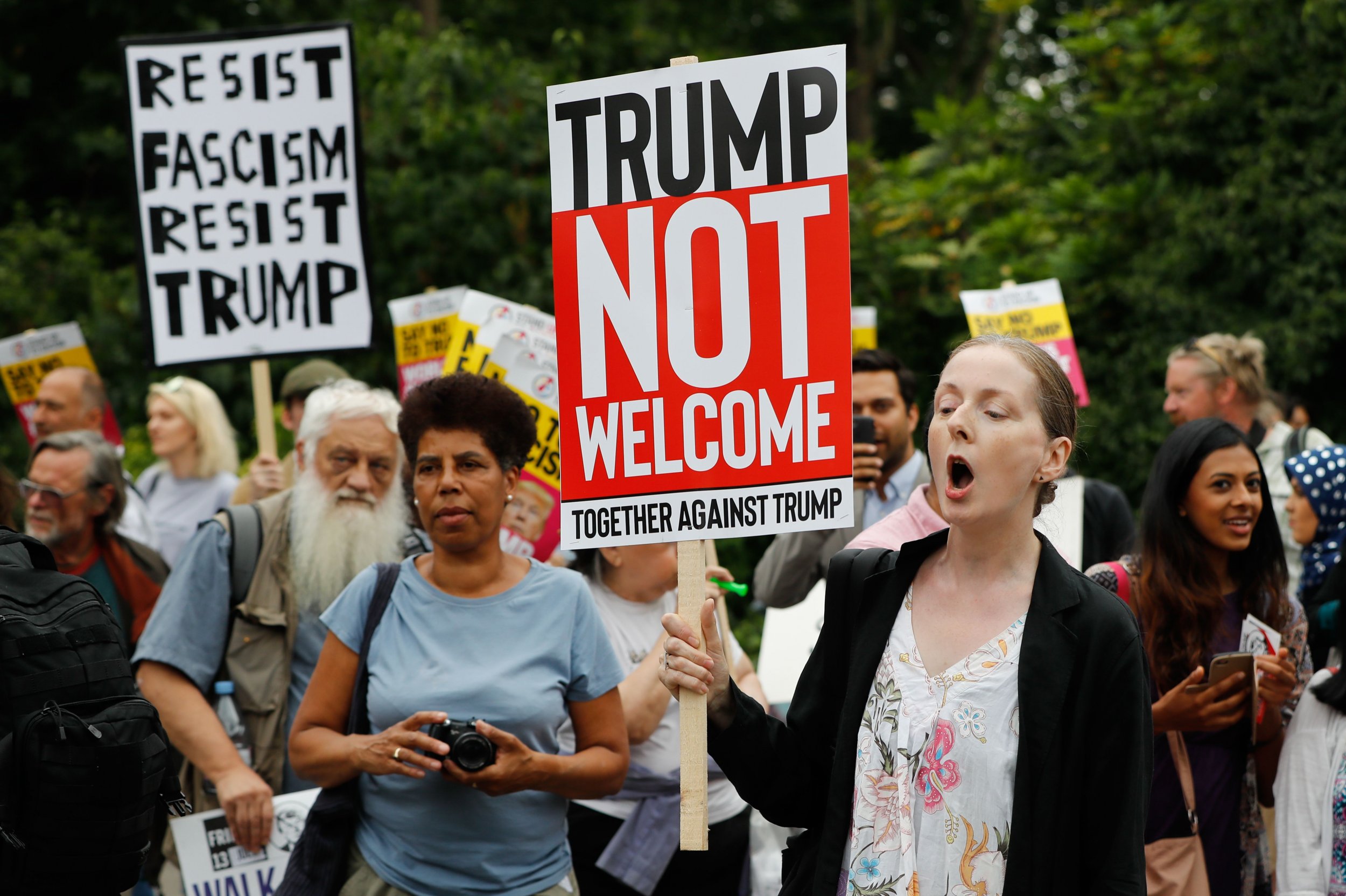 President Donald Trump has arrived in the U.K. to begin his first visit to the country as America's commander in chief.
Trump arrived from the NATO summit in Brussels, touching down at Stansted Airport, 42 miles northeast of London. He then boarded a helicopter alongside first lady Melania for the journey to the U.S. Embassy in London, the BBC reported.
The president will spend the vast majority of his time outside of London and other major cities, where mass demonstrations have been planned to protest his visit. Trump is not popular among Britons, and this is especially true in London, whose mayor, Sadiq Khan, has criticized Trump several times.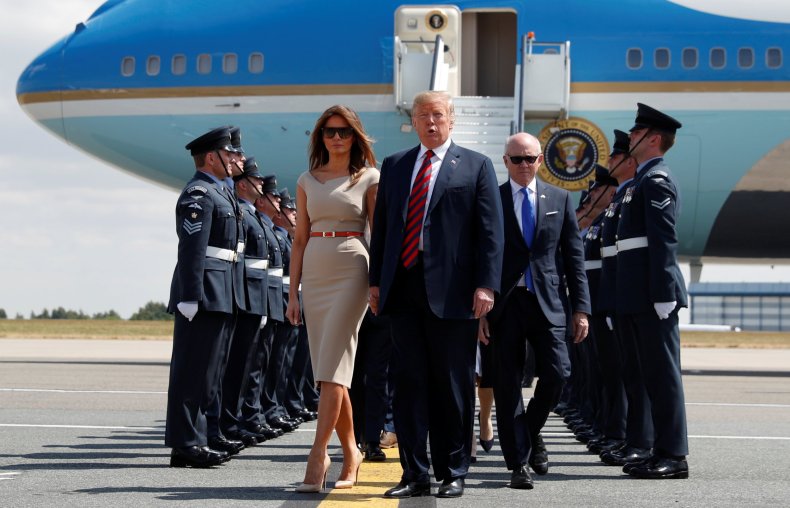 The Stop Trump campaign is putting together a large march in central London on Friday, and tens of thousands are likely to participate. Organizers expect there to be a relaxed carnival atmosphere, and the "Trump Baby" protest balloon will be floating above the marchers. The mayor gave permission for the 20-foot inflatable to be flown.
As Trump landed, the London mayor's office released a statement calling on demonstrators to be "peaceful and good spirited." To those who are bent on violence or disruption, Khan said, "You are not welcome."
"I know Londoners are resolutely opposed to the politics of fear and despair," the statement read. "The U.S. has always stood by our side as a beacon for tolerance, openness and respect. This protest is not anti-American—far from it. Most of those marching on Friday will love the United States, just as I do."
As Air Force One landed, activists unfurled an enormous banner across Vauxhall Bridge in central London—across from the new American Embassy—which read, "Donald Trump: Human Rights Nightmare."
The first part of the president's working visit will be a black-tie reception at Blenheim Palace, a stately home northeast of London where legendary Prime Minister Winston Churchill was born. He will be hosted by Prime Minister Theresa May and joined by a range of business leaders.
Security is tight around the rural Oxfordshire town of Woodstock, where the palace is located. VIP guests and protesters will be there, though the latter will be kept away from the main estate and confined to the public spaces along the road leading to the venue.
As the big London protest kicks off Friday, Trump and May will head to a counterterrorism demonstration by British and American special forces at a secret location. Afterward, the two will join the new British foreign secretary, Jeremy Hunt for talks and a working lunch at Chequers, the prime minister's country retreat.
Trump will then join Melania Trump to have tea with the queen at Windsor Castle, the seat of the British royal family. After that, the couple will fly to Scotland, where they will spend the weekend.