Trump Demands To Meet Whistleblower After Lawyers Say President Has Already Put Their Client's 'Personal Safety' At Risk
President Donald Trump escalated his attacks against the anonymous whistleblower at the center of the Ukraine call controversy that could soon see the U.S. leader impeached. The president's comments came on Sunday, just a day after the whistleblower's lawyer warned that the president's earlier remarks were already putting their client's "personal safety" at risk.
In a letter addressed to Joseph Maguire, the acting director of National Intelligence, the anonymous whistleblower's lawyer, Andrew Bakaj, warned on Saturday that Trump's public outrage over the whistleblower's report had already created "serious concerns for our client's personal safety."
"The events of the past week have heightened our concerns that our client's identity will be disclosed publicly and that, as a result, our client will be put in harm's way," Bakaj said of the whistleblower, who flagged concerns around Trump pressuring Ukrainian President Volodymyr Zelensky to investigate 2020 presidential candidate Joe Biden and his son in a July phone call.
Of particular alarm, the lawyer said, were Trump's comments on Thursday, demanding to know "who's the person that gave the Whistleblower the information, because that's close to a spy."
"You know what we used to do in the old days when we were smart? Right? With spies and treason, right?" Trump said at the time. "We used to handle them a little differently than we do now."
"The fact that the President's statement was directed to 'the person that gave the Whistleblower the information' does nothing to assuage our concerns for our client's safety," Bakaj said in the letter. "Moreover, certain individuals have issued a $50,000 'bounty' for 'any information' relating to our client's identity," he said.
"The purpose of this letter is to formally notify you of serious concerns we have regarding our client's personal safety," Bakaj said, before suggesting that the National Intelligence office had already offered support "to activate appropriate resources to ensure [the whistleblower's] safety."
Previously, a tweet from CBS's 60 Minutes had suggested that the whistleblower was already under federal protection. However, the whistleblower's co-counsel Attorney Mark Zaid responded that the contents of the letter was "completely misinterpreted," before publishing the letter in full online.
Still, Bakaj's letter suggests that the whistleblower's legal team has serious concerns about their client's safety.
And "unfortunately," Bakaj predicted in the letter, "we expect this situation to worsen, and to become even more dangerous for our client and any other whistleblowers, as Congress seeks to investigate this matter."
Worsen it did, as on Sunday evening, just a day after the letter would have been sent, Trump demanded to meet his "accuser, especially when this accuser, the so-called 'Whistleblower,' represented a perfect conversation with a foreign leader in a totally inaccurate and fraudulent way."
The U.S. leader then hit out at House Intelligence Committee Chairman Adam Schiff, appearing to take aim at his recent parody of the president: "His lies were made in perhaps the most blatant and sinister manner ever seen in the great Chamber. He wrote down and read terrible things, then said it was from the mouth of the President of the United States."
"I want Schiff questioned at the highest level for Fraud & Treason," he said.
The president's demands for Schiff to be questioned "for fraud & treason" came as Schiff confirmed that there was a tentative agreement in the works to see the whistleblower testify before his committee.
Previously, it had been reported that the potential testimony would be reliant on the whistleblower's attorneys being able to get security clearance.
However, on Sunday, Schiff told ABC's This Week that a tentative agreement had been reached, with the whistleblower expected to provide an "unfiltered testimony."
However, he said that his committee would be "taking all the precautions we can to make sure that...we allow that testimony to go forward in a way that protects the whistleblower's identity, because as you can imagine, when the President is showing threats like, 'We ought to treat these people who expose my wrongdoing as we used to treat traitors and spies,' and we used to execute traitors and spies. You can imagine the security concerns here."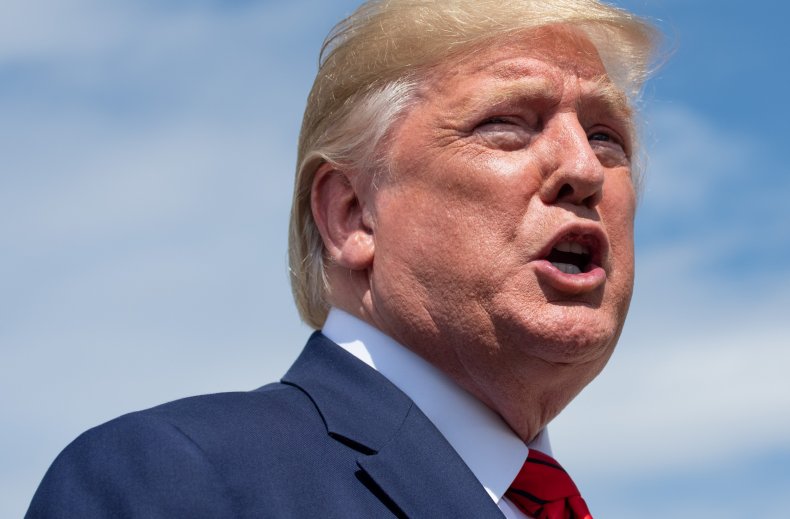 Trump Demands To Meet Whistleblower After Lawyers Say President Has Already Put Their Client's 'Personal Safety' At Risk | U.S.