Trump Firing Mick Mulvaney Would Be a 'Shiny Object Sideshow' to Distract Media and the Public, Says GOP Strategist
The ultimate firing of President Donald Trump's acting chief of staff Mick Mulvaney would be a "shiny object sideshow", a GOP strategist who has worked with a number of senior Republicans told Newsweek.
The strategist, who also worked on Mulvaney's election campaigns in the past, added that Mulvaney was never qualified for the role and that it was a "miracle" he survived in the job so long.
It comes after a series of gaffes for the former South Carolina Senator and Congressman who took the job under Trump in January of this year.
Mulvaney's days in the job are now widely considered numbered and it has been reported that Trump is already fielding suggestions for allies who could replace him.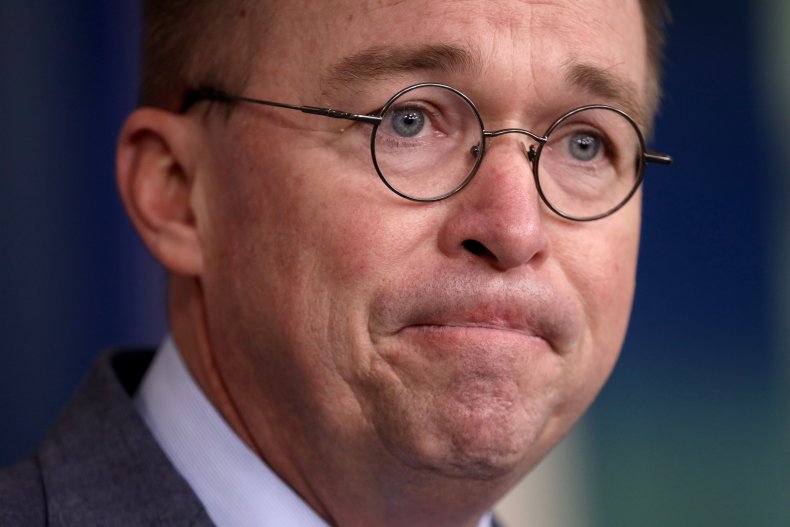 "Mick Mulvaney's ego drove him to this job," the strategist, who spoke on the condition of anonymity so he could talk freely, told Newsweek.
"He was never particularly qualified or the best fit for it. His survival has moved from a daily to hourly watch at this point.
"Frankly, what's most remarkable is how long he's survived, which has more to do with the dearth of willing—let alone qualified or competent—replacements."
Bloomberg reported on Tuesday that Trump floated the idea of replacing Mulvaney with counselor Kellyanne Conway or Treasury Secretary Steven Mnuchin, suggesting Mnuchin could be his "chief" because he had such "great ideas".
Trump dismissed the reports, however, writing on Twitter: "Wrong, never even discussed this with Kellyanne Conway or Steve Mnuchin. Just more Fake News!"
If Mulvaney was to be sacked, he would be the third person in the role to be fired—following Reince Priebus and General John Kelly—since Trump took office in 2016.
The GOP strategist told Newsweek that, in the end, it was "meaningless" who was appointed as Trump's chief of staff, acting or not.
"The president and the president alone is his own chief of staff," he said.
"The drawn-out show and drama surrounding the ultimate firing of Mulvaney and the hiring of the next person is nothing more than a Trump shiny object sideshow meant to distract the media and the masses from some other self-inflicted bazooka wound.
"I would count on the Mulvaney public hanging to coincide with a time to distract from something else."
Despite the series of blunders, in which Mulvaney appeared to confirm the Ukrainian quid pro quo allegations—stating that the U.S. withholds aid under similar conditions "all the time"—and comments made with regards to Trump's now-reversed intentions to hold next year's G-7 summit at Trump's property in Doral, Florida, people close to the White House said firing Mulvaney now would be too risky.
A former White House official told The Atlantic that if Trump fires Mulvaney, the latter could turn against him and provide evidence in the ongoing impeachment inquiry.
"Trump will be feeling the pain of having pushed out [former National Security Adviser John] Bolton at a very inopportune time," the official said.
"He won't make the same mistake with Mulvaney, however frustrated he may be with him. Now, their interests are aligned. They sink or swim together."