Donald Trump Still Won't Unblock Rosie O'Donnell on Twitter
Months after being ordered by a federal judge to unblock of Twitter users, Donald Trump finally allowed dozens of previously blocked accounts to access his social media feed. Rosie O'Donnell was not among the lucky ones.
"Still unblocked," the comedian wrote in a Twitter post late Tuesday, adding that the president is a "coward" for continuing to block her on the social media site.
Trump's unblocking spree happened months after a federal judge ordered him to do so back in May. The judge stated that blocking people from accessing his account was a violation of the first amendment. Naomi Reice Buchwald, the judge presiding over the case, wrote that her ruling was based on the fact that Trump uses the account @realDonald Trump to "take actions that can be taken only be the President as President."
The Knight First Amendment Institute at Columbia University filed the lawsuit resulting in the court ruling, and earlier this month sent a letter alerting the Justice Department that 41 Twitter accounts were still being blocked by the president. On Tuesday, Trump unblocked 20 of the users on that list. Previously blocked users include journalists, writers and political commentators.
But O'Donnell remains blocked by Trump, presumably for her outspoken criticism of his presidency. The former The View co-host has publicly feuded with the president for years, ever since she called him a "snake oil salesman" and not a "self-made man" during one of the shows in 2006.
Since then, Trump has slammed O'Donnell on multiple occasions. In 2011 the real estate mogul tweeted that he feels "sorry for Rosie 's new partner in love whose parents are devastated at the thought of their daughter being with @Rosie--a true loser." O'Donnell had just announced her engagement to then-girlfriend Michelle Rounds.
Even during his 2016 campaign, then-candidate Trump took another jab at O'Donnell. During one debate in August of 2015, moderator Megyn Kelly asked Trump about his use of language like "fat pigs" and "disgusting animals" to describe some women. Trump quickly replied "only Rosie O'Donnell," gaining him some laughter from the crowd.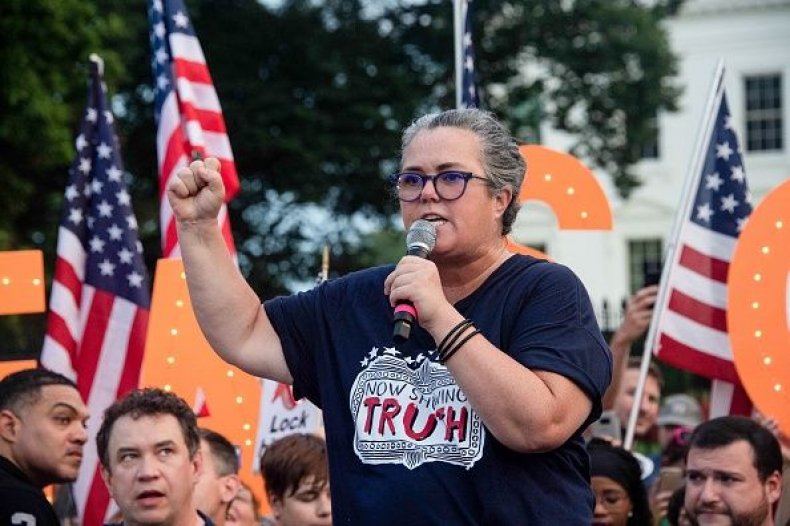 In her first interview after Trump's upset win over Hillary Clinton, O'Donnell told W Magazine that she seriously worries about "whether I personally will be able to live through [his presidency] and whether the nation will be able to live through it and survive. It's a terrifying concept, on the brink of nuclear war with a madman in charge."
Since his election, O'Donnell has remained one of Trump's most outspoken celebrity critics. Most recently, O'Donnell joined protesters outside of the White House and sang showtunes to protest Trump's presidency earlier this month. She kicked off the performance by telling protesters to "let your voice be heard. Let the president know in no uncertain terms that we are alive, awake and we are woke. We are not going away."