Trump 'Understands What Is Needed to Bring Israelis and Palestinians Together,' Says Jordan's King
King Abdullah II of Jordan has offered encouraging words on President Donald Trump's long-awaited "deal of the century," suggesting that the president knows what is required to bring the two sides to the negotiating table.
Little is known about the Middle East peace deal, responsibility for which was handed to Trump's son-in-law and senior adviser Jared Kushner.
Vague deadlines for its release have not been met, while Palestinian leaders and analysts have warned that the White House may use the proposal to bolster Israel's hard line Prime Minister Benjamin Netanyahu and undermine the beleagured two-state solution.
The Trump White House has maintained near-unquestioning support for Netanyahu's government, widely considered the most right-wing administration in Israeli history. Trump has closely aligned the U.S. with Israeli nationalists to the fury of regional leaders.
The president moved the U.S. embassy from Tel Aviv to Jerusalem, officially recognized Israeli control of the occupied Golan Heights, and said the U.S. no longer considers Israel settlements in the Palestinian West Bank illegal, going against international law.
The president has also cut tens of millions of dollars in aid to Palestinians in both the West Bank and the Gaza Strip. Relations have deteriorated to such an extent that Palestinian leaders froze relations with Washington, raising questions as to how the White House's deal can represent both sides of the conflict.
But despite all these problems, Abdullah—who has pursued a role as a moderate and pragmatic mediator in Middle East diplomacy—gave a measured appraisal of the anticipated blueprint in an interview with France 24 broadcast on Monday.
"I've had numerous discussions with President Trump on this issue," Abdullah told France 24's Marc Perelman. "I think he understands what is needed to bring Israelis and Palestinians together."
Kushner previously said the deal would be announced after Ramadan, which ended in June 2019.
But its roll out has been delayed by political turmoil in Israel, where Netanyahu—having been charged with bribery, fraud and breach of trust—has been struggling to form a new government. Two inconclusive general elections mean Israelis will once again head to the polls in March.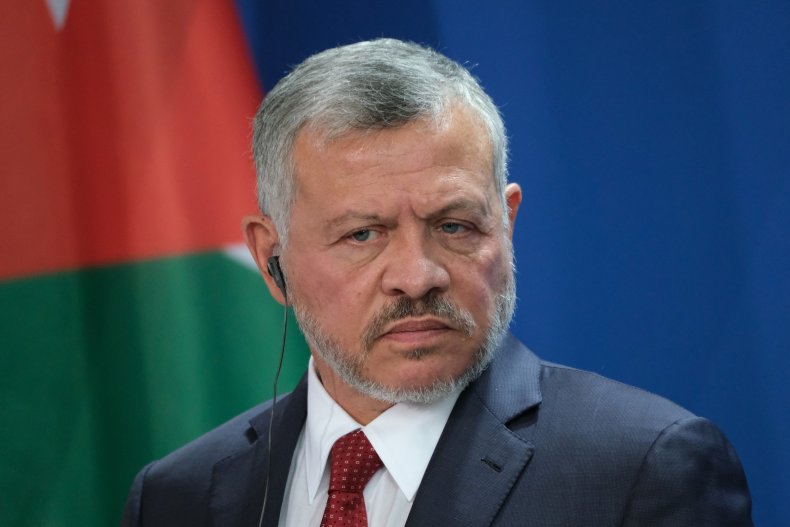 And with the U.S. gearing up for the November 2020 presidential election, it is possible the White House might again choose to hold the plan back. "We are waiting for the plan to be unveiled by the team," Abdullah said. "That has been a gray area for all of us."
Kushner gave some indication of what the plan might entail during a summit in Bahrain in June. He teased some $50 billion in incentives for the Palestinians to get on board, but failed to address the key political hurdles that have made the conflict so intractable and a peace deal so elusive.
"It's difficult for us to make positions on the plan when we don't really know what it is, and that's not a problem just for Jordan but for our European friends," Abdullah said.
The king said it is the job of other nations "to look at the glass half full—how do we build on the plan and how do we build it in such a way that we bring the Israelis and Palestinians together?"
"We are supportive of bringing the Israelis and Palestinians together, but we need to have the plan unveiled for us to be able to see it from the point of view of the glass half full."