Donald Trump Unfollowed Reince Priebus, the Ultimate Insult From a Twitter-Obsessed President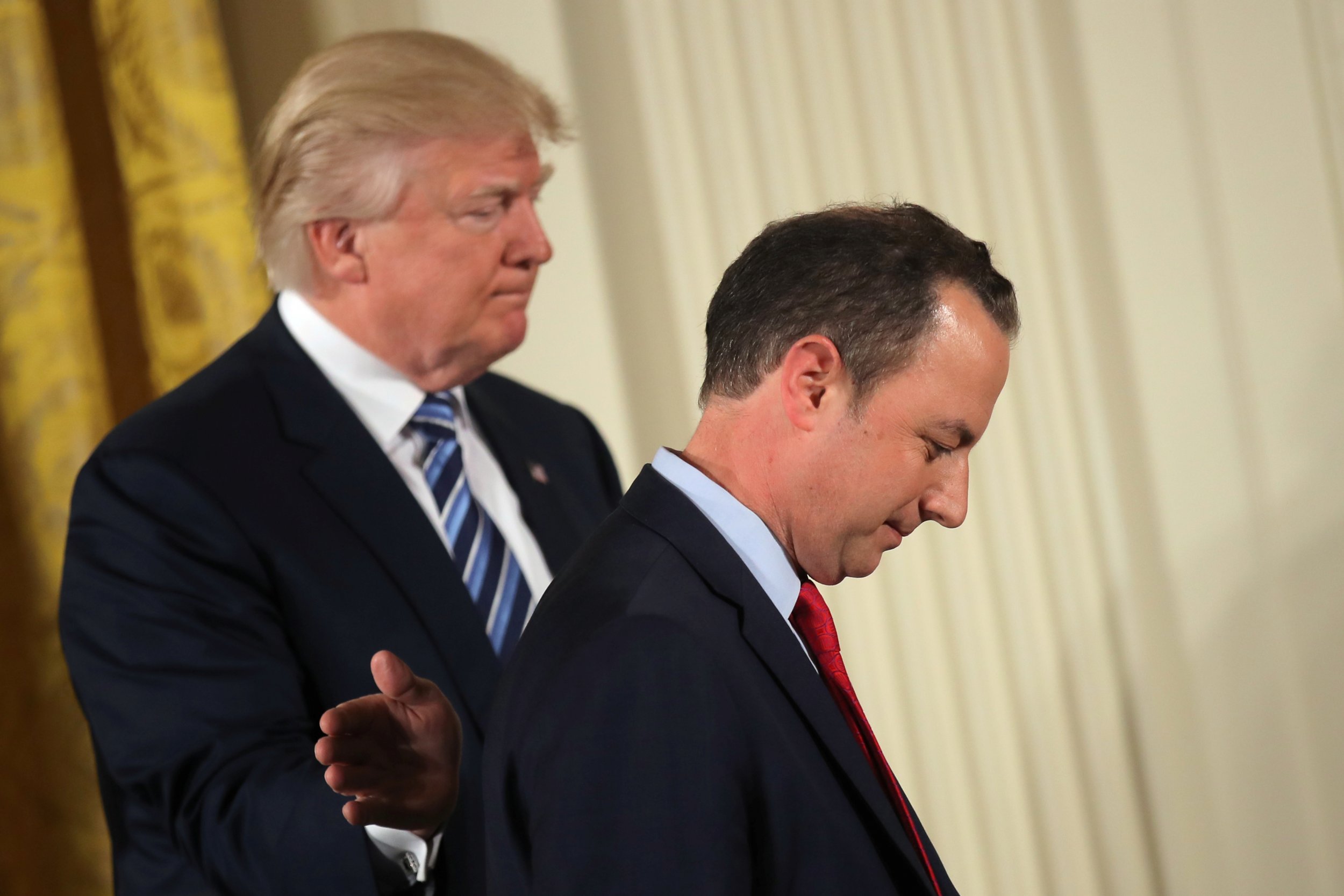 Update: 3:59 p.m. EDT— After unfollowing him earlier in the day, President Donald Trump Friday appears to have once again followed Reince Priebus, his former chief of staff. In order to keep just 45 follows—a seeming nod to being the 45th president—Trump stopped following his Waikiki property's account.
Original story:
Life comes at you fast. One minute you're the chief of staff for the president of the United States—and sure, he wasn't a perfect boss, and granted, you had to take quite a bit of heat from pretty much everyone, but you were the White House chief of staff—the next, you're out of a job and the president has unfollowed you on Twitter.
Such is the fate of Reince Priebus, the first chief of staff to President Donald Trump. On Friday, it was revealed—shoutout to the incredibly useful Twitter account @TrumpsAlert—that Trump no longer followed Priebus. This could have been a block or a suspension, but it most likely was the president unfollowing Priebus to make way for Sarah Huckabee Sanders, the White House communications director.
Trump follows just 45 accounts on Twitter—seemingly a self-congratulatory nod to being the 45th president—and it seems Priebus got the ax to keep things neat, because the unfollow came just seconds after the president followed Huckabee-Sanders's account, @PressSec.
It's hard to overstate how much Trump values Twitter. He uses it as his direct line to the entire world, a way to dish out unfiltered tirades and even possibly inch the entire country closer to war. It's a tool for immediate headlines. Here's what he told a German newspaper before taking office about holding onto his personal account.
"I'd rather just let that build up and just keep it @realDonaldTrump, it's working—and the tweeting, I thought I'd do less of it, but I'm covered so dishonestly by the press—so dishonestly—that I can put out Twitter—and it's not 140, it's now 140, 280—I can go bing bing bing and I just keep going and they put it on and as soon as I tweet it out—this morning on television, Fox—"Donald Trump, we have breaking news."
So, a quick glance at the accounts Trump does still follow might be a good window into whom and what he values. Of course, high-profile names in his adminstration are followed, such as Vice President Mike Pence and adviser Kellyanne Conway. Family members like Donald Trump Jr., Eric Trump and even Tiffany Trump made the cut. Things Trump owns remain, like the Trump Organization account, the Trump Golf account, the Trump Charlotte account, the Trump L.A. account, the Trump D.C. account, the Trump Hotel Chicago account, the Trump Doral account, the Trump Vegas Hotel account and the Trump Waikiki account. Many right-wing personalities get the rare follow, too, like Laura Ingraham, Sean Hannity, Ann Coulter, Geraldo Rivera and Eric Bolling. Then there's a smattering of what we can call randoms, such as the professional wrestling chieftain Vince McMahon, golf legend Gary Player and actress/producer Roma Downey.
But Priebus, his follow is no more. The former chief of staff was pushed out of the White House in late July (although it feels like many moons ago) after about six turmoil-filled months on the job, to make way for General John Kelly.
"Reince is a good man," Trump told reporters on a rainy tarmac at the time. "John Kelly will do a fantastic job. General Kelly has been a star, done an incredible job thus far, respected by everybody, a great, great, American. But Reince Priebus—a good man."
A good man, but apparently not a good follow on Twitter.