Donald Trump Tries to Assuage Union Leaders Who Opposed Him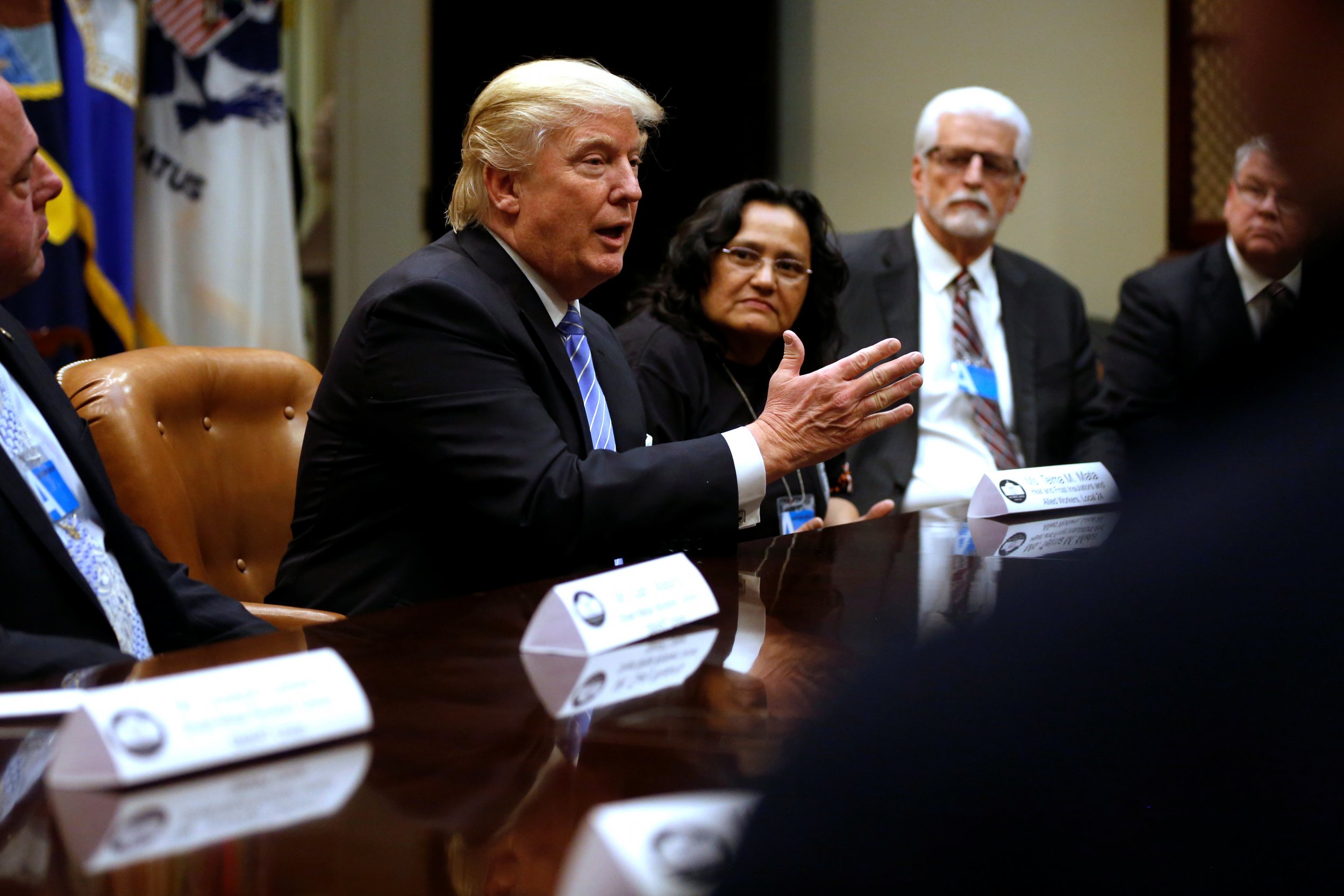 Shortly after issuing an executive order to withdraw the United States from the Trans-Pacific Partnership (TPP) trade deal on Monday, President Donald Trump met with union leaders, saying that conditions for doing business in the U.S. will improve under his administration.
"This is a group that I know well, whether personally or just because I've hired thousands and thousands and thousands of you," he said during a portion of the meeting that was open to the press.
Related: Trump Moves to Restrict Abortions Internationally
Trump vowed to stop "ridiculous" trade deals and informed them that he had "officially terminated" the TPP, which those in attendance applauded. He also told them he would renegotiate the North American Free Trade Agreement (NAFTA) "at the appropriate time" and added that they should expect building projects and plant expansions under his administration.
The meeting came amid a busy first full weekday for the new administration, which included meetings with business and Congressional leaders and implementing a hiring freeze on federal employees. Trump also reaffirmed an existing law from the 1980s that prohibits federal funding to American non-governmental organizations abroad that counsel on the subject of, or advocate for, abortions.
At the union meeting, about a dozen people were seated at the table, many if not all from construction labor organizations that represent carpenters, sheet metal workers, plumbers, welders and other laborers. Top Trump White House staff members, including Steve Bannon and Kellyanne Conway, were also present.
At one point, Trump noted how he had hired sheet metal workers for one of his projects, "a big one right over, down the street," he said, referring to his hotel in Washington, D.C.'s Old Post Office building. "You guys did a great job," he added. However, Newsweek's Kurt Eichenwald has reported that Trump has purchased steel and aluminum from manufacturers in China for at least two recent construction projects, in Las Vegas and Chicago. A Trump spokesperson did not respond to Eichenwald's request for comment for that article.
Trump has had a rocky relationship with at least some union leaders. In November, after the election, he claimed to have helped persuade Carrier to keep around 1,000 jobs in the United States that the company had planned to move to Mexico. However, Chuck Jones, president of United Steelworkers 1999, which represents Carrier employees, said the number was lower. Trump responded by tweeting that Jones had "done a terrible job representing workers," and saying, "No wonder companies flee the country."
"He needs to worry about getting his Cabinet filled," Jones responded in an interview with The Washington Post, "and leave me the hell alone."
During the 2016 election, unions generally endorsed Hillary Clinton, says Richard Hurd, a professor of labor studies at Cornell University, except for the National Border Patrol Council, which represents Border Patrol agents and endorsed Trump. The endorsements for Clinton were likely due to the fact that Trump did not do as much outreach to the labor movement as Clinton did during the campaign, according to Hurd. Exit polling data cited by The Washington Post and Politico suggest that Clinton performed eight points better than Trump in households where someone is a union member, which is not a large lead. Politico notes that in the previous election, Barack Obama was up among union households by 18 percent.
At least two of the unions represented on Monday had been vocal in their endorsements of Clinton. One, the United Brotherhood of Carpenters, had circulated a document before the election saying, "Trump's legacy will ruin America." The magazine of the Northern California Carpenters Regional Council quoted the union's general president, Doug McCarron, who was at Monday's meeting, as saying, "Trump is 100 percent against us and every other union," and that "this election is a clear choice, between an enemy of unions and a proven friend of working families."
Despite his former opposition to the New York real estate mogul, McCarron is known as having been a close ally of President George W. Bush, who while in office was unpopular with union leaders. After the November election, McCarron wrote in a letter to union members, "Although President-elect Trump is not the candidate the UBC endorsed to try to address these issues, nonetheless we will now work with him to find common ground such as on infrastructure spending." The Laborers' International Union of North America, whose general president was also at Monday's meeting, endorsed Clinton too.
As those union leaders met on Monday, some who didn't attend the gathering criticized Trump for implementing a hiring freeze on federal workers. "President Trump's action will disrupt government programs and services that benefit everyone and actually increase taxpayer costs," American Federation of Government Employees President J. David Cox told The Washington Post.
Hurd, the Cornell professor, says it makes sense that many if not all of the leaders at Monday's meeting were from the construction sector. "It shows that he wants to solidify his relationship with the part of the labor movement that he has the best chance of working with," Hurd says. "He has a long-term relationship with [construction unions] because in certain parts of the country, his hotels and casinos have been built with union labor." The professor speculates that during the closed-door portion of the meeting, the president and leaders likely discussed pipelines, energy policy and prevailing wage, the federal law that requires workers on construction projects be paid at market raid. The 2016 Republican Party platform proposes to repeal that wage law.
In a separate meeting on Monday, Trump gathered with business leaders including Dow Chemical CEO Andrew Liveris, Lockheed Martin Chairwoman, President and CEO Marillyn Hewson and Tesla and SpaceX CEO Elon Musk, the latter of whom is a member of Trump's Strategic and Policy Forum. The president told the attendees that he would meet with them regularly and that he plans to cut regulations for companies by 75 percent or more. He also said companies would receive a substantial tax decrease, adding, "You're going to get such great service. There will be no country that's going to be faster, better, more fair and at the same time protecting the people of the country."
Trump's meeting with union and business leaders seems in line with his campaign promise to restore manufacturing jobs. In his Inauguration speech last Friday, he spoke of politicians reaping rewards while "the jobs left and the factories closed," and described "rusted-out factories scattered like tombstones across the landscape of our nation." He also said, "We must protect our borders from the ravages of other countries making our products, stealing our companies and destroying our jobs."
Fifty-eight percent of Trump voters believe that job opportunities are a "very big problem," compared to 43 percent of Clinton voters, according to Pew Research Center.
But economists say it is not bad trade deals or the offshoring jobs to Mexico that have killed American jobs, but automation, a centuries-old problem that is accelerating as technology gets smarter and cheaper to produce. The strategy should be training workers in the skills of today and tomorrow, not cutting deals to save a few hundred manufacturing jobs here and there, according to economists.
"The main reason that we've had stagnating middle class wages is not that manufacturing jobs have been outsourced to China or Mexico," Erik Brynjolfsson, an MIT professor and co-author of The Second Machine Age: Work, Progress and Prosperity in a Time of Brilliant Technologies, has told Newsweek. "It's that the economy is changing in a way that we can produce more manufacturing output than ever in America, but we require fewer workers to produce that record amount of output."