Trump Remains Unpopular as Approval Rating Dips Slightly This Month, Poll Finds
President Donald Trump's approval rating this month dipped ever-so-slightly compared with his popularity in April, according to a new poll from the American Research Group. It was just a 1 percentage point drop, but the survey found that, overall, Trump remained quite unpopular with Americans.
The survey from the American Research Group pegged Trump's approval rating at 37 percent. That was down from 38 percent in April. The president's disapproval rating, meanwhile, rose from 56 percent in April to 58 percent in May, according to the new survey. There was, predictably, a divide along party lines for rating Trump's job performance—82 percent of Republicans approved compared with 6 percent of Democrats.
The American Research Group poll interviewed 1,100 U.S. adults from May 17 through May 20. It had a margin of error of plus or minus 3 percentage points.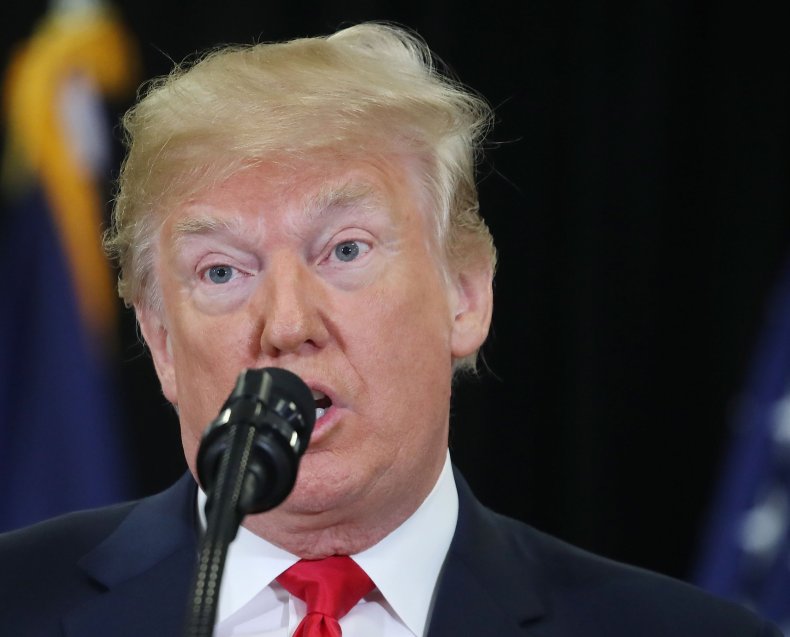 Overall, the survey from the American Research Group has Trump's popularity a bit lower than the average. Data-focused website FiveThirtyEight pegged Trump's average approval rating at 42 percent on Tuesday morning. It had Trump's average disapproval at 52.7 percent. The FiveThirtyEight tracker aggregates public polls and weights for each survey's quality, recency, sample size and any partisan leanings.
Still, even by FiveThirtyEight's measurement, the former reality star-turned-president remains quite unpopular. Trump is at Day 487 of his presidency—at that same point, dating back to the Truman administration, only former President Jimmy Carter had a worse approval rating than where Trump stands now, according to FiveThirtyEight's tracker.
Trump clearly cares about polling and often tweets about the Rasmussen survey, which has reliably found his approval rating to be higher than most other firm's findings.
"Rasmussen just came out at 51% Approval despite the Fake News Media," Trump tweeted last month, for instance. "They were one of the three most accurate on Election Day. Just about the most inaccurate were CNN and ABC News/Washington Post, and they haven't changed (get new pollsters). Much of the media is a Scam!"
The latest tracking figures from Rasmussen had Trump at 50 percent approval on Tuesday, up 3 percentage points from the day prior.