Donald Trump Is Unpopular, but Polls Indicate Independents Are Split and President Could Win in 2020
A new poll released this week found that in a hypothetical ballot pitting President Donald Trump against a hypothetical Democrat, the candidates would garner an equal amount of support from independents. That's another signal that, despite Trump's relative unpopularity outside his base, the upcoming presidential race could be tight.
The FiveThirtyEight tracker—​which aggregates public polls, adjusting for recency, sample size and partisan lean—pegged Trump's approval rating at 41.4 percent on Thursday. Using FiveThirtyEight's historical data dating back to President Harry Truman, only one president had a lower approval rating on Day 790 of his tenure: Ronald Reagan, who stood at 41.1 percent.
But by no means does that rule out Trump winning in 2020.
The poll this week from The Economist/YouGov asked: "If the election for president were held today with Donald Trump as the Republican running against a Democratic Party candidate, who would you vote for?"
Among all respondents, a generic Democrat edged out Trump at 39 percent to 35 percent for the president. As for how they would vote, 13 percent responded "it depends," and another 13 percent said they would not vote. Democrats, by and large, voted for the hypothetical Democratic candidate and Republicans voted mostly for Trump.
Independents were split evenly. Twenty-six percent they would vote for Trump and 26 percent said they would vote for the Democrat. Twenty percent of independents responded "it depends," while 27 percent said they would not vote, according to the survey from The Economist/ YouGov.
The poll surveyed 1,500 U.S. adults from March 17 through March 19. It had a margin of error of plus or minus 3 percentage points.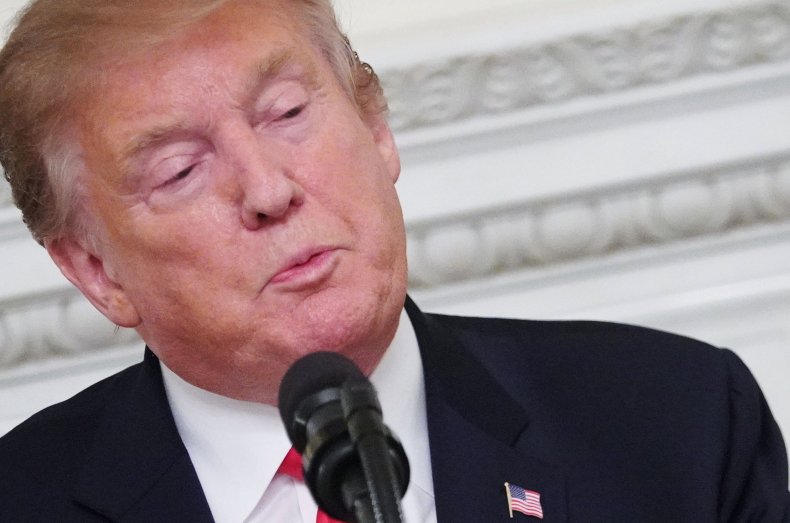 Even when Trump was pitted against specific Democrats, current polling suggests most races would be close. On Wednesday, a poll from Emerson College found that nearly every Democratic candidate would face a tight race against Trump today. The survey found that out of the current top Democratic candidates—Senators Kamala Harris, Bernie Sanders and Elizabeth Warren, and former Representative Beto O'Rourke and former Vice President Joe Biden—only Biden had a lead outside the margin of error in a hypothetical matchup with Trump. O'Rourke, who had only recently announced his presidential run, trailed Trump by 2 percentage points.
That said, there's still a long way to go until the 2020 election.
"I expect a lot of movement," Spencer Kimball, director of Emerson College Polling, told Newsweek on Wednesday. "As I tell our students, [former New York City Mayor Rudy] Giuliani at this point was going to be the Republican candidate in 2008."