Donald Trump Unveils New Space Force Emblem, Twitter Points out Similarities to 'Star Trek' Starfleet Logo
President Donald Trump revealed the logo design for the United States Space Force on Twitter Friday. However, some fans of the Star Trek franchise thought the logo looked a tad familiar.
Owned by Paramount Studios and created by the late Gene Roddenberry, films and television series in the Star Trek saga tell the futuristic tales of members of Starfleet Command who engage in a mostly peaceful exploration of outer space.
"After consultation with our Great Military Leaders, designers, and others," Trump tweeted, "I am pleased to present the new logo for the United States Space Force, the Sixth Branch of our Magnificent Military!"
Similarities between the Space Force graphic and the logo for Star Trek's Starfleet Command were pointed out by Microsoft's Ned Pyle.
George Takei, who played helmsman Hikaru Sulu in the original Star Trek series and subsequent films tweeted, "Ahem. We are expecting some royalties from this..."
Commentator Andy Levy tweeted that it was "not surprising that the liberal history books refuse to give trump credit for planting the seed of what over the centuries grew to be the finest peacekeeping force the galaxy has ever known."
The United States Space Force, a new branch of the U.S. Air Force, was signed into law in December 2019. Designed to combat threats to U.S. interests in space such as military and communications satellites, the Space Force is also expected to "institutionalize advocacy of space priorities to provide for the common defense in all domains and further build space warfighting culture," according to a February 2019 press release from the Department of Defense.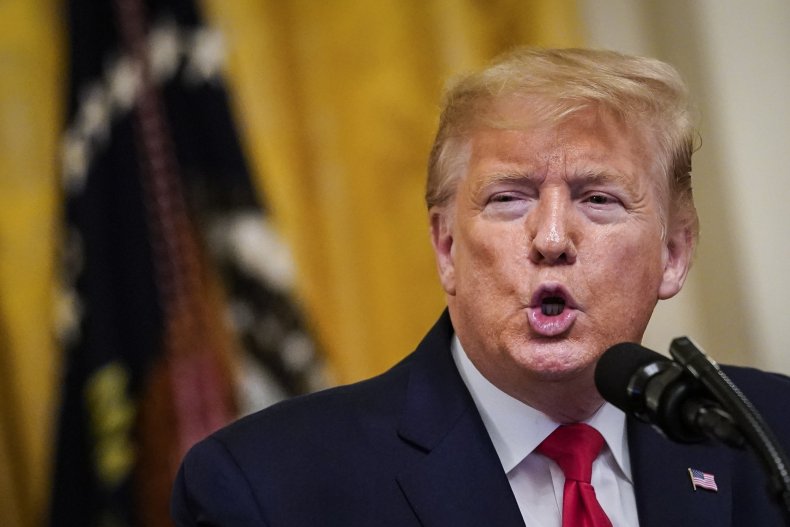 Trump has been known to use the intellectual property of other artists without their permission in the past, particularly musicians.
British rock band The Rolling Stones have issued many complaints about Trump using their music during his campaign rallies. Their song "You Can't Always Get What You Want" has become a staple during Trump's campaign stops. In 2016, Rolling Stones lead singer Mick Jagger admitted that he couldn't make Trump stop using the band's music.
"The thing is, when you appear in America—not everywhere but in America—if you're in a public place like Madison Square Garden or a theater," Jagger explained in a video, "you can play any music you want and you can't be stopped. So if you write a song and someone plays it in a restaurant you go to, you can't stop them. They can play what they want."
Other artists who have not been asked permission by Trump to play their music include Aerosmith, Adele, Queen and Neil Young.
Young wrote on his website that Trump "does not have my permission to use the song 'Rockin' in the Free World' at his appearances. Legally, he has the right to, however it goes against my wishes."