Donald Trump Urges American Pastor to Be 'Great Patriot Hostage' as Diplomatic Fight With Turkey Worsens
As the diplomatic crisis between the U.S. and Turkey continues to escalate, President Donald Trump urged Andrew Brunson, an evangelical pastor who had been jailed in Turkey for two years, to be a "great patriot hostage."
In a late-night tweet on Thursday, Trump accused Turkey of having taken advantage of the United States for many years.
"They are now holding our wonderful Christian Pastor, who I must now ask to represent our Country as a great patriot hostage. We will pay nothing for the release of an innocent man, but we are cutting back on Turkey!" the president tweeted.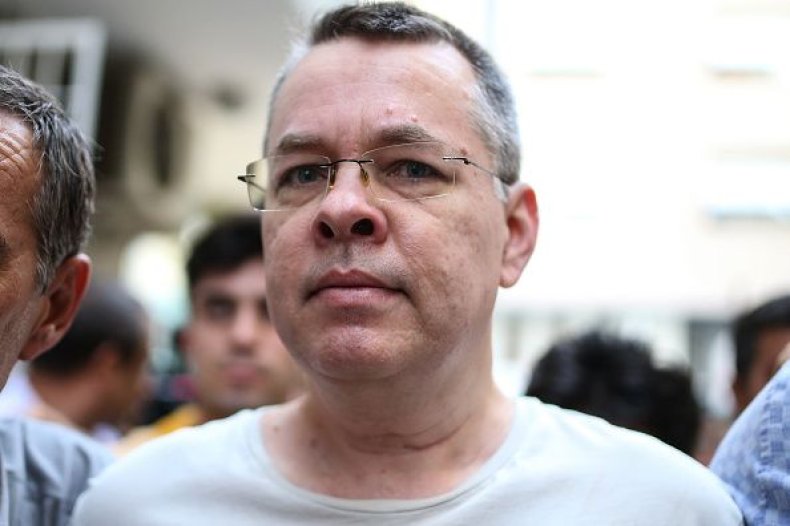 Brunson had been living in Turkey for decades before he was arrested in 2016 and accused of supporting a failed military coup that attempted to oust the country's President Recep Tayyip Erdogan. The pastor has maintained his innocence, and the U.S. has been lobbying for his release. Vice President Mike Pence, also an evangelical Christian, is particularly interested in Brunson's case and has spoken out against his imprisonment. If the religious leader is found guilty, he could spend up to 35 years in prison.
Turkey recently released Brunson from jail and put him under house arrest as his trial continues. On Friday, a high court in Izmir upheld the decision of a lower court to keep Brunson under house arrest and maintain his travel ban.
Meanwhile, Trump has grown increasingly angry about the fact that Turkey refuses to release the pastor and allow him to return home. The U.S. used the Global Magnitsky Act to sanction two Turkish government ministers, and Trump said he planned to hit Turkish steel and aluminum exports with steep tariffs. The announcement worsened a burgeoning economic crisis in Turkey.
Ankara immediately retaliated by hitting around $533 million worth of U.S. imports with tariffs. Erdogan urged Turkish citizens to trade in any dollar reserves they have for Turkish lire to support the currency whose value is plummeting. He also urged Turks to boycott U.S. electronic devices such as iPhones.
Still, economists said more was required to renew confidence among investors and prop up Turkey's economy, which is teetering on the edge of a disaster. Erdogan is refusing to raise interest rates, which could quell rising inflation and make Turkish bonds more attractive to investors.
Instead, Turkey's trade minister said Friday that the country would retaliate against any new tariffs or sanctions implemented by the U.S.