Donald Trump Says U.S. Will Block China From Expanding to the Arctic: 'We Won't Let It Happen'
President Donald Trump has warned that the U.S. will not allow non-Arctic nations to interfere in the region, which is fast becoming the next battleground for great power competition.
During his Wednesday meeting with Finish President Sauli Niinisto, Trump said that the U.S., Finland and other Arctic nations were working together "to advance stability, freedom of navigation and respect for national sovereignty in the Arctic," where new economic opportunities and political tensions are emerging as a result of climate change.
The race for control of and influence in the Arctic is already well underway. Rising global temperatures are causing sea ice to recede, opening new sea lanes and natural resource deposits to exploitation.
Trillions of dollars worth of untapped oil, natural gas and other resources could be uncovered as the ice melts. The nations that make up the Arctic Council—Canada, Denmark, Finland, Iceland, Norway, Sweden, Russia, and the U.S.—are all eyeing the opportunities.
But China—which refers to itself as a "near-Arctic state"—also wants a piece of the action, despite not being an Arctic nation.
Last year, China announced its intention to develop a "Polar Silk Road" route through the region, constructing infrastructure and opening new shipping lanes through the warming waters.
On Wednesday, Trump said that the U.S. will not tolerate Arctic interference from non-Arctic nations. In an apparent warning to China, the president said the region must be "free from external intrusion, interference, and coercion."
"Simply put, we believe that the affairs of the Arctic should be governed by the actual nations of the Arctic," he added. "And, as you know, there are other people coming into the Arctic, and we don't like it. And we can't let it happen, and we won't let it happen."
Russian state news agency Tass cited a high-ranking White House official who told journalists that Trump is concerned by China's growing focus on the Arctic.
Niinisto concurred on the importance of the region, though took the opportunity to stress the threat of man-made climate change. Trump has repeatedly poured scorn on human-drive global warming, which the vast majority of scientists agree is occurring. The president has even claimed it is a hoax concocted by China to make money.
The graphic below, provided by Statista, illustrates the decline in Arctic sea ice cover over recent decades.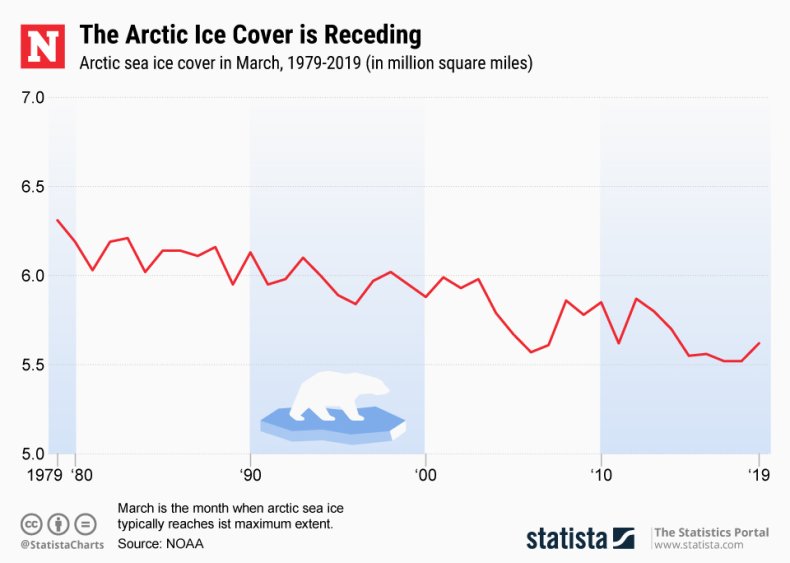 Niinisto said the Arctic area "is becoming more and more interesting." But he warned that alongside the economic opportunities come "huge risks."
One risk is militarization, which Niinisto urged Trump to avoid. "It is not a place for military," he said. But the changing environment is the greatest challenge, Niinisto added. "Melting of sea ice in [the] Arctic is very crucial. I used to say that if we lose the Arctic, we lose the globe."
Though Trump is keen to exploit America's Arctic access, Russia is currently leading the race for influence there. Almost half of all Arctic coastline belongs to Russia, and President Vladimir Putin has ordered a spending spree to establish military bases and infrastructure in the country's far north.
Hulking ice breaker ships are a key part of the strategy. Moscow currently has at least five operational icebreakers, compared to America's two. And by 2035, Putin wants Russia to be operating at least 13 heavy-duty icebreakers of which nine will be nuclear-powered.