Trump's Wall Bulldozing a Butterfly Sanctuary Would Be a 'death Sentence', Say Campaigners
Campaigners and environmentalists have warned the construction of the proposed US-Mexico border wall could be a "death sentence" for America's most diverse sanctuary.
Last week, the US Supreme Court ruled President Donald Trump and his administration will be allowed to waive 28 federal laws and begin construction on 33 new miles of the border wall, which will run through the Rio Grande Valley.
Read more: Trump claims Mexico is still "paying for the wall" thanks to money saved with USMCA
The area also hosts the National Butterfly Center, which is home to over 60 varieties of butterflies.
The sanctuary, however, is under threat as the intended route of the wall would go right through it. Construction is set to begin in February and campaigners believe the Trump administration will seize the land by quick take, a provision dating back to the Depression era, which allows federal agencies ample powers to take property without compensation.
"They are violating our constitutionally protected rights, and that should terrify everyone," the center's director, Marianna Wright , was quoted as saying by The Guardian.
"Even if you don't care about butterflies, you should care about this."
Aside from the environmental aspect of it, building the wall could have a major economic impact on the neighboring counties in the valley.
"Environmental tourism contributes more than $450m to Hidalgo and Starr counties," she explained.
"Many of the properties people choose to visit to see birds, butterflies and threatened and endangered species are all going to be behind the border wall. For us, the economic impact is potentially catastrophic."
While fragmenting the area along the border with roads, concrete and steel is a major issue for the wildlife populations, it is also potentially dangerous for undocumented immigrants trying to enter the U.S.
"Border walls are death sentences for wildlife and humans alike," Amanda Munro of the Southwest Environmental Center, was quoted as saying.
"They block wild animals from accessing the food, water, and mates they need to survive."
The border wall was one of the staples of Trump's immigration policy throughout his Presidential campaign and has since developed into a delicate diplomatic issue.
Despite a lack of funding for the wall, Trump has insisted Mexico would be "paying for the wall."
On Thursday, he suggested that funds would be returned through money saved by the U.S.'s new trade deal with Mexico and Canada, the United States-Mexico-Canada Agreement (USMCA).
Trump has threatened to partially shut down the government if he does not receive the $5 billion in funding he has demanded to go toward the construction of his wall.
Democrats have maintained that Trump should be content with $1.6 billion for border security. The president remains adamant, however, that that amount will not suffice.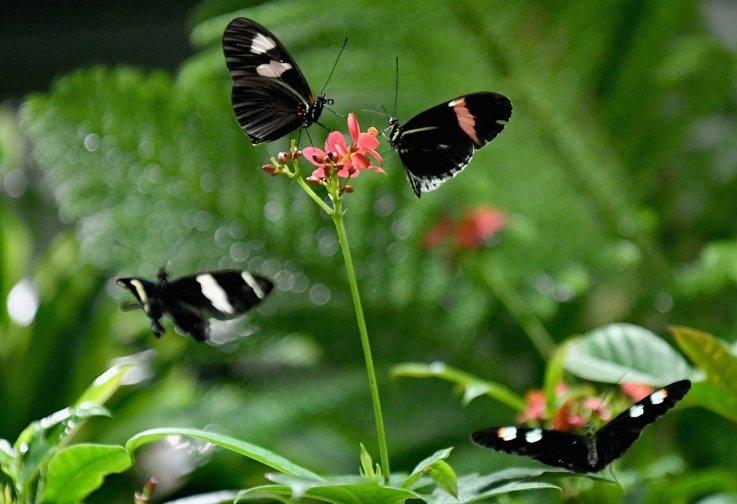 Trump's Wall Bulldozing a Butterfly Sanctuary Would Be a 'death Sentence', Say Campaigners | U.S.