Trump Presidency Would be 'Disaster' Alex Salmond Tells Intimate Gathering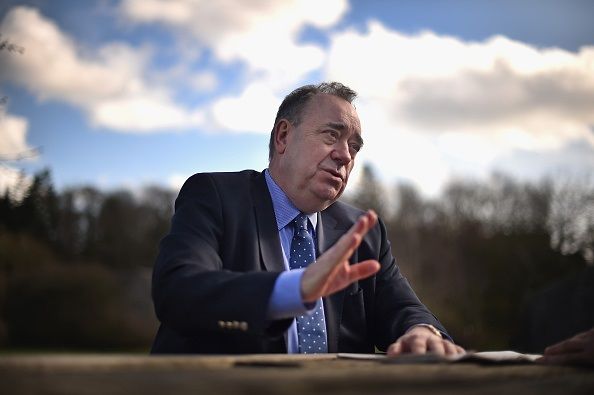 Scotland's former First Minister, Alex Salmond, spoke out against the possibility of a Donald Trump presidency, saying it would be the "ultimate disaster."
Salmond revealed the depth of his animosity towards his former ally in a speech at a private Burns Night supper in his former constituency, Banff and Buchan, on Saturday night, saying the prospect of Trump holding the key to the "largest nuclear arsenal on Earth" was a nightmarish scenario.
Giving the "Address to the Lassies" at the annual event in the village of Pennan—made famous by the 1983 film Local Hero—Salmond made the point that it now fell to a woman, Hillary Clinton, to defeat Trump and "save us all" from the "Big Beluga." He branded the rest of the Republican candidates, such as Ted Cruz and Marco Rubio, "total wimps" for failing to halt the progress of "The Donald."
Salmond was once a vocal supporter of Trump's business interests in Scotland—defying environmentalists to back the billionaire's efforts in 2007 to build a £200 million golf resort on Scotland's northeast coast.
The resort sits on a stretch of sand dunes at Menie in Aberdeenshire, which green campaigners claimed was a site of scientific interest. They protested against the creation of two golf courses, a hotel and luxury housing. Local councillors refused planning permission but Salmond's government overruled them, claiming the development was in the national interest. A year later, the plans were cleared and the resort finally opened in 2012. Despite Trump's initial prediction it would bring 6,000 jobs to the area, it employs closer to 150 people directly on the Menie estate—that number doesn't include anyone employed on a contractual basis as the resort was being built, according to Trump International Golf Links, Scotland.
Relations between the two bombastic figures soured in 2013 over the construction of an offshore wind farm a few miles off the Aberdeenshire coast. Trump was enraged, claiming the turbines would ruin the view from his golf course and jeopardise his $1.19 billion investment in the area. When Salmond refused to intervene on his behalf, the tycoon accused him of doing "more damage to Scotland than virtually any event in Scottish history."
A legal battle lasting two years ensued between the Trump Organization and the Scottish government, with the tycoon eventually losing the fight in the Supreme Court in December 2015. Speaking to Sky News after the verdict was announced, Salmond said the businessman's failure to overturn the government's wind farm decision made him a "three-time loser."
Since then, insults have been traded back and forth, with Trump calling the former First Minister an "embarrassment to Scotland" in January, after Salmond spoke out against the presidential hopeful on his LBC radio show.
Now, it seems not even the power of Robert Burns' poetry can take Salmond's mind off his feud with the presidential hopeful.