The Donald Trump v. Joe Biden Debate Turned Stomachs But Didn't Change Minds in This Battleground County
Last night's raucous presidential debate between Donald Trump and Joe Biden did little to change the minds of voters in Luzerne County, Pennsylvania, a county that the president won in 2016 after going twice for Barack Obama.
David Thole, of Wright Township, tuned in to the debate hoping to hear about the issues, especially from Biden, but was disappointed, like many Americans, with the dearth of civility as the candidates interrupted and talked over each other.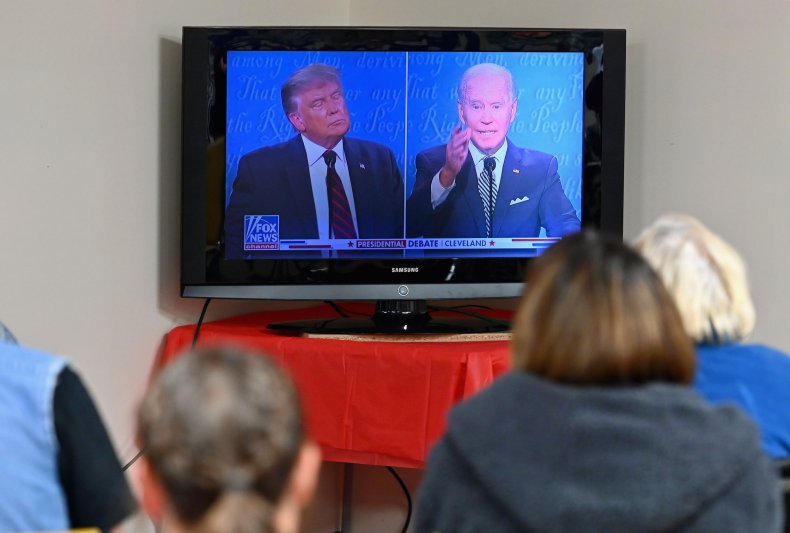 "I did want to find out their positions," Thole said. "It was hard to get a fair and honest opinion what that was and is."
Thole has gone from a Democrat who voted for Hillary Clinton in 2016 to a Republican supporting Trump in this year's election, and last night's debate didn't change his mind about voting for the president.
"I agree with his view of the economy," he said. "The economy's coming back, and the unemployment rate is coming down."
In 2016, more than two-thirds (67 percent) of registered voters in the county turned out for the presidential election, higher than the national turnout rate of 55.5 percent. Luzerne County swung from victories for Barack Obama of 8.41 percent in 2008 and 4.81 percent in 2012 to a 19.31 percent win for Trump in 2016, helping him carry Pennsylvania by less than 1 percent and collect its 20 Electoral College votes.
Visible support for the president pervades this county, with lawn signs and roadside huts selling campaign gear emblazoned with Trump's name on T-Shirts, hats and banners.
But not everyone in the county plans to vote for Trump. Ed Pesotski, of Wilkes-Barre, had a strong reaction to the debate.
"Two words come to mind: It was embarrassing and disgraceful on the part of the president," said Pesotski. "Overall, I think Trump came off as an arrogant bully."
Despite reading his Facebook friends' posts and comments from hardcore Trump supporters saying that the president and Biden were "childish," he doubts the debate changed the minds of his friends and neighbors about whom they will vote for on November 3.
For Pesotski, issues are paramount. He's an Obama voter and Bernie Sanders supporter who'll voter for Biden, although he thinks the Democratic nominee is overly concerned with wooing disaffected Republicans and centrists.
Pesotski would have liked Biden to have pressed Trump on the recent reports about the president's taxes, and that teachers and law enforcement professionals pay more taxes than the president.
"He could have hit back harder on a few subjects." he said. "I think Biden showed a little bit of compassion and made a few good points."
Pesotski said Trump's failure to condemn white supremacists outright, and his comment that the far-right all-male Proud Boys should "stand back and stand by," were "upsetting but not surprising."
But he sees this self-proclaimed militia as a possible threat.
"He thinks of them as his people," Pesotski said. "His army, in a way."
Justin Behrens, Luzerne County Republican County chairman and a Trump supporter, called the debate question on white supremacists a "disgrace," a setup meant to hurt Trump, and said that post-debate criticism is the usual response from Trump's opponents.
"It was just another tactic to try make him look negative and look bad," Behrens said. "No matter what the president says, they're going to look negatively on what he says."
Behrens pointed to Trump's recent actions to support his defense of the president.
On Friday at a campaign rally in Atlanta, Trump declared his intention to designate the white supremacist Ku Klux Klan and the far-left Antifa movement as terrorist organizations, and to make Juneteenth a federal holiday commemorating Abraham Lincoln's Emancipation Proclamation and the end of slavery in the U.S.
Behrens said last night's televised debate was about setting forth a vision for the American people.
"President Trump explained over and over the consistent theme of how he supported this country the last three years," he said, "what he has done in improving the economy, improving the life of individuals."
Moderator Chris Wallace, a Fox News anchor, has been the object of harsh criticism and scorn from all sides for his performance in a disorderly and heated debate in which the candidates failed to adhere to the agreed-upon time limits and interrupted and spoke over each other.
But Wallace has engendered some sympathy.
"I felt bad for the moderator," said Thole. "He was trying to keep them within the agreement with the two-minute time limit."
Behrens disagreed, saying Wallace didn't do his job.
"When it comes to a debate, it's usually the work of the moderator to control the group," he said. "Dynamics needed to be set in place for control, and I think the moderator needed to get a better grip on everything that was going on."
Democrat Tim McGinley, chair of the Luzerne County Council, agreed that Wallace could have done a better job.
"The moderator has a role to play," McGinley said, "and I believe the moderator didn't step up to the role he should have played."
But McGinley said the president deserves much of the responsibility for an evening that "got thrown right off the tracks" early.
"The president's demeanor and his inappropriate behaviors lent itself to the debate not being conducted in a proper manner," he said.