Trump Wants to Distribute Coronavirus Vaccine by Year-End. Democrats, Citing Testing Issues, Doubt He Can Do it
Democrats have raised skepticism over Donald Trump's pledges on the widespread roll-out of coronavirus vaccinations.
"Operation Warp Speed" has reportedly set a target of having 300 million doses available by January, previously described as "amazingly ambitious" by Lamar Alexander, Republican chairman of the Senate's health committee.
Trump this week said he expects U.S. citizens to begin being vaccinated by the end of the year, while he has also spoken of deploying the military in order to facilitate "a lot of people" being treated "very, very rapidly."
Democrats from both chambers of Congress speaking to Newsweek have questioned the administration's ability to follow through on mass vaccinations in the timescale outlined.
"A vaccine for every American is an ambitious target when we don't even have a comprehensive testing regime in place," Sen. Chris Murphy (D-CT) told Newsweek.
"And it's not clear if we even have enough drug delivery devices, including needles and syringes, to administer a vaccine when it is eventually developed."
Calling for work to increase infrastructure for manufacturing and developing medical supplies, including a vaccine once ready, Murphy criticized the Trump administration's work on this so far.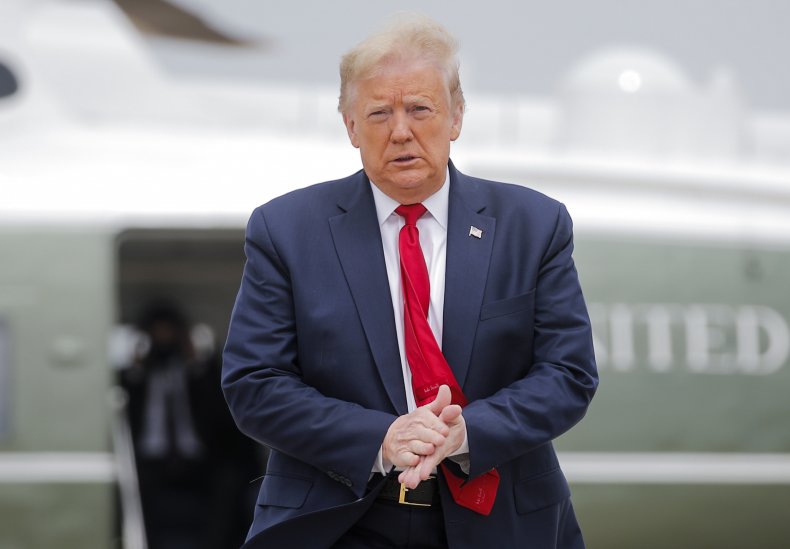 "Given the Trump administration's failure to federalize the medical supply chain so far, it is difficult to have confidence they could distribute a vaccine in a transparent and effective way," he said.
Murphy has also consistently called for the U.S. to join global efforts on vaccine development, and added: "This is a no-brainer: if we can't stop the virus everywhere, we can't stop it anywhere. The United States should be both working with international bodies like the WHO [World Health Organization] and CEPI [Coalition for Epidemic Preparedness Innovations] on vaccine research while also racing to develop ones at home."
Senator Ben Cardin (D-MD) also raised concerns over the ability to administer such large numbers of inoculations, while calling for international collaboration in order to find a vaccine.
He told Newsweek: "To meet such an abbreviated timeline, there must be collaboration with the international community. This should be a global effort and the U.S. would greatly disadvantage itself if it decides not to partner with other countries in finding a safe and effective vaccine.
"What adds to my skepticism is the Trump administration's current handling of our national stockpiles. To get to 300 million doses of a vaccine – by January or soon after – we'll need syringes and needles to administer the vaccine. They won't magically appear."
Rep. Jan Schakowsky expressed her hope that the White House is conducting all the work it can to boost vaccine development, though raised questions over the president's forecasts.
"I want to hear from someone who knows what they're talking about, like Dr. Tony Fauci, before I believe any of the President's predictions," she told Newsweek.
"But I hope for the sake of families across the United States that the White House is doing everything they can to ramp up our vaccine development — including a serious consideration of public manufacturing."
Congressman Ami Bera (D-CA) has similarly called for coordination with other nations in order to swiftly develop a vaccine and ensure its distribution across the U.S.
In a statement shared with Newsweek he said: "It's critical that the United States work with the international community, including CEPI, to quickly develop, manufacture, and distribute a COVID-19 vaccine. We need an international framework and U.S. leadership to guarantee that – which would ensure our priority populations, like healthcare workers, receive a vaccine first."
He added that without coordination there could be a "global vaccine race that could dramatically delay a vaccine and costs lives."
Bera pushed for the Heroes act to include the SAFE Act, which would authorize the U.S. to take part in the CEPI efforts to source a vaccine.
Trump has remained confident in the U.S. ability to source and distribute a vaccine, while the White House has frequently defended testing levels, with a senior administration official describing the U.S. as number one in the world by far and suggesting the nation is almost in a position to assist other countries to ramp up screening levels, due to having excess production. (from White House Background call transcript)
More than 10 million tests have been carried out across the U.S., which is more than any other nation. However, there have been questions asked due to the speed at which these were carried out and varying population sizes.
Democrats have previously been critical of the levels, calling for further screenings to be conducted.
However, officials in the U.S. see inoculation as integral to allowing normality across the nation to resume, as states begin to lift stay-at-home restrictions but are advised to continue social-distancing measures.
Newsweek has contacted the White House for comment.
The U.S. has suffered more than 1.4 million coronavirus cases, according to Johns Hopkins University figures.
There have been more than 85,000 deaths of those infected, while more than 246,000 have recovered, according to the stats.
The chart below, from Statista, shows the worst-hit states, with New York seeing the highest number of cases.