The man whom federal authorities have accused of mailing packages containing pipe bombs to critics of President Donald Trump was allegedly a steroid user who worked at nightclubs as a bouncer and strip dancer.
Cesar Sayoc, 56, of Aventura, Florida, has been charged with five counts, including illegal mailing of explosives, after prominent Democrats, including former President Barack Obama, former Vice President Joe Biden and former Secretary of State Hillary Clinton, were sent crude pipe bombs in the mail.
The bombs were mailed to states across the country, including New York, Delaware and California, as well as Washington, D.C., and targeted not only U.S. politicians but also billionaire George Soros and actor Robert De Niro, who has been an outspoken critic of the president.
Police arrested Sayoc Friday at an Auto Zone store in Plantation, Florida. He is a self-described promoter and booking agent, according to his LinkedIn profile, and has been arrested multiple times and accused of crimes such as peddling steroids and theft and battery, court records show.
Sayoc's white van, plastered with pro-Trump and anti-Democrat bumper stickers, also allegedly carried on an active nightlife.
"He's the maniac who's been doing this," said Sayoc's cousin, who asked to remain anonymous, in an extensive interview with Newsweek.
The 67-year-old former New Yorker gasped in disbelief that his relative, whom he considers "a loner" and has known since he was a toddler, was being accused of domestic terrorism.
"He took a lot of steroids, and he also danced as a male stripper," the cousin said. "He was dancing at clubs."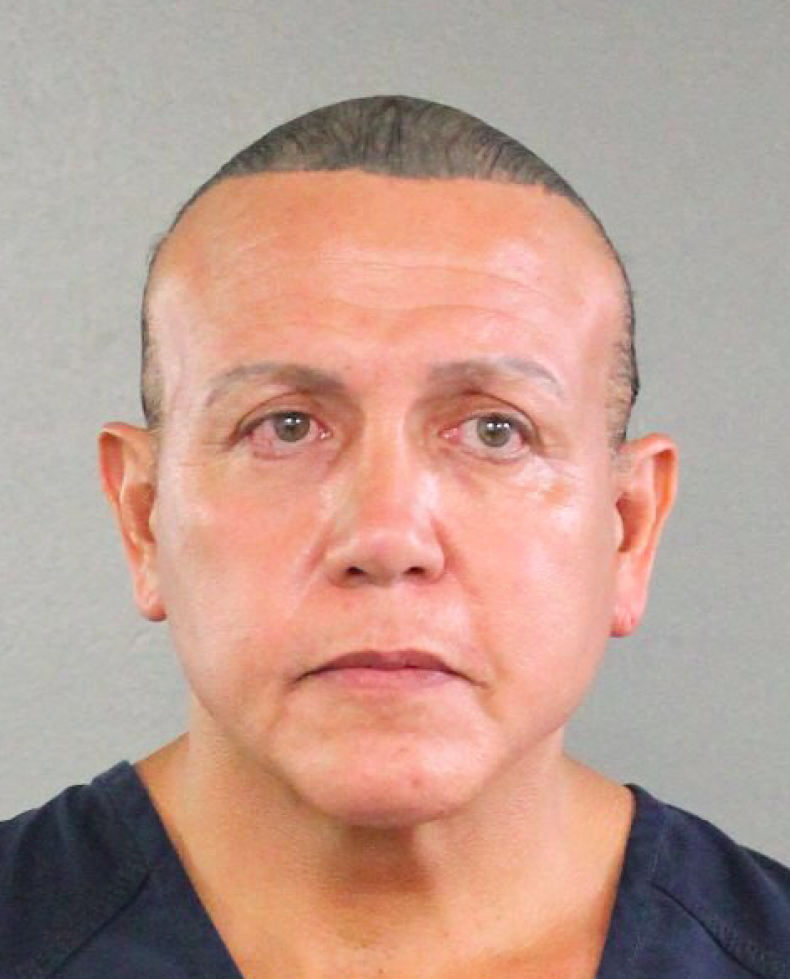 The cousin claimed that Sayoc had big dreams of becoming a pro wrestler, but that after doing too many steroids, his life went south.
"The kid was huge," the cousin said. "He wanted to make it as a pro wrestler, but the steroids f***ed his head up."
The cousin said Sayoc adopted the Italian surname "Altieri," because while he was half-Filipino and half-Italian, he leaned toward his late grandfather's roots on his mother's side.
Three years ago, the cousin said, Sayoc fell out of favor with the family.
"He was acting erratic all the time," the cousin said. "We told him nicely, 'Please don't come around.'"
The issues centered on Sayoc making unannounced visits to his relatives' home late at night.
Sayoc had plenty of run-ins with law enforcement, including numerous dings for alleged theft in the 1990s. In 2002, he allegedly threatened to use a bomb. Two years later, he got in trouble for alleged possession of synthetic anabolic androgenic steroids.
His cousin remembered when he learned about that arrest.
"He was driving and got stopped with a trunk full of steroids," he said. "His brain was too weak."
The cousin, who hasn't spent time with Sayoc for four years, said the Sayoc was not married and kept his political leanings to himself.
"We never discussed politics," the cousin said. "But he was definitely a Republican."
Records show that Sayoc registered to vote back on March 4, 2016, 11 days before the Republican primary.
Already, a series of oily, muscular posing shots of Sayoc's days of flexing his stuff on stage have trickled out online, as well as others that appeared on social media accounts, one of which was taken down.
One account, filled with mostly photographs, featured Sayoc, who went by the name "Cesar Altieri Randazzo," posing at what appears to be a rally on October 13, 2016, depicting Trump standing at a lectern, as well as a series selfies of the man wearing a red baseball cap and flexing by Trump's bus and standing with supporters.
Then-candidate Trump did speak at the South Florida Fair Expo Center in West Palm Beach, Florida, according to a C-SPAN archived video.
One of Sayoc's favorite quotes, according to his Facebook account, which has since been taken down, was "Only way ole school we slaughter men for payback [sic]."
Sayoc faces charges of interstate transportation of an explosive, illegal mailing of explosives, threats against former presidents and certain other persons, threatening interstate communications and assaulting current and former federal officers.
Clarification: The original story once referred to the devices as "dirty bombs" when it should be "bombs."