What Is a Veto and How Can Congress Override Donald Trump's on National Emergency Declaration?
For the first time in his presidency, on Friday President Donald Trump issued a veto, preventing Congress' attempt to terminate his national emergency declaration seeking to circumvent lawmakers and appropriate billions of dollars for his southern border wall.
In a bipartisan rebuke, the Senate passed a resolution 59-41 terminating his executive action on Thursday. Twelve Republican senators sided with Democrats to pass the measure, saying the president's choice to allocate funds not appropriated by Congress was outside his constitutional powers.
As president, Trump has the constitutional authority under Article I, Section 7 to reject a proposal from Congress. Although Congress has the ability to override a veto if it can muster a two-thirds majority, that looks highly unlikely, given Thursday's vote. The fate of Trump's emergency declaration will be left up to the courts, where various legal battles are ongoing.
House Speaker Nancy Pelosi said in a statement that the chamber will vote March 26, after Congress returns from recess, to vote on overriding Trump's veto.
Newsweek subscription offers >
"The President has chosen to continue to defy the Constitution, the Congress and the will of the American people," she said. "House Republicans will have to choose between their partisan hypocrisy and their sacred oath to support and defend the Constitution."
Senate Majority Leader Mitch McConnell is unlikely to hold such a vote in the Senate.
"As president, the protection of the nation is my highest duty," Trump said in front of cameras as he vetoed the resolution, flanked by cabinet officials and Angel Families. "To defend the safety and security of all Americans, I will be signing and issuing a formal veto of this reckless resolution."
Trump offered praise to the GOP senators who remained loyal and voted against terminating his declaration, saying "they were very courageous yesterday, and I appreciate that very much." But for those who broke from party ranks to vote for the termination resolution, the president said they were "doing what they have to do," adding that he did not pressure them for their vote.
Newsweek subscription offers >
"I put no pressure on anybody," Trump said. "I'll let them know when there's pressure and I told them that so when I need your vote, I'm going let you know. I didn't need the vote because we all knew it would be a veto and they're not going to be able to override."
The Republican senators who rebuked Trump were unwavering in their justification, saying Thursday they viewed the unilateral move as unconstitutional and creating a dangerous precedent for future presidents. They continued to reiterate that a vote for the resolution was not a rebuke to Trump personally, but rather a condemnation of the president's attempt to bypass Congress.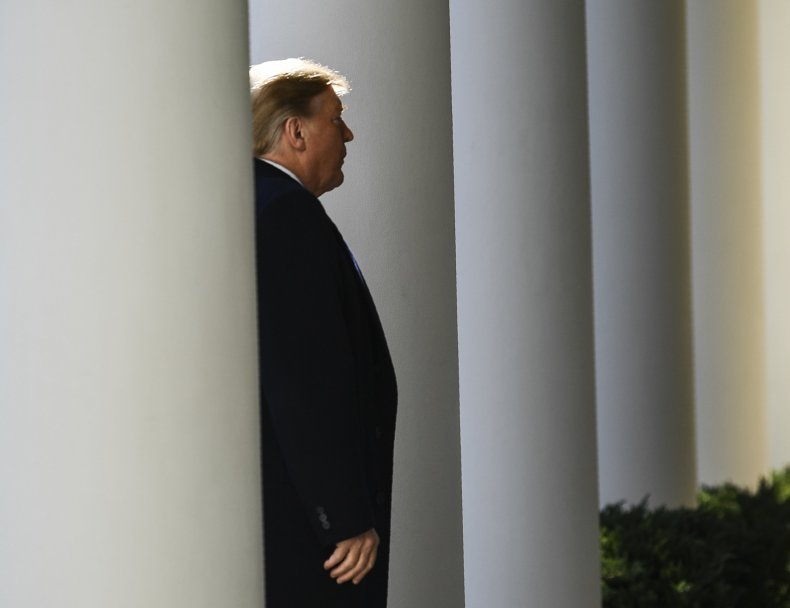 "It's not appropriate for a president to ask for money, Congress decides what to spend and then the president spends the amount he wants anyway under the National Emergencies Act," said GOP Senator Lamar Alexander shortly before voting to terminate the emergency declaration.
Trump is seeking a total of $8 billion for his wall: $1.375 billion approved by Congress, $600 million from the Treasury Department's drug forfeiture fund, $2.5 billion from the Defense Department's drug interdiction efforts and roughly $3.5 billion from Department of Defense military construction.
"We clearly have a [border] crisis and we have to address it," Republican Senator Rob Portman told reporters. "But there's a way to do it without creating this bad precedent, without having that funding tied up in courts and without having military construction projects at risk."
Even a member of Senate GOP leadership, Roy Blunt, the number four Republican in the chamber, voted to terminate Trump's declaration.
"I was aggressively opposed to the Obama administration's attempts to circumvent Congress's appropriating authority to prop up Obamacare," Blunt said in a statement after the vote. "The same principle should apply, regardless of which party occupies the White House."
Senate Republicans have shown support for amending the National Emergencies Act in an attempt to curtail the power of future emergency declarations. Spearheaded by GOP Senator Mike Lee, another Republican who supported the resolution terminating Trump's declaration, a new measure would automatically dismiss a president's national emergency declaration after 30 days, unless approved by Congress.
"I think the basic premise of Mike [Lee's] bill is correct," Republican Senator Jerry Moran said Thursday. "The way to do it constitutionally is to let the president declare an emergency, allow it to run 30 days, unless you have a vote of approval."
Moran added that the proposal is still in the works and wants the White House's input.
What Is a Veto and How Can Congress Override Donald Trump's on National Emergency Declaration? | U.S.