Creator of Trump Video Showing Him as President Forever Says It's 'Clearly a Joke' and Democracy Will Win Out
Coming off a string of penalties from Twitter, user CarpeDonktum has seen his fortunes blossom once more: the most powerful man in the world just tweeted out his meme.
On Friday, President Donald Trump tweeted a video of a doctored Time magazine animation that nodded to concerns he may seek to stay in office beyond constitutional limits. As the video zooms in on Trump standing behind a re-election lawn sign, the years on the sign tick higher and higher, an apparent joke about remaining in office for tens of thousands of years.
"It's clearly a joke, and to the people who were saying that he would never leave office, I don't think you can interpret it any other way," CarpeDonktum, who declined to provide his real name and says he made the video and posted the first known instance of it online, told Newsweek in a phone conversation. "That's how ridiculous the statement is. Is he really going to be president until the year 10,000?"
Political observers were less keen on this particular strain of humor, as the president has, in many prior instances, made references to remaining in office beyond two terms. His supporters revel in this facetious, lib-triggering banter. Critics worry that the joke is concealing some measure of truth.
Ruth Ben-Ghiat, a New York University professor who studies authoritarian rulers, told The Washington Post she believes "everything that [Trump] says is a trial balloon—even his, quote, jokes are trial balloons."
But the creator of the meme blasted out by Trump doesn't share any of these concerns, saying he doesn't "think that there's a problem."
"Jokes are jokes," he said. "And if you want to freak out about jokes, then I don't know there's anything I can say to calm you down about it."
CarpeDonktum told Newsweek that he's "been a supporter of Trump since a couple weeks after his announcement" that he was running for president in 2015.
"When he came down the escalator, his speech was good and all that," he said. "I've been a supporter since then. And then it was for sure cemented after the primary debates. They were all losers except for Trump."
Perhaps unwittingly, perhaps winkingly, Trump has used his massive reach on social media to give a platform to all sorts of odds and ends collecting around the Twitterverse. He has boosted the likes of white nationalists, trolls and Russia-linked bots, granting instant credibility to obscure individuals in a manner unlike any other president.
On the idea that the pipeline from random internet user to the Oval Office can be so direct, CarpeDonktum said that he thinks "it's good that we have a communications network where that is possible, for better or for worse."
"No, I'm not worried about" the unfettered access to the president's attention, he added.
But when pressed on the idea that his content may be suggesting to some of Trump's supporters that a violation of the two-term limit could be a legitimate belief—more than half of Republicans are willing to support the suspension of the 2020 elections, according to a 2017 poll—CarpeDonktum said this concern was absolutely overblown.
"There are lots of people that [believe] lots of things, and I don't think any of them have any power," he said. "Our Democracy is robust enough to be able to handle a situation like that really quickly."
CarpeDonktum is perhaps most recently known as the creator of another meme the president shared, depicting former Vice President Joe Biden, in a doctored apology video, sneaking up behind himself in the same manner which brought him much criticism earlier this year.
"WELCOME BACK JOE," the president wrote alongside the edited video, which was originally conceived by Biden to address concerns that he has violated women's personal space.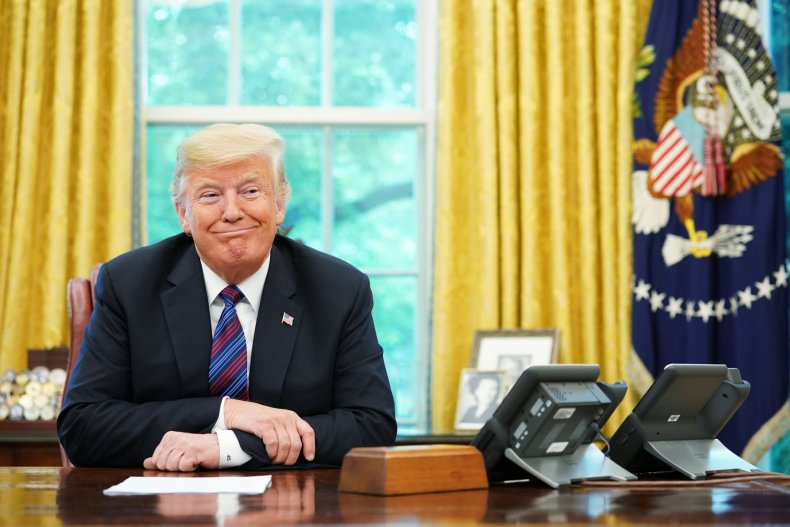 The president, through some his tweets, has also given rise to violent content. He has tweeted a doctored video of himself punching a physical representation of CNN in the face. He has also tweeted a doctored video of himself striking a golf ball that knocks Hillary Clinton in the head. All of these videos appear to have been sourced from unswept corners of the internet.
CarpeDonktum was once suspended from Twitter for eight days—he says, unfairly—after, he alleges, the Krassenstein brothers (now banned themselves) led a campaign to report a video he had edited which portrayed CNN reporter Jim Acosta being assaulted.
"They're very heavy handed towards conservatives and very lenient towards people that would be on the Democratic side of the aisle," he complained about Twitter's enforcement. Conservatives have long protested that their accounts are primary enforcement targets for social media companies.
The reality appears somewhat more favorable for conservatives. An April study from the progressive media watchdog Media Matters For America found that right-leaning and left-leaning Facebook pages earned nearly identical engagement. This conflicts with the claims of many conservative users that their content is being systematically disadvantaged. Fox News alone often gets more engagement on Facebook than any other publisher.
CarpeDonktum claimed that, in addition to Friday's tweet and the Biden video, the president has shared his content to the @realDonaldTrump account's 61 million Twitter followers two other times. In both of those instances, Twitter eventually took down the videos for copyright infringement.
As a meme creator, CarpeDonktum insisted he does "due diligence" to make sure this presidential megaphone isn't used to amplify anything potentially harmful.
"I do my due diligence on watching what I'm posting and making sure, as far as I can tell, nothing I'm doing is inciting violence," he said. "That's not my thing. There are other people that do post things that I do think are too violent. That's their prerogative."
He believes that Trump "has not posted anything that's more controversial" than what the cable news networks play and that the president's engagement "is an advantage for him."
"I think he's doing a fantastic job," CarpeDonktum said.
He said he has no idea how his video made it to the president's feed—it's been around since October—nor does he care that the watermark crediting his handle was removed. But CarpeDonktum was confident that Trump will continue to disseminate his memes moving forward.
"I'm sure he will," he predicted.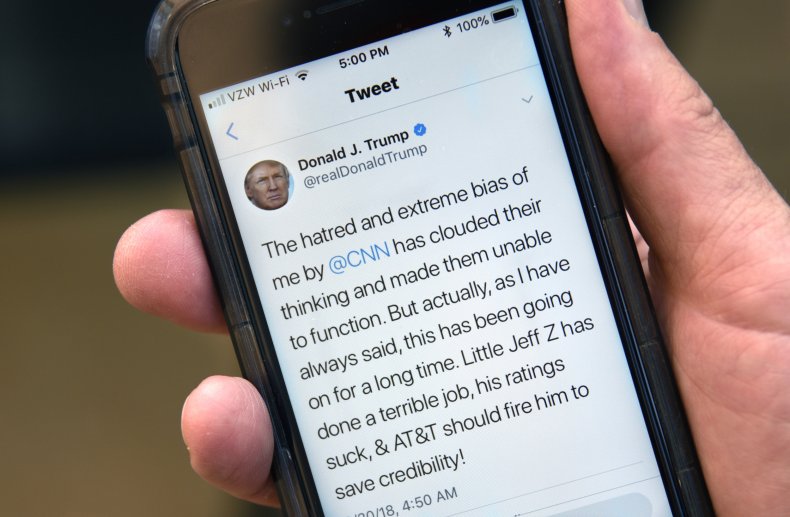 This article has been updated to clarify which other CarpeDonktum memes were tweeted by the president.