Trump Team Considering Cuts to Federal Violence Against Women Program: Report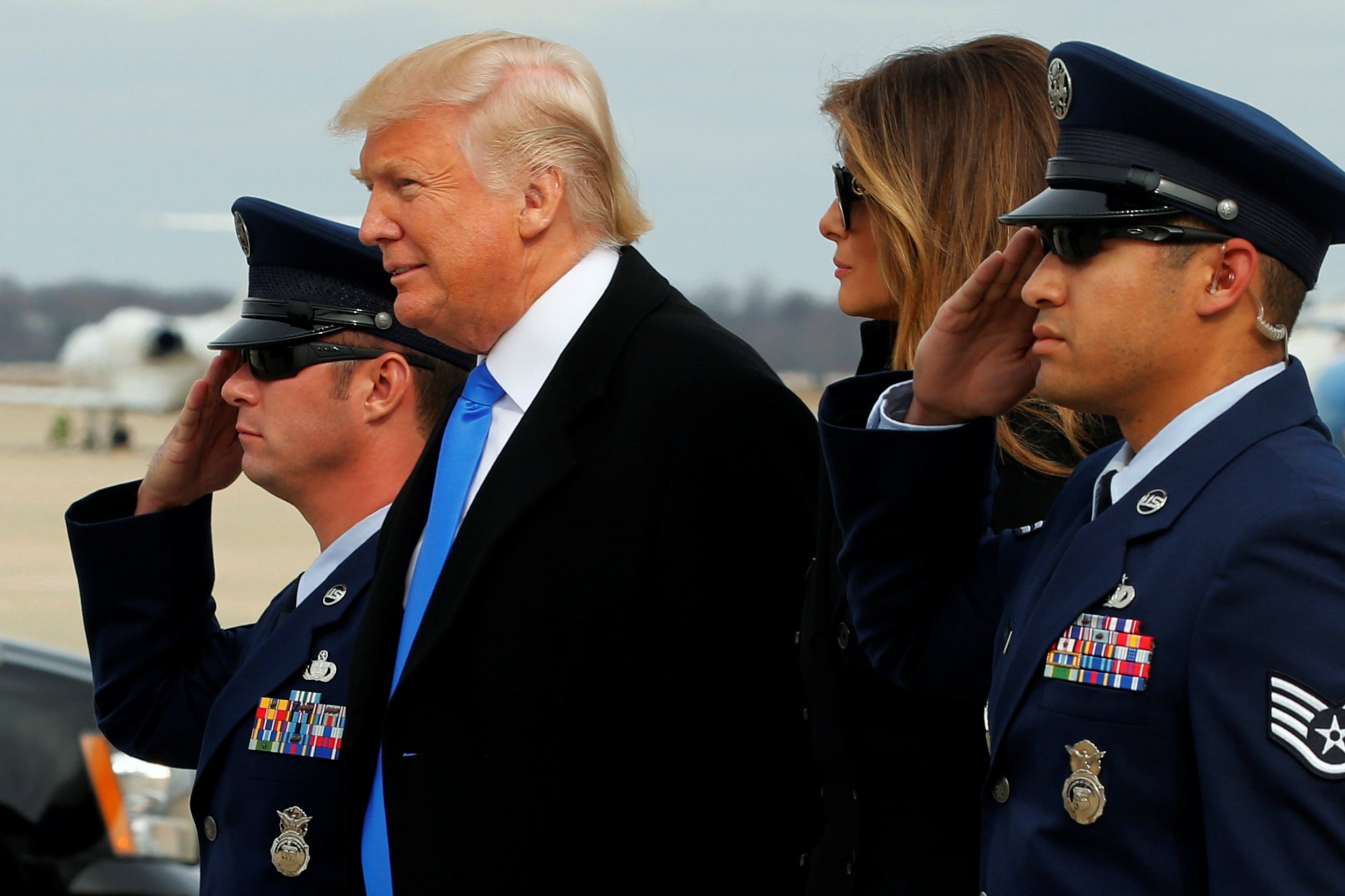 Updated | President-elect Donald Trump's incoming administration is working on plans to make "dramatic cuts" in funding for initiatives to end violence against women, as well as for federal arts and humanities programs, according to a report from The Hill published on Thursday morning.
The article, which quickly sparked widespread social media outrage, says two members of Trump's team—Russ Vought, a former aide to Vice President-elect Mike Pence, and John Gray, who has worked for Pence, Senator Rand Paul and House Speaker Paul Ryan—are working on the plan for widespread budget cuts after meeting with White House staff ahead of Friday's inauguration. In total, the cuts would save $10.5 trillion over 10 years, according to The Hill. Here's where some of the proposed cuts might happen:
The National Endowment for the Arts and National Endowment for the Humanities "would be eliminated entirely," The Hill reports
Department of Commerce and Department of Energy would see a reduction in funding, with programs either eliminated or transferred to other agencies
Department of Transportation, Department of Justice and Department of State would also see "significant cuts and program eliminations"
Corporation for Public Broadcasting would be privatized
A full budget is expected to be published toward the end of April. Congress will still need to approve the budget and has the responsibility for allocating funding.
Related: Sean Spicer defends Donald Trump's cabinet choices
According to The Hill, the budget cut proposals "hew closely" to a blueprint published last year by the Heritage Foundation, a conservative think tank. Both Vought and Gray previously worked for the Heritage Foundation, The Hill reports. A number of the proposals were included in the 2017 budget for the Republican Study Committee, a caucus representing the majority of Republicans in the House.
"The federal government should not be in the business of funding the arts," the Republican Study Committee budget report reads. Eliminating both the National Endowment for the Arts and the National Endowment for the Humanities would save an estimated $296 million a year, according to the Republican Study Committee.
The Heritage Foundation blueprint also calls for cuts to the Justice Department's Office on Violence Against Women grant program and the Legal Services Corporation. The Office on Violence Against Women grants include funding to provide services to sexual assault victims; for tribal governments; and legal assistance for victims of stalking, sexual assault and domestic and dating violence.
"We're not speculating on what policies or decisions the new Administration may or may not choose to prioritize or pursue," a spokesperson for the National Endowment for the Arts told Newsweek in an email.
The Hill article comes just a day before the swearing in of Trump and Pence. The Trump transition team did not respond to Newsweek's request for comment.
The reported cuts would be "an outrageous abdication of the U.S. government's proud history of support for groundbreaking research and creative endeavors that have served as engines of innovation and bolstered America's stature as a haven for freethinkers and a global leader in humanity's shared quest for knowledge," Suzanne Nossel, executive director of PEN America, said in a statement on Thursday.
She added: "The announcement that this is even under consideration casts a sinister cloud over our vibrant national culture, stoking fears that the Trump Administration aims to usher in a new Dark Ages in America."
Martha Bergmark, former president of the Legal Services Corporation, said that, if pursued, "these proposals to gut civil legal aid would deliver a devastating blow to Americans of all backgrounds and to our justice system."
"President-elect Trump has said he will commit his presidency to helping forgotten Americans struggling to get ahead. We urge Trump to reject these proposals, which would do just the opposite," Bergmark said in a statement.
This article has been updated to include comment from Martha Bergmark.