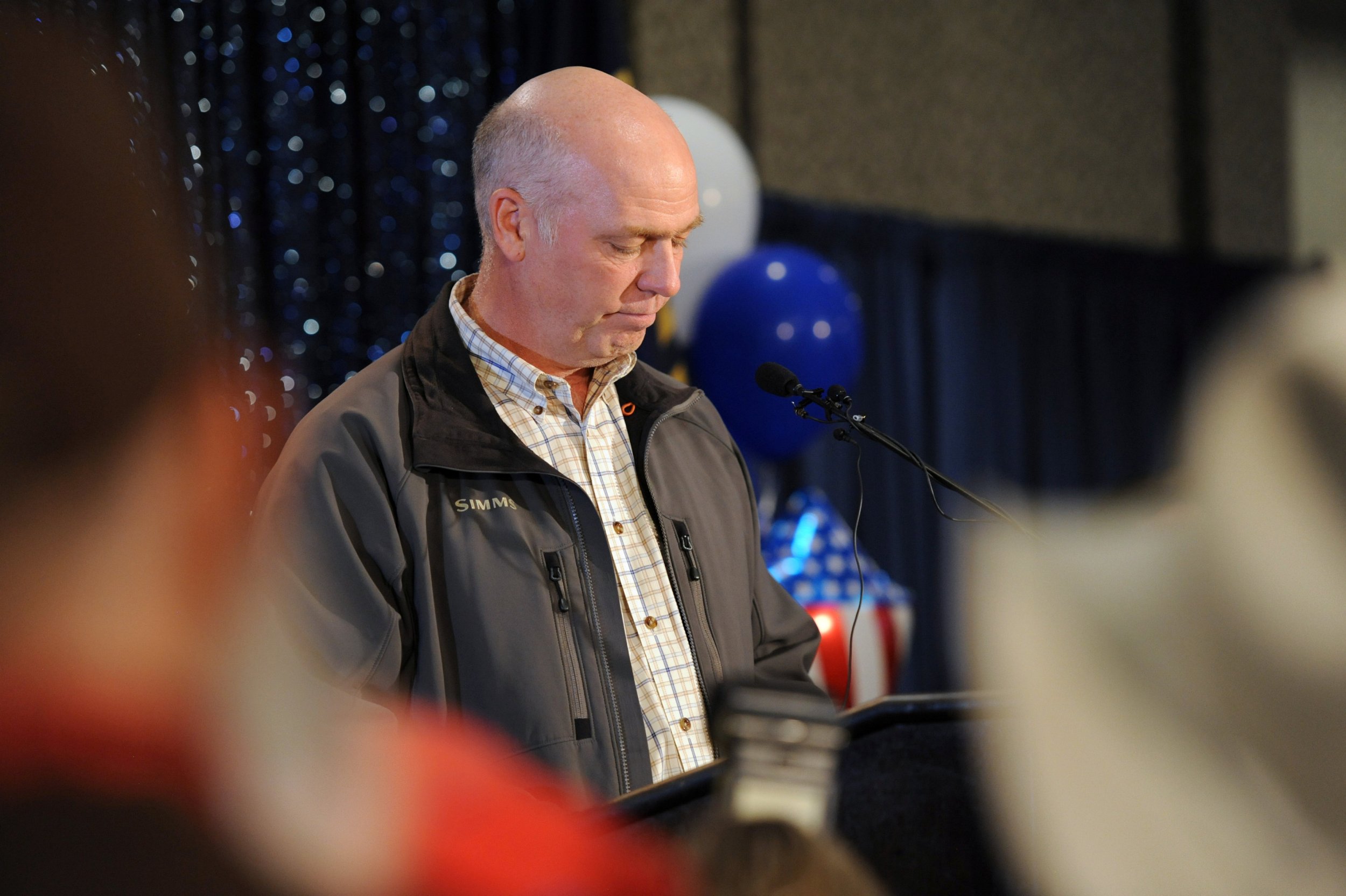 Updated | It looks like it's going to be a long, hot summer in divided Trumpland.
America's cold civil war is heating up, with countrywide reports of incidents of political violence. In addition to a congressman-elect "body-slamming" a reporter in Montana and regular clashes between protesters in the streets, two announced Democratic political candidates have now withdrawn their challenges to Republican incumbents, citing death threats.
Michael Treiman, a manager at a solar company, announced in April that he was running against Binghamton, New York, Mayor Richard David, a Republican. Treiman dropped out a week later after being threatened both online and on his property. Four hours after Treiman went on local radio to discuss his challenge, he received emails, directed at his wife and three children, expressing "heinous attempts to scare me off," he later said. That same day, as Treiman returned home after picking up his 2-year-old and 11-month-old children from a sitter, an unidentified man in a truck yelled "liberal scumbag" and threw a full soda container that hit Treiman in the back while he was protecting his infant.
Last week, Kim Weaver, a Democratic candidate for Congress in Iowa, dropped her challenge to high-profile Republican Representative Steve King, one of the nation's most vociferously anti-immigrant politicians. "Beginning during my 2016 campaign, I have received very alarming acts of intimidation, including death threats," she said in a Facebook post. "While some may say enduring threats are just a part of running for office, my personal safety has increasingly become a concern."
Weaver also cited other reasons, including losing health coverage and family issues.
Her former opponent tweeted that he believed Weaver got out of the race because she was a poor candidate and Democrats didn't want her. "I wanted #KimWeaver IN the race-not out," King tweeted. "Democrats drove her out of the race-not R's. Death threats likely didn't happen but a fabrication."
Treiman, 33, did more than just drop out of politics: He has sold his house and moved out of his hometown. He told local media that if he didn't have a wife and kids he might have chased down the assailant, but because of his children there was "too much fear."
"The only reasonable thing to do was to withdraw. There was something more visceral about this incident," he said. "It had nothing to do with anything substantive. It had to do with my existence with a political party."
Treiman told radio station WNBF that he plans to run again at some point, but next time he will rent an apartment for his headquarters and hire a private security team. "I will run for office again," he said. "I will come back when I have the means to do so."
He told Newsweek: "When I was prepping for the mayoral campaign we discussed a lot of possibilities in terms of what could come up. Not one time, not ever, did we ever consider that my family would be a liability, My call to action to others is for people with less to lose, and with good heads on their shoulders, to get involved and fight the good fight."
The intimidation has left Democrats without a candidate. Broome County Democratic Chairman Tim Grippen this weekend announced that the party will put a placeholder name on petitions because it still doesn't have a candidate. The petition process begins and ends next month; the election is this fall.
The two incidents played out against a backdrop of increasing political violence at protests, between the so-called Black bloc of hoodie-wearing anarchists and the newly formed cadres of right-wing men who show up at rallies armed with clubs and looking for a fight.
Last month, Fox News filmed Montana Congressman-elect Greg Gianforte assaulting a reporter in an unprovoked attack. "Gianforte grabbed Jacobs by the neck with both hands and slammed him into the ground behind him," Fox reporter Alicia Acuna wrote. "Faith, Keith and I watched in disbelief as Gianforte then began punching the man, as he moved on top of the reporter and began yelling something to the effect of, 'I'm sick and tired of this!'"
The next day, as journalists covered the election, a Montana voter threatened a crew from CNN, saying: "You're lucky someone doesn't pop one of you."
Gianforte was charged with assault and has pleaded guilty.
The new era of political thuggery dates to raucous Trump campaign rallies last summer, when the candidate urged supporters to "lock up" his opponent, Hillary Clinton, and promised to pay the legal fees of those who often scuffled with protesters and berated journalists.
Earlier this year, one of Trump's favorite broadcasters, Alex Jones, threatened on air to "beat" Democratic Representative Adam Schiff and told the California congressman to "fill your hand"—a reference to taking up a pistol. An attorney with expertise in federal law told Newsweek at the time that the threats appeared to break a federal law, U.S. Code Title 18, Section 115, which makes it illegal to threaten to assault a U.S. official and provides a penalty of up to six years in prison.
Jones was never charged.
This article has been updated with a Treiman's comment to Newsweek. An earlier version of the article incorrectly listed his age as 32. He is 33.