Donald Trump Is Toxic and Inspiring a Democratic Surge in Virginia Governor's Race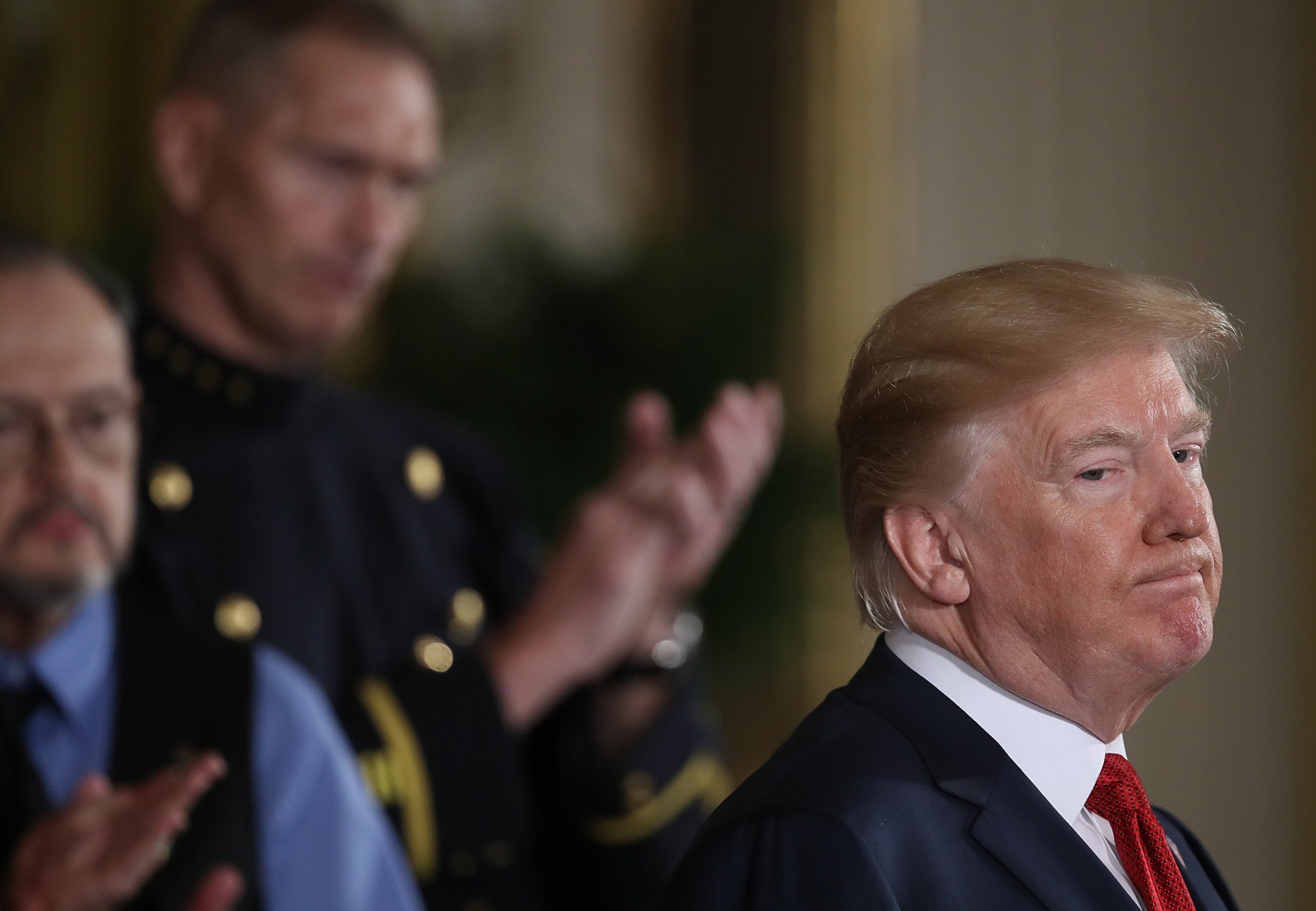 While next month's gubernatorial election in Virginia has long been viewed as an early referendum on the presidency of Donald Trump, a historically unpopular commander-in-chief who is at war with his own party, the results will also show much about whether the much-vaunted "resistance" to the Republican president will be borne out where it really matters—at the polls.
Related: Republicans are speaking out against Trump's 'debasement of America'
Just more than a week before Virginians go to the polls to decide between Democrat Ralph Northam and Republican Ed Gillespie, it appears to be a battle Democrats are winning.
"Not only is there the normal referendum issue going on here, it's extra weighted because of the blowback to Donald Trump," Dr. Rachel Bitecofer, the assistant director of the Wason Center for Public Policy at Virginia's Christopher Newport University—which has done extensive polling on the race and on Trump's impact—told Newsweek Thursday. "Democratic voters are far more enthusiastic to cast ballots than their Republican counterparts are, and it's a product of a backlash to Donald Trump."
Trump's approval rating in the state, which he lost to Hillary Clinton by five points in 2016, is at a lowly 33 percent, a bit below where he stands nationally. Such a figure is unheard of for a president just nine months after taking office.
Gillespie could well pay the price. Thirty-two percent of likely voters in Virginia said Trump would be a factor in their vote for governor, according to a Wason Center poll, with 20 percent saying he was a major factor. For many in Virginia, the election offers a first chance to offer a clear rebuke of what is taking place in Washington. Twenty-eight percent of those polled said their votes would be messages of disapproval for Trump, compared to 17 percent who said they were planning to cast ballots as signals of support.
While Trump has been tweeting praise of Gillespie with increasing enthusiasm, his presence in the White House is doing nothing to help the Republican candidate, said Geoffrey Skelley, associate editor of the University of Virginia's Center for Politics.
"Trump is absolutely a net negative," he said. "If Hillary Clinton were in the White House right now we'd be talking about Ed Gillespie as the favorite—he'd almost certainly be up in the polls."
Northam, who has served as Virginia's lieutenant governor since 2014 and is looking to replace current Democratic Governor Terry McAuliffe, leads in the polls by an average of four points, and there is evidence his margin is growing.
Should the Democrats outperform expectations while holding on to the seat, it would offer validation that the party is on the right track to take back the House of Representatives in 2018. For Republicans up for re-election, it would be an alarming sign of the potential perils of being tied to a divisive and unpopular president.
"If it's a wave in the Democratic Party's favor, it's going to be a big message to congressional Republicans that are serving in semi-competitive districts that they're in trouble for 2018," Bitecofer, who has also authored a book on last year's election, titled The Unprecedented 2016 Election, said. "And they're not going to be confused as to who and why they're in trouble. They're in trouble because of Donald Trump—just like Ed Gillespie is."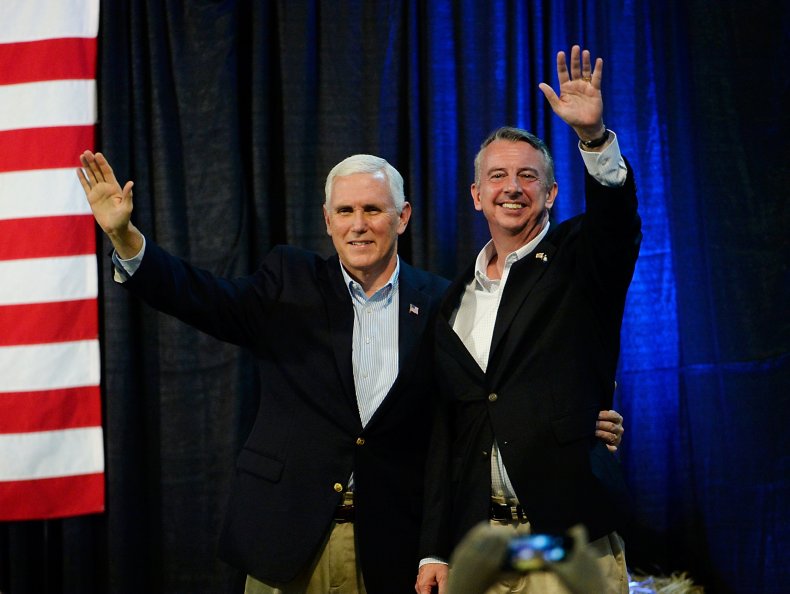 Democrats are confident that the widespread opposition to what's happening in the White House will play out in Virginia. Data from the Northam campaign show a 255 percent increase in volunteer shifts versus the same time ahead of the 2013 governor's vote. The state volunteer effort is even eclipsing that for the 2016 presidential election. That's not all: In the two primaries, the number of people showing up to vote for Democrats far exceeded those who cast ballots in the Republican primary.
"Momentum, what does that mean? Let's look at the actual numbers," Virginia Democrats spokesman Kevin Donohoe said. "Right now, we're outperforming recruited volunteers and doors knocked in comparison to what Democrats accomplished in 2013 and 2016. We're seeing this record-breaking enthusiasm and energy and that's what's going to power Democrats to victory in the last two weeks."
Democrats are not alone in their efforts. A number of groups representing Democratic-leaning voters are engaged in campaigns to get voters to the polls on November 7. One is the Voter Participation Center, which has spent more than $1 million to get the so-called Rising American electorate—people of color, millennials and unmarried woman—to the polls. Such an effort, said the group's founder and president, Page Gardner, is larger than that carried out in 2013 and represents a strong desire to counter the traditional decrease in participation witnessed among these groups of voters in non-presidential election years.
"In off-year elections, these are the groups that are disproportionately likely to drop off," she said. "We wanted to be able to participate in the way we wanted to make a real difference in terms of turning out these groups of voters."
Gardner, too, sees the specter of Trump as playing prominently in voters' thoughts. Yet, while that may be the case, the two candidates themselves do not naturally fit into that picture. Northam is a moderate Democrat who beat out a progressive, Bernie Sanders-backed candidate in his party's primary. He has made his distaste for Trump clear, describing him as a "narcissistic maniac" during the primary campaign. But more recently, to some criticism, he has dialed back that tone and said he would work with Trump when it benefited Virginians.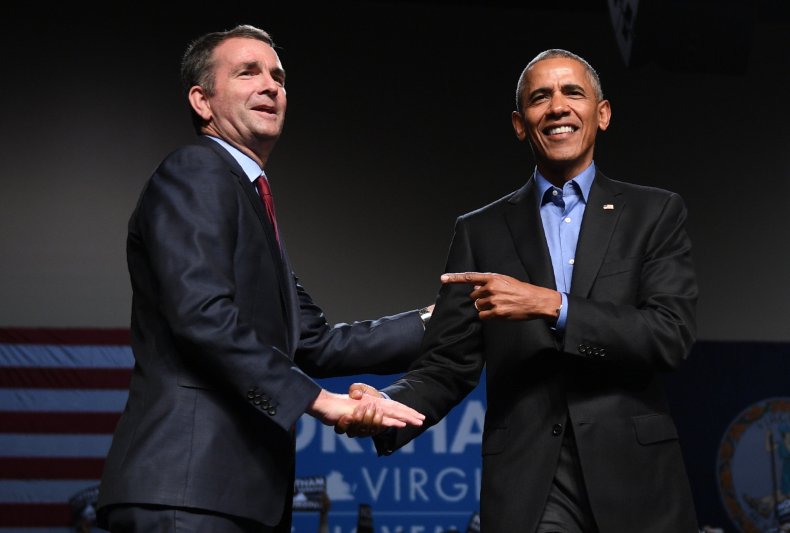 Like Northam, Gillespie defeated a candidate from the more extreme wing of the party in his primary. A former lobbyist and Republican National Committee chairman, Gillespie is as establishment as Republicans come—just the type of Republican, in fact, that Trump's former chief strategist, Steve Bannon, is railing against.
For a long time, Gillespie has tried to keep himself at a safe distance from the president. Unlike former President Barack Obama, who stumped for Northam, Trump has not gone to Virginia to campaign. (Vice President Mike Pence did make an appearance.) And when Trump first tweeted his endorsement of Gillespie earlier this month, the candidate was far from ecstatic—he didn't even hit the retweet button.
Yet since surviving a primary with ardent Trump supporter Corey Stewart, Gillespie has begun a clear shift toward adopting some of the president's flammatory rhetoric.
Where he once lobbied for a pathway to citizenship for undocumented immigrants and as RNC chairman talked of a "big tent GOP," he has now used the presence of MS-13 in Virginia to rail against illegal immigration. He has called for a blanket ban, too, on so-called sanctuary cities, even though Virginia doesn't have a single one. And, predictably, the thorny issue of Confederate monuments has been prominent in a state where two months ago a white nationalist rally in support of a Robert E. Lee statue led to the killing of a counterprotester.
For Democrats, it has not been difficult to associate Gillespie with the president's rhetoric, especially as he is running an ad campaign that some have accused of amounting to a racist dog whistle.
"Since almost losing his primary, Ed Gillespie has basically been forced to adopt Trumpian tactics and not only run extremely misleading, extremely divisive ads, but is embracing his dangerous policies," Donohoe said. "He is stealing from the Trump playbook and has had to play upon the same fears and divisions as Donald Trump did to get elected. He's turned himself into Virginia's Trump candidate."
What appears clear is that as the campaign reaches its conclusion, Gillespie is going all in with Trump, counting on his supporters to turn out as they did in 2016. On Thursday, Gillespie even retweeted Trump's latest pledges of support.
"The strategy here has to come down to the fact it's a low-turnout election and if you can get a lot of irregular voters who showed up for Trump...that can be useful for Gillespie," Skelley said.
After what happened in the presidential election a year ago, Democrats are wary of overconfidence and, for all the signs of enthusiasm on the ground, there is anxiety about a tight race with such far-reaching implications. Were Democrats to lose a race in a state that hasn't elected a Republican to statewide office in eight years despite a historically unpopular president, the fallout between competing factions in the party could be every bit as serious as the Republicans would face if Northam wins.
"If you want more intraparty strife, a Northam loss would probably deliver that," Skelley said. "Berniecrats would say we nominated another milk and toast center-left Democrat, we need to give them a true choice."
Donald Trump Is Toxic and Inspiring a Democratic Surge in Virginia Governor's Race | U.S.