Last week, the lord mayor of Sheffield, U.K., broke the internet when he called Donald Trump a wasteman, and banned him from his city. Around the same time, we learned that permission had been granted for a giant blimp of an orange baby to fly over London while Trump is making his official visit on July 13. It's difficult not to feel a pang of national pride for deliciously British acts of dissent like this, and I'm proud to be among thousands of people protesting in London this Friday.
At the same time, fresh in our minds are searingly awful images of children locked into cages, screaming for their parents, languishing at the mercy of a brutal border regime. Mere weeks before the U.K. Government rolled out the red carpet and began to prepare our carnival of resistance, Trump gave us another harrowing reminder that he's one of the most dangerous people in the world, that the consequences of his actions are deadly serious, and that Trumpism puts the entire planet in jeopardy.
Take climate change—Trump's climate denial isn't just rhetoric. It manifests itself on an almost daily basis. In the last week or so alone, we've seen him ask Saudi Arabia to ramp up its oil output to double the market's expectations, while he halves U.S. climate funding to the developing world. And of course, actions like this are set against the backdrop of Trump pulling the U.S. out of the Paris Agreement this time last year—an early confirmation of his attitude towards the threat of ecological collapse.
The stakes are impossibly high. That's why it's vital that our resistance of Trump isn't restricted to one day of protest, spectacular as it looks likely to be. Trump himself may be a problem unique to the United States. But the toxic ideologies of 'Trumpism' are flourishing around the world—including here in Britain. A new and dangerous incarnation of the far-right is mobilizing on our streets like never before, while the U.K. Government is spreading division and immiseration at every turn. If Brexit happens, it will leave the U.K. more perilously dependent on the whims of this unpredictable "America First" president, with chlorine-washed chicken just the start of it.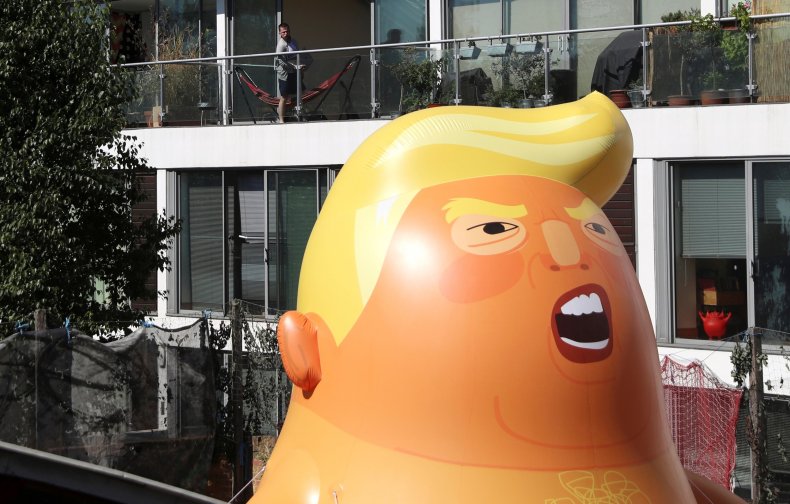 We have little moral authority on Trump's border brutality while we routinely lock up pregnant women in detention centres, split up refugee families at our own border, and forcibly return people on charter flights to countries in which they risk persecution. We can't berate Trump for fueling climate breakdown while we slacken regulation around fossil fuel extraction and cancel renewable schemes like the Swansea Tidal Lagoon. And we can't condemn the president for the normalization of misogyny, until we take it seriously in our own criminal justice system.
Yes, let's rise up together against Trump this Friday. But that's only the beginning of what we have to do. We must also rise up against every manifestation of his toxic politics, and we must do so every single day, in acts big and small. We must reunite refugees, and welcome them into Britain. We must keep fossil fuels in the ground, and invest in the renewable alternatives. We must stamp out all forms of discrimination wherever we see it.
It's by doing this that we will truly stop Trump.
Caroline Lucas is Co-leader of the Green Party and Member of Parliament for Brighton Pavilion, U.K. Twitter @CarolineLucas​
The views expressed in this article are the author's own.​​​​​