Donald Trump Will Never Meet With Vladimir Putin Alone Again, Says Lindsey Graham
Senator Lindsey Graham said Thursday that neither President Donald Trump nor any other president after him will ever again have a behind-closed-doors meeting with a foreign leader. At the same time, Graham shot down the suggestion that the interpreter who sat in with Trump and Russia's Vladimir Putin should appear before Congress.
Graham quickly nixed the idea, floated by several Democrats, that the only other American in the room with the two leaders should be compelled to answer questions about the content of their discussion. Particular interest has focused on the conversation in the wake of Trump's ill-received press conference in Finland, when he suggested that he believed Putin's denial of Russian interference in the 2016 election rather than the findings of U.S. intelligence agencies.
While the three-term Republican lawmaker did not explain exactly how he or Congress could stop a president from meeting privately with a foreign leader, he did say the idea could affect future presidents as well. He also said he merely wanted to know what agreements Trump and Putin supposedly reached over the course of their two-hour sit-down.
"Absolutely not," Graham said about questioning the translator. "That will be the last time you ever have a foreign leader meet with a president of the United States privately. I can tell you there may be times that we need to do that. So I can't imagine how that would affect future presidents in terms of their abilities to talk with foreign leaders," Graham told CNN.
Graham continued: "What I do expect is for the administration and the president, eventually, to tell us were any agreements reached. I don't care what they talked about, I care about what we do. You can talk to Putin all day long. Here's what I want to know: What did you agree to do with him? And give us a chance to see if it makes any sense."
Graham, who has often defended Trump since he took office, said he understood it was likely "difficult" for Trump to damn Putin while the Russian leader stood beside him. But he added that the president's comments made the country appear "weak."
"I think he should've been stronger, standing up for the fact that Putin has interfered in the past, is still doing it in the future. I know it's difficult," Graham said. "You want to be somewhat diplomatic. You're standing right by the guy. We have to deal with him. I don't mind him dealing with Russia, I just want to deal with Russia from a position of strength. When I said this was a missed opportunity, we reinforced a narrative that's bad for us as a nation, it came across weak."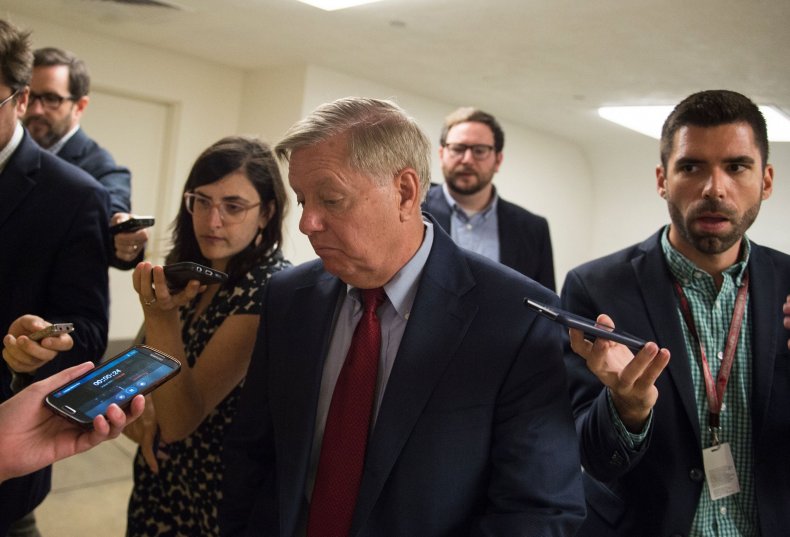 The president has dealt with consistent, rapid-fire blowback from members of both political parties ever since he appeared swayed by Putin's denials of Russian election meddling.
Trump's comments over the past three days have since attempted to reverse course and show support for the intelligence agencies, but the president has also gone on the offensive and claimed the media is ignoring his previous statements about Russia's interference. Many of his previous comments, however, also put responsibility or blame on other actors beside Russia.