Trump-Putin Meeting: U.S. President Urged Not to 'Wing It' In Meeting Alone With KGB Veteran, In Letter From Top Democrats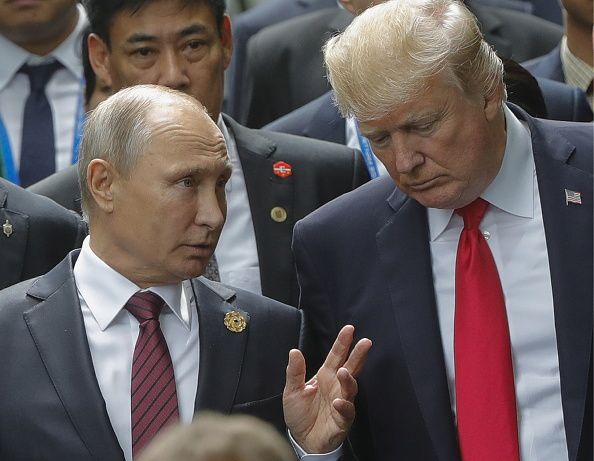 Top Democratic senators penned a letter to President Donald Trump Saturday urging him not to meet with Russian leader Vladimir Putin alone during their scheduled summit Monday.
The lawmakers wrote that if Trump insists on meeting with the Russian president, that he should at least do so in the company of senior staff members so as not to be at a disadvantage to Putin. The eight senators requested that the president not "wing it on your own" and that experts of the State Department, Defense Department and the CIA be included in the meeting.
"Mr. Putin is a trained KGB intelligence veteran who will come to this meeting well-prepared," the letter reads. "As the Kremlin said last week, a one-on-one meeting with you 'absolutely suits' him. There must be other Americans in the room."
The letter was authored by eight prominent Democratic senators, including Minority Leader Chuck Schumer, Dianne Feinstein and Patrick Leahy.
President Trump is scheduled to meet with Putin in Helsinki, Finland, to round out his recent European diplomatic tour that included a NATO summit in Brussels and a visit to the United Kingdom. Before making the trip, Trump said that meeting with Putin will be the "easiest" meeting of them all.
The letter also said that if Trump is not prepared to ask Putin about Russian interference in the 2016 presidential election that he should not bother with the meeting at all. Their request comes after Robert Mueller's special counsel investigation indicted 12 Russian military intelligence officers on Friday for hacking the Democratic National Committee as well as Hillary Clinton's presidential campaign. Russia has continually denied their alleged meddling before Trump's shocking win over Clinton.
"Our intelligence leaders unanimously assess that Mr. Putin will continue to try to interfere in upcoming U.S. elections," the letter said. "Russia continues to undermine NATO, European solidarity, and Western institutions and norms."
Trump has said that he will try to question Putin on election meddling but claimed that there is not much he can do if the leader denies Russia's role in 2016's presidential race.
"What am I going to do?" Trump said. "All I can do is say 'Did you?' and 'Don't do it again,'" Trump said, according to The Washington Post.
Trump agreed to the one-on-one meeting earlier this month, but foreign policy experts fear that Trump will make more concessions to the Russian leader than he would in the company of aides.
"Vladimir Putin wants to see the West divided and weakened," the lawmakers wrote in the letter. "You must not play into his aims."