Democrats expressed outrage on Friday after President Donald Trump held a joint press conference with Russian President Vladimir Putin and appeared to make light of Russian election interference.
When asked by reporters whether he would discuss the issue of Russian interference in the 2020 election with President Putin, Trump smirked, pretended to wag a finger at the Russian leader, and said, "don't meddle." Democratic lawmakers quickly criticized the president for not taking election security seriously enough.
"Trump lays a red carpet for Russians attacking American democracy again—inviting Putin in effect to repeat his attempt to sabotage our elections. His mock admonition mocks & betrays our national security," Senator Richard Blumenthal, a Democrat from Connecticut, tweeted on Friday.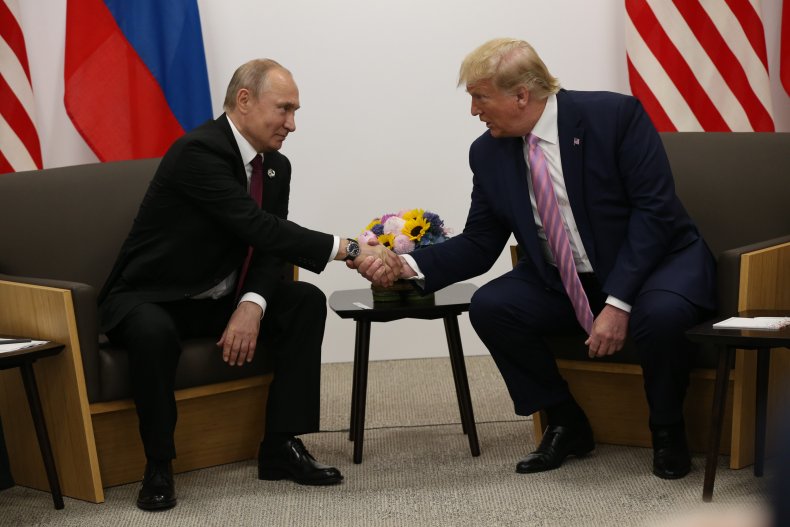 Senator Chuck Schumer, a Democrat from New York, agreed that Trump is sending Putin the message that election interference is acceptable.
"President @realDonaldTrump is joking with Putin about interfering in our elections, but the joke is on us and Putin's the only one laughing. President Trump is basically giving Putin a green light to interfere in 2020," Schumer tweeted.
Michael McFaul, the former U.S. ambassador to Russia, asked why Trump appears to be seeking approval from Putin.
"There is something so unnatural, strange, and troubling about his fealty before Putin, especially when he is in Putin's presence," McFaul tweeted.
And Hakeem Jeffries, Chairman of the House Democratic Caucus, had stronger words.
"Putin punked the fake leader of the free world. Again. Russia attacked our democracy in a plot to artificially place Trump into the Oval Office. That is not a laughing matter. What will Bob Mueller have to say about this?" Jeffries tweeted.
Others called for the president to release more information about his conversation with Putin into the issue of election interference.
"Whether the President warns Putin against interference in our next election is not a private matter between Trump and Putin," Democratic Congressman from California Adam Schiff, chairman of the House Intelligence Committee, wrote on Twitter. "It is a national security imperative and critical to deterring further Russian meddling. That is, without question, the business of the American people."
The U.S. intelligence community has unanimously determined that Russia attempted to influence the outcome of the 2016 presidential election in favor of Donald Trump. Former Special Counsel Robert Mueller issued a report into Russian election interference that determined that Russia interfered in the 2016 presidential election principally through social media campaigns that favored Trump's candidacy and "a Russian intelligence service conducted computer-intrusion operations against entities, employees, and volunteers working on the Clinton Campaign and then released stolen documents."
Speaking on Friday, former President Jimmy Carter accused Trump of being an illegitimate president due to Russia's interference efforts.