'Get Rid of Them': Donald Trump and Vladimir Putin Bond Over Dislike of Journalists and 'Fake News'
President Donald Trump and Russian President Vladimir Putin appeared at ease together during a joint press conference on Friday, cracking jokes about election interference and bonding over their mutual dislike of journalists.
"Get rid of them," Trump said about the journalists. "Fake news is a great term, isn't it? You don't have this problem in Russia, but we do," he added.
"We also have," Putin responded in English, smiling. "It's the same."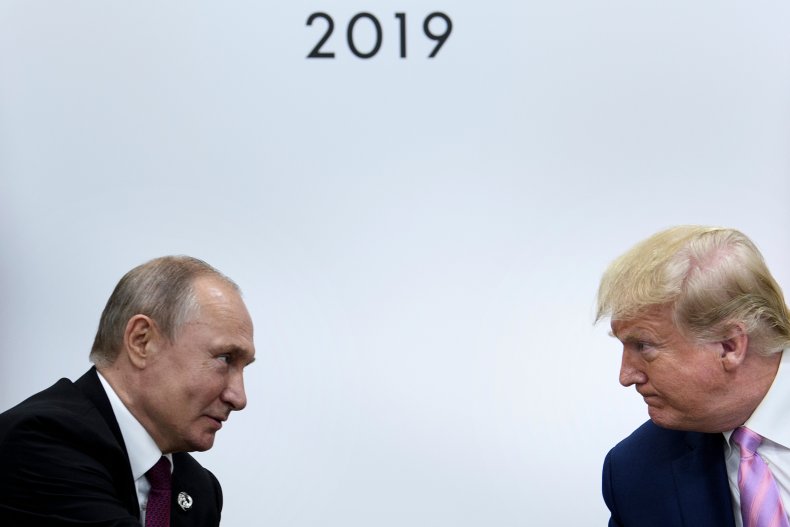 Russia is a famously inhospitable place for journalists who are critical of the government, and the situation has gotten even worse in recent years under Putin's rule. This year, Russia was ranked number 149 out of 180 countries included in the World Press Freedom Index, an annual rating from the organization Reporters Without Borders.
In March 2019, Putin signed a "Fake News bill" into law, making it a criminal offense to insult the state or government online. Many experts note that the language in the bill is vague and pledges to punish journalists and online pundits for showing "blatant disrespect for society, government, official government symbols, the constitution or the governmental bodies of Russia."
"With the adoption of two new laws criminalizing 'insult' to the state and the dissemination of 'fake news', as well as plans to increase government control of the Internet, the Russian authorities are imposing further, excessive restrictions on freedom of expression and undermining media freedom," Pen International, an organization promoting freedom of expression, said in a statement.
The Committee to Protect Journalists notes that editors and journalists are detained frequently in Russia on trumped-up charges and many reporters practice self-censorship to avoid retribution from authorities.
Most recently, an investigative journalist with the Russian news outlet Meduza was arrested on drug charges that authorities later admitted were faked. Several law enforcement officials were later fired over the incident.
Even Trump's own State Department called out Russia in 2018 for "eroding press freedoms and media independence."
But many believe that Trump would like to emulate Putin's authoritarian model. Under Trump, press freedom has declined precipitously. And on World Press Freedom Day in May, Trump attacked the media and said that "some of the press does not cover me accurately and in fact, they go out of their way to cover me inaccurately, so I don't think that's a free press. I think that's a dishonest press."
Regular press briefings have also been suspended under the Trump administration. Outgoing White House press secretary Sarah Sanders will end her tenure by going more than 100 days without holding a briefing for reporters.