Donald Trump Is Meeting Vladimir Putin Without Even a Notetaker in the Room to Avoid Info Leak: Report
President Donald Trump was meeting with Russian leader Vladimir Putin Monday without even so much as a notetaker in the room. The two leaders were scheduled to sit down for 90 minutes in Helsinki before heading into an expanded bilateral meeting with aides from both sides.
But it is the initial one-on-one that has raised eyebrows in light of Trump's continued favorable statements about Putin, and the fact that the meeting was taking place just three days after 12 Russian military officials were indicted for interfering in the 2016 United States presidential election.
Despite the overwhelming volume of intelligence and justice department reports finding that Russia interfered in the election to the benefit of Trump, the U.S. president has continued to dismiss the investigation as a "witch hunt" and has blamed his predecessor, President Barack Obama, for it taking place. In the past, Trump suggested that he believed Putin's denial of any involvement in the election.
Only interpreters reportedly joined the two leaders in the room at Finland's presidential palace Monday. Trump had opposed having a notetaker in the room during their one-on-one meeting because he was wary of leaks, a foreign official brief on the plans told The Wall Street Journal. The decision prompted concern among some diplomats that there would be no official record of the meeting, leaving it vulnerable to a misleading account from the Russian side.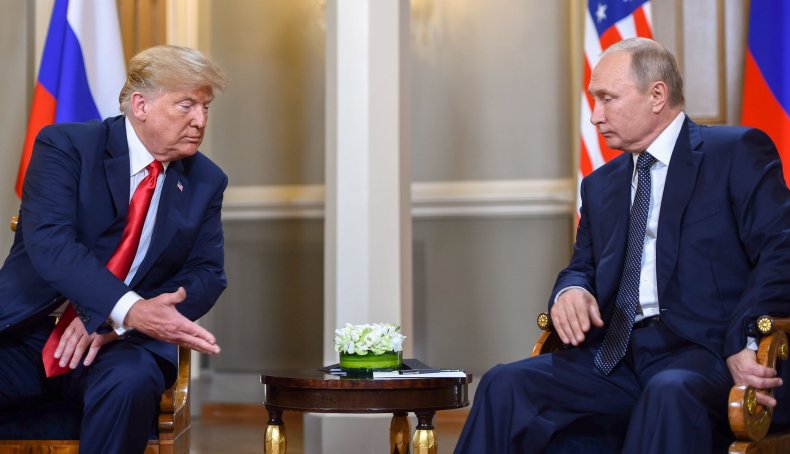 It did not appear that Trump would take his own notes, either. While there was a notepad beside Putin for their meeting, there was nothing for Trump, the Journal noted.
Trump has shown a notable unwillingness to confront Putin over Russia's interference in the 2016 election and the continued threat that intelligence agencies have outlined of the country meddling in the upcoming midterm elections.
Prior to Monday's meeting, Trump said there was not much he could do if Putin denied his country played a role in any meddling.
In contrast, he has blasted his own justice department, the FBI and Obama.
"President Obama thought that Crooked Hillary was going to win the election, so when he was informed by the FBI about Russian Meddling, he said it couldn't happen, was no big deal, & did NOTHING about it. When I won it became a big deal and the Rigged Witch Hunt headed by Strzok!" Trump tweeted Monday morning.
He then added: "Our relationship with Russia has NEVER been worse thanks to many years of U.S. foolishness and stupidity and now, the Rigged Witch Hunt!"