Former Republican FEC Commissioner Slams Trump for Pressuring Ukrainian President as 'Betrayal of His Oath'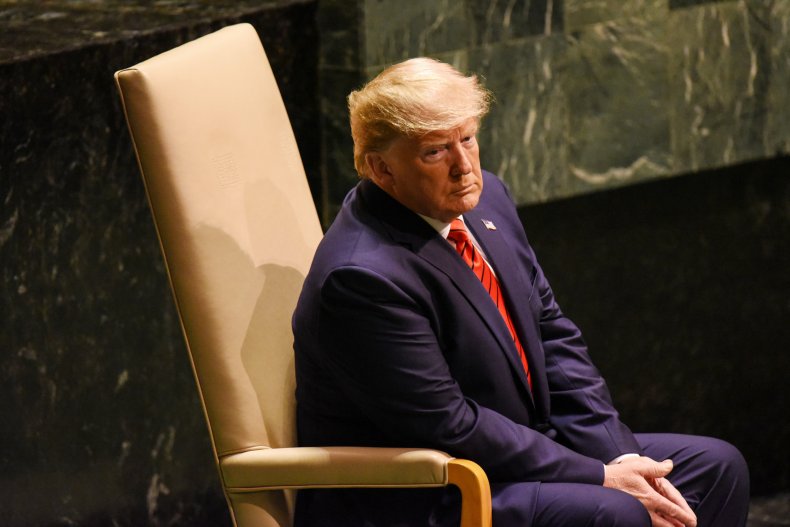 A Republican former commissioner on the Federal Election Commission released a blistering statement in response to President Donald Trump's requests to the Ukrainian president that may suggest the president was trying to leverage a foreign official in order to bolster his electoral prospects against Joe Biden.
A rough transcript of part of the July call between Trump and President Volodymyr Zelensky was released to the public Wednesday amid mounting pressure from Congress.
In the conversation, Trump repeatedly brought up the prospect of Ukrainian law enforcement investigating certain matters that could benefit him domestically.
"On his phone call with the President of Ukraine, President Trump repeatedly pressured the newly-elected head of state to investigate a former U.S. Vice President and current candidate for President of the United States for his own political gain," Republican former Commissioner Trevor Potter said in a statement Wednesday. "This is a betrayal of his oath of office. Given the context of the call, President Trump created an implicit understanding that U.S. support for Ukraine and taxpayer-funded security aid to Ukraine was hanging in the balance."
Potter, who is the current president of the non-profit elections watchdog Campaign Legal Center, urged Congress to release the full whistleblower complaint, which was the impetus for the entire scandal. The complaint is said to be in preparation for transmission to Congress late Wednesday afternoon.
As the Campaign Legal Center noted, the transcript is not a complete accounting of the phone call, which may have included other discussions that did not make it into the final readout. The White House immediately attempted to spin an interpretation of the transcript's contents, and in doing so, inadvertently sent out talking points to Democratic staffers on Capitol Hill, revealing their strategy.
Many ethics experts reacted similarly to Potter, rejecting assertions from Trump allies that because the call doesn't contain an explicit, quid pro quo criminal conspiracy that it isn't actionable by Congress.
"Mr. Trump's meaning was perfectly clear: He wanted Ukraine to investigate Joe Biden," Noah Bookbinder, executive director of the good-governance group Citizens for Responsibility and Ethics in Washington, wrote in an op-ed Wednesday. "Mr. Zelensky's reaction shows that he got the message. He assured Mr. Trump that he would be appointing a loyal prosecutor general and that "he or she will look into the situation."
Some of Trump's Republican defenders have sought to cast a high-bar for allegations of wrongdoing, but no such bar is required as it concerns Congress's oversight or impeachment powers. While the president is largely immune from the federal statues and ethics rules that govern the behavior of executive branch officials, Congress is able to apply comparable scrutiny of the president through its inherent authority as a co-equal branch of government.
Reports have suggested that, in the wake of the transcript's release, Democrats may seek to focus their upcoming impeachment investigation on this particular scandal. It is unclear if this strategy is backed by the entire caucus, but it appears to be spearheaded by House Speaker Nancy Pelosi, who was a recent and reluctant convert to impeachment.