Most Donald Trump Voters Don't Think Using the N-Word Is Racist, or Even Offensive, New Poll Indicates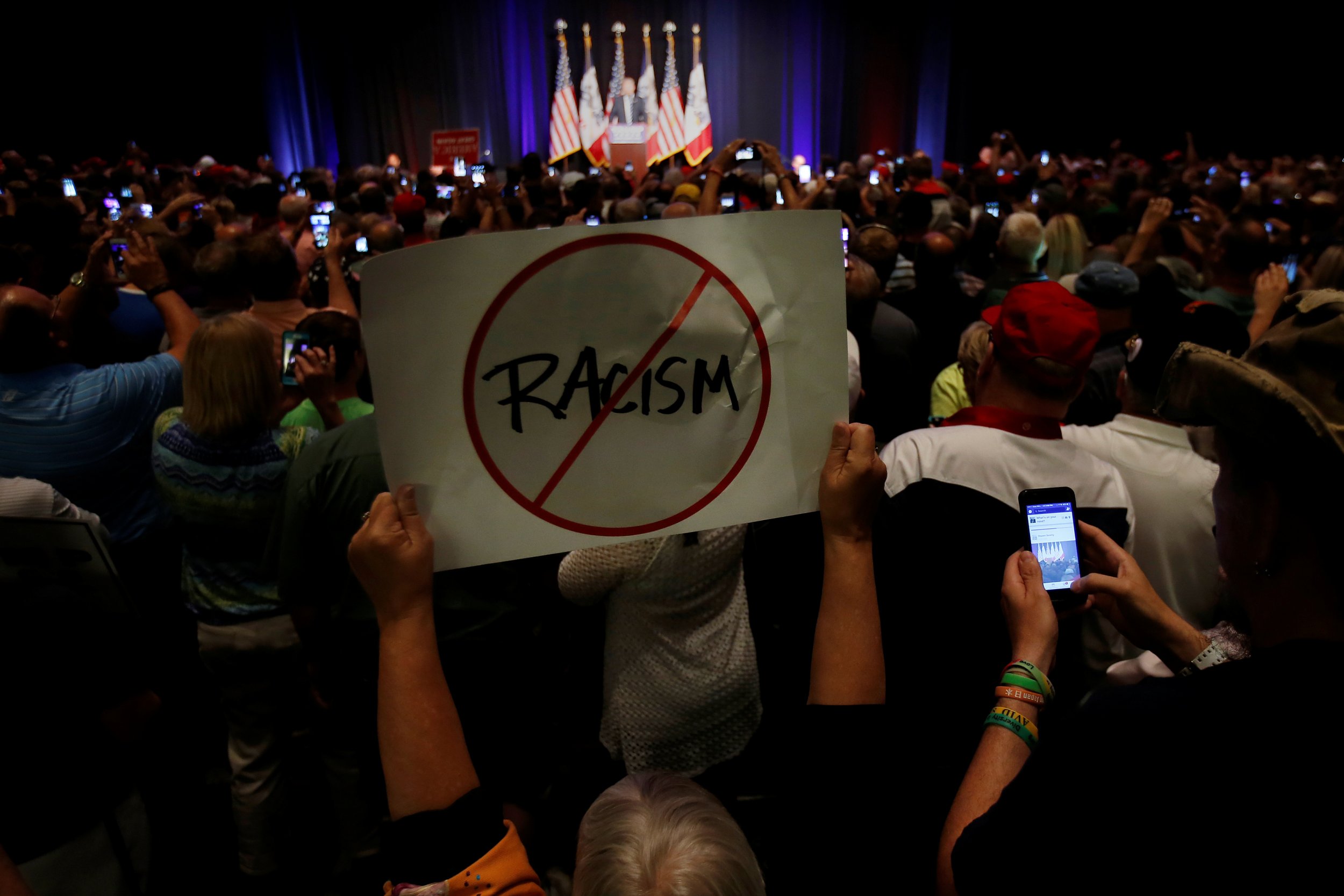 An overwhelming majority of Donald Trump voters don't think that using the n-word makes white people racist and less than half think the slur is offensive, according to a new poll.
A combination of two polls conducted over the past two weeks found that only 18 percent of Trump voters believe using the racial epithet makes white people racist and just 42 percent find the term offensive. On the other side of the aisle, more than three-quarters of Hillary Clinton voters said that the n-word is offensive and racist.
Over 70 percent of Trump supporters indicated that they would still cast their vote for a political candidate even if they had said the n-word. By contrast, nearly 90 percent of Clinton voters say it would deter them from supporting a candidate if they had used the slur before.
The findings, reported by The Washington Post, were part of two different polls conducted by YouGov and The Economist as well as Huffpost during the week of August 14 to August 21.
The political debate on the n-word has grown increasingly bipartisan over the past few years. In 2006 a CNN/ORC poll showed that 55 percent of Democrats and 49 percent of Republicans viewed the term as offensive. But now that gap has widened to a 32 point margin in 2018, as 75 percent of Democrats and 43 percent of Republicans said the n-word was derogatory.
The findings came as rumors swirl that the president has used the n-word before and done so on tape. Omarosa Manigault Newman, a former White House aide whose book released earlier this month has set off a firestorm of controversy surrounding the Trump administration, alleged that tapes from the reality show Trump hosted, The Apprentice, prove the president's usage of the racial epithet.
The president has denied those accusations, tweeting: "I don't have that word in my vocabulary and never have. She made it up."
Trump later called Manigault Newman "that dog" in another social media post, sparking criticism for the insulting comment and its racial undertones. Trump has also come under fire for attacking prominent black celebrity figures, including LeBron James and protesting NFL players.
The poll also came just days after a Republican candidate for governor in Florida, Ron DeSantis, used the phrase "monkey this up" when talking about voting for his black Democratic opponent.
Andrew Gillum, at whom the racial slur was directed, responded that DeSantis used the comment to "incite" his voter base. If elected in November, Gillum will become the first black governor in Florida's history.