Donald Trump vs. Amazon: All the Times the President and Jeff Bezos Have Called Each Other Out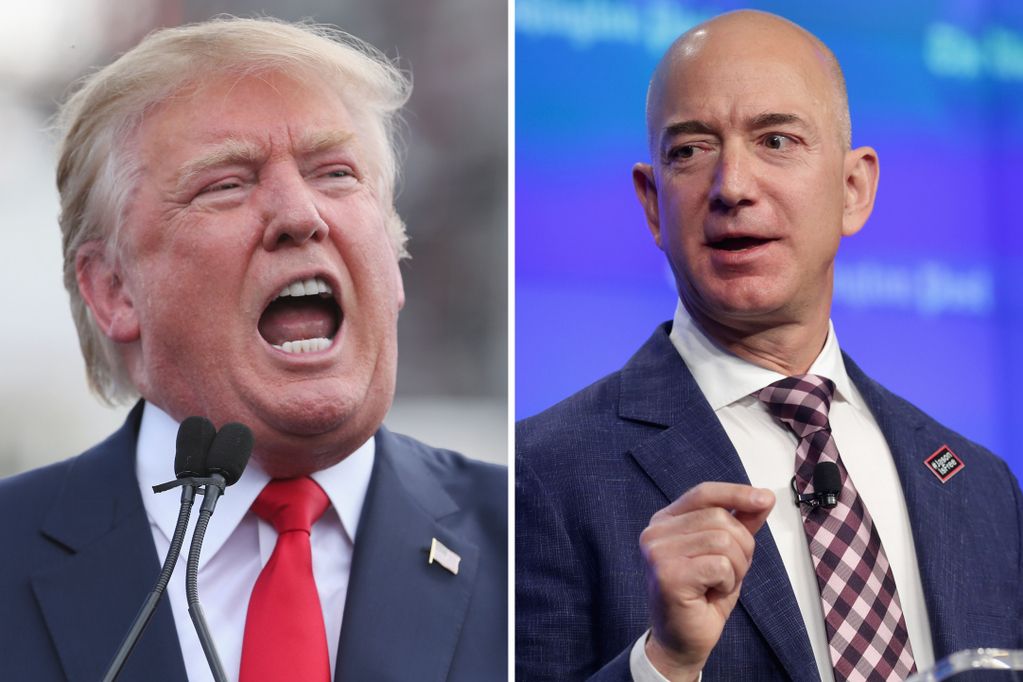 President Donald Trump took aim at one of his preferred targets in a late Monday night Twitter salvo.
The U.S. president fired off three tweets against the Washington Post after the newspaper ran a story last week on the president's alleged decision to end a CIA program of training and arming moderate Syrian rebels against the regime of President Bashar al-Assad.
Trump appeared to confirm the veracity of the story in his tweets, but disputed some of the facts and then went into a rampage on how the Post functioned as a "lobbyist for Amazon and taxes."
The connection between the paper's report and Amazon's tax arrangements made it clear that the real target of Trump's polemic was Jeff Bezos, the chief executive of the online marketplace and owner of the Post.
Trump and Bezos—but mostly Trump—traded insults and criticism throughout the former's ultimately successful presidential campaign. The Republican repeatedly accused Bezos's company Amazon of shirking its tax obligations; the company's financial arrangements, including having its headquarters in Luxembourg, have previously generated controversy. For his part, Bezos said that Trump was a threat to democracy and threatened to send him into space.
Here's a look at their tumultuous relationship.
December 2015: #SendDonaldtoSpace
Trump launched his Twitter insurgency against Bezos and his companies seven months after announcing his candidacy for president. Perhaps enraged by a Post article fact-checking Trump's claims on terrorism—including that he "predicted" Osama bin Laden—Trump raged that the newspaper was a front for keeping Amazon's taxes down.
Bezos replied with a reference to his Blue Origin rocket, a project to bring private citizens to space.
February 2016: Amazon is going to have "such problems"
At a rally in Texas, Trump said that while he had respect for Bezos, one of the world's richest men had bought the Post to "have political influence" in order that Amazon "will benefit from it." Trump then issued a vague threat, saying that Amazon would have "such problems" if he became president.
May 2016: Amazon is "getting away with murder" on tax
In a Fox News interview, Trump said that the Post was a "toy" used by Bezos for political purposes to avoid proper taxation of his main company. "Amazon is getting away with murder, tax-wise. He's using the Washington Post for power so that the politicians in Washington don't tax Amazon like they should be taxed," said Trump.
The comments came on the back of an intense campaign of scrutiny by Post reporters into Trump's financial dealings, real estate business and other aspects of his life. The reporting culminated in a biography, Trump Revealed, which was published in August 2016.
June 2016: Press credentials revoked
Just four months before the election, the Trump team—by then the presumptive Republican nominee—revoked the press credentials of "phony and dishonest" Post reporters "based on the incredibly inaccurate coverage" of his campaign. The Post slammed it as a "repudiation of the role of a free and independent press." In September 2016, the Trump campaign reversed the decision, which had also by then included other media outlets.
October 2016: Trump "erodes democracy"
At a San Francisco summit weeks before the November 8 poll, Bezos was asked how he felt about Trump's repeated allegations against him and others, such as the media, who have scrutinized him.
"He's not just going after the media, but threatening retribution to people who scrutinize him. He's also saying he may not give a graceful concession speech if he loses the election. That erodes our democracy around the edges. He's also saying he might lock up his opponent. These aren't appropriate behaviors," said Bezos.
November 2016: Bezos congratulates Trump
In a rare positive development in their relationship, Bezos offered an olive branch to Trump, congratulating him on his election victory and offering the president "my most open mind."
June 2017: The Guardian of Amazon
A week after Bezos, along with other tech CEOs, attended a meeting with Trump at the White House, the president reverted to his familiar mantra with a tax-related tirade against Amazon.
Trump failed to elaborate on what he meant by "internet taxes," but the tweet may well have been motivated by a story that ran in the Post the day before, which reported that a fake issue of Time magazine with Trump on the cover was on display in some of his golf clubs.