Donald Trump Vs Hillary Clinton: Final Debate Foreign Policy Fact-Check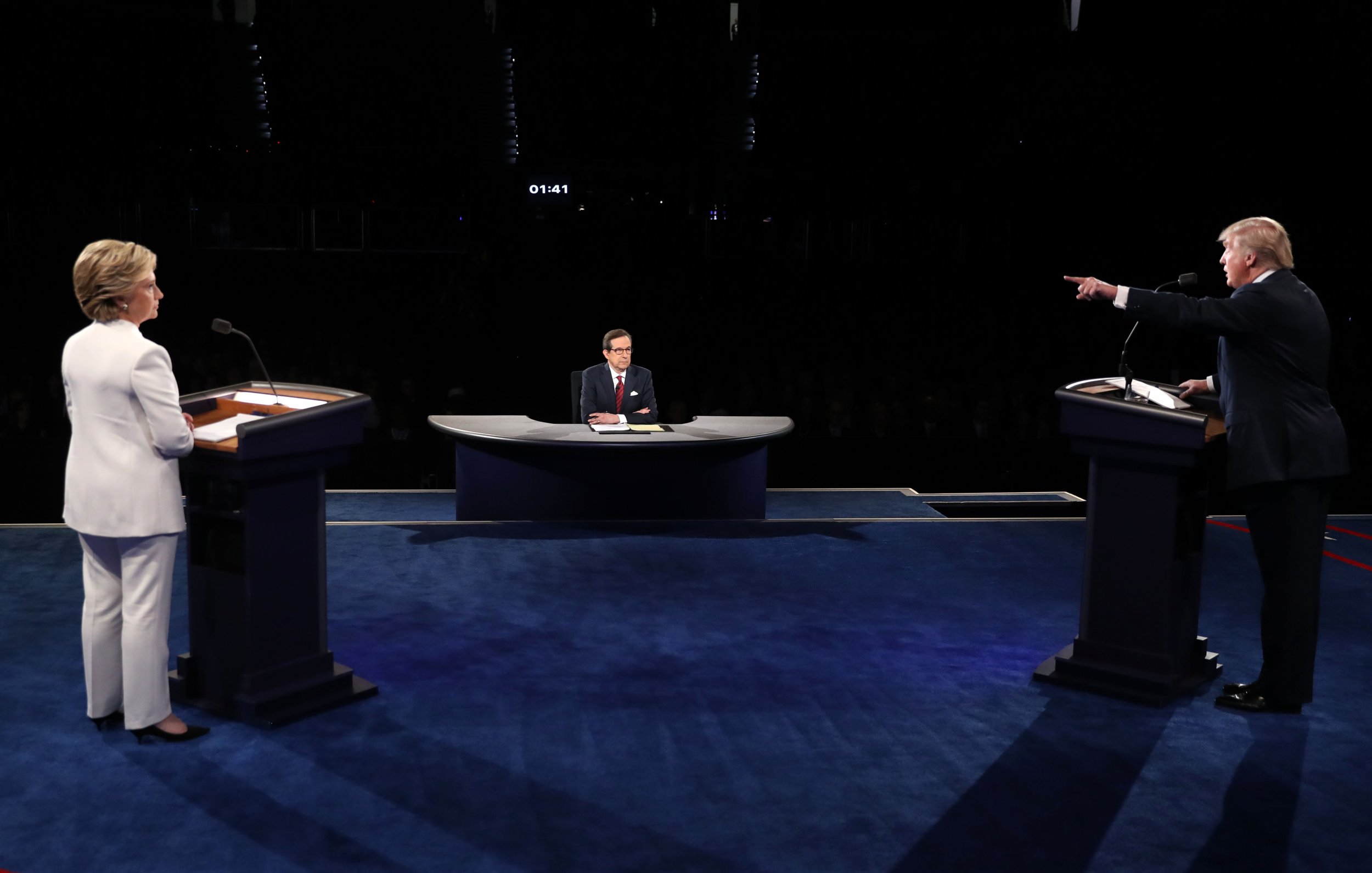 At the third and final presidential debate Wednesday, claims from both candidates on issues outside of U.S. borders were once again flying around as they sought to land their verbal blows at their last face-to-face meeting before the vote on November 8.
Below we look at the credibility of six key claims the candidates made about the world and U.S. foreign policy.
Can the charges they made be supported by the facts on the ground?
PUTIN
What Hillary said: Trump would be Vladimir Putin's "puppet" as president
Is it true? The idea that Putin wants Trump to win has been a key Clinton attack line for much of the campaign. There is something in it. Trump has in the past expressed admiration for Putin as a strong leader, and many commentators have noted how documents released by Wikileaks during the election cycle have disproportionately harmed Clinton. U.S. officials reportedly believe that at least some of the leaked material was stolen by Russian government hackers.
But there is no proof of any direct link between Putin's government and either Trump or Wikileaks. So while it's probably valid to say that Putin is enjoying the kicking Trump has given the American establishment, the jury's out on whether Trump could be called a "puppet" or just a "more sympathetic ear."
OPEN BORDERS
What Trump said: "She wants open borders, OK?"
Is it true? Trump was referring to a speech Clinton gave to the Brazilian bank Banco Itau in 2013, released this year by Wikileaks, in which she said: "My dream is a hemispheric common market, with open trade and open borders."
Clinton responded at the debate that she was talking about energy policy, which isn't quite sufficient. But whatever her private ideology, anyone looking at her record on immigration and her current proposed policy won't find anything meeting the definition of "open borders." While she has supported a range of ideas making it easier for some undocumented immigrants to get a path to U.S. citizenship, she has also previously supported accompanying legislation that would toughen border security, and has said as a candidate she wants to deport some violent criminals.
REFUGEES
What Trump said: Obama's refugee policy involves allowing in "thousands and thousands of people, they have no idea where they come from."
Is it true? It is true that Obama has welcomed "thousands and thousands" of refugees into America (about 10,000 in 2016, or one for every 31,890 U.S. citizens). But the suggestion that the origins of the refugees are unchecked is totally false. America operates a nine-stage refugee screening process involving both UN and U.S. officials, including background checks for both medical and security purposes.
MOSUL
What Trump said: "We don't gain anything" in helping Iraq recapture the northern Iraqi city of Mosul from the Islamic State militant group, Trump said Wednesday, citing potential negative consequences of liberating the city.
Is it true? No. Mosul is Iraq's second-largest city, ISIS's largest capture to date and a hub for its extremist activities. The city has harbored ISIS leaders and ISIS hostages, including at least one British national. Depriving the group is this city will significantly damage not only its operational capabilities but its revenue streams.
It is the last city that ISIS controls in Iraq and the removal of ISIS from Mosul will not only end its biggest claim to a territorial hold in Iraq but it will effectively cut its self-declared caliphate in half, eroding its message of building a state for all the world's Muslims.
Liberating the city from ISIS can only be a positive step in the fight to defeat a group that has killed Muslims across the world, launched large-scale attacks in Europe and inspired lone-wolf attacks in the U.S.
IRAN
What Trump said: The firebrand Republican candidate said that Iran should write Washington "a letter saying thank you very much" because Tehran "is taking over Iraq, something they've wanted to do forever, but we've made it so easy for them."
Is it true? No. Iran has indeed sought to boost its influence in Iraq, working with Shiite Prime Minister Haider al-Abadi and his coalition government after the fall of Saddam Hussein in 2003 and the deposition of Abadi's predecessor Nouri al-Maliki in 2014. And it has done so. But to say that Iran is taking over Iraq is a stretch.
Tehran is supporting Shiite militias that have helped to defeat ISIS in key cities across the country but Baghdad remains a key U.S. ally and Washington's assistance in the recapture of Ramadi, Fallujah and, eventually Mosul, will surely boost U.S. influence in the country.
Trump's suggestion that ISIS should not be defeated in Mosul because Iran might be "the big winner" is not only misguided, it is ludicrous.
RUSSIA IN THE MIDDLE EAST
What Trump said: Trump launched into an impassioned passage, criticizing Clinton for being outsmarted by Putin "every single step of the way," specifically in the Middle East. "All you have to do is look at the Middle East. They've taken over," he said. "She has been outsmarted and outplayed worse than anybody I've ever seen in any government whatsoever."
Is it true? One could be forgiven for treating most of Trump's foreign policy comments with a pinch of salt, but there is an element of truth to his statements on Russian influence in the Middle East. Putin has bamboozled the U.S. on Syria. Washington has trodden every diplomatic avenue in a bid to resolve the Syrian conflict, bar military action against the Assad regime. But Russia has still come out on top. Assad remains in power and is now on the front foot after more than five years of conflict. Moscow seems unconcerned by the threat of Western sanctions, happy to continue its attempts to secure its assets abroad and boost its influence outside of its borders.
Its involvement in Syria has opened up many alliances of necessity for Moscow and Putin has capitalized. Russia is now the most influential it has ever been in the Middle East since the height of the Cold War. Relations with Israel, a historic U.S. ally, have peaked. It is coordinating closely with Iran, working with the Syrian Kurds, it is friends again with U.S. NATO ally Turkey and Egypt's strongman president, Abdel Fattah al-Sisi, is traveling to Moscow more than Washington.
As the U.S. withdraws diplomatically from other arenas in the Middle East to focus on Syria, Russia has stepped in. Rather than "taking over," Russia is now rivalling Washington's influence in the region. But Trump's claim that this happened on Clinton's watch is debatable. She left the State Department in 2013, and this uptick in Russia's Middle East policy seemingly came after Putin decided to enter the Syrian conflict in September 2015.