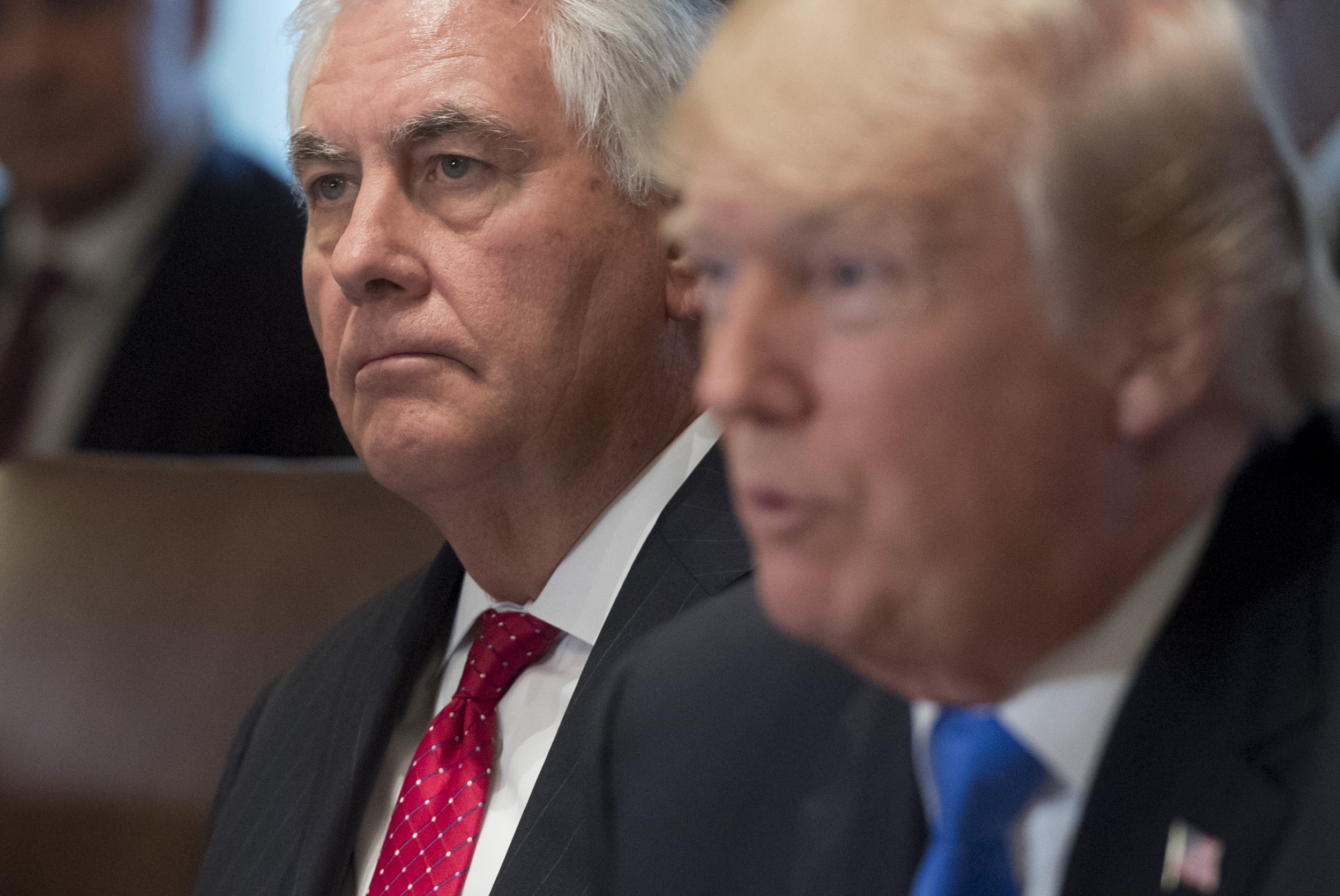 If you had "Rex Tillerson vs. Donald Trump beef" on your "What Previously Impossible to Predict Political Story Will Happen Today" bingo card: Congrats, you nailed it! Well done.
Tillerson, Trump's former secretary of state, distanced himself from the public eye after leaving the position but at an event in Houston on Thursday, he lobbed a couple of barbs at the president, which led Trump to let loose a barrage of insults on Twitter Friday. This included calling Tillerson "dumb as a rock."
It isn't entirely out of nowhere. The relationship between Trump and Tillerson had a rapid, expletive-laden downfall from the days of the president lauding the former Exxon Mobil chief as "a world-class player and dealmaker."
Here's a quick run-down of some of the insults they've traded. Judging by their recent behavior there could be more to come.
He doesn't speak for me...
Addressing a question on Trump's response to deadly riots at a white nationalist rally in Charlottesville, Virginia, last August, where he said there were "very fine people" on both sides, Tillerson threw shade by telling Fox News that "the president speaks for himself."
The infamous "moron"
NBC News reported in October 2017 that Tillerson, then still secretary of state, called Trump a "moron" in a meeting.
Reports later surfaced that, actually, Tillerson had called Trump, "a f**king moron."
Low IQ
After the "moron" reports, Trump threw a public barb at his secretary of state.
"I think it's fake news, but if he did that, I guess we'll have to compare IQ tests," Trump told Forbes in an October 2017 interview. "And I can tell you who is going to win."
Just a casual disagreement
Amid reports the Tillerson would be gone soon, Trump tweeted last December: "The media has been speculating that I fired Rex Tillerson or that he would be leaving soon - FAKE NEWS! He's not leaving and while we disagree on certain subjects, (I call the final shots) we work well together and America is highly respected again!"
Fired via tweet
Trump effectively fired Tillerson with a tweet in March that read: "Mike Pompeo, Director of the CIA, will become our new Secretary of State. He will do a fantastic job! Thank you to Rex Tillerson for his service! Gina Haspel will become the new Director of the CIA, and the first woman so chosen. Congratulations to all!"
That's not really a Tillerson insult, except that getting fired via Twitter was seen by many as pretty insulting.
Tillerson fires back (way later)
After his time out of the public eye, Tillerson wasn't shy with his Trump insults.
Tillerson said on Thursday in Houston that Trump tried to get him to do illegal things without understanding they were illegal. He also said that Trump was "pretty undisciplined, doesn't like to read [and] doesn't read briefing reports."
Trump goes all-in
In perhaps the most predictable thing to ever happen, Trump responded with a tweet on Friday: "Mike Pompeo is doing a great job, I am very proud of him. His predecessor, Rex Tillerson, didn't have the mental capacity needed. He was dumb as a rock and I couldn't get rid of him fast enough. He was lazy as hell. Now it is a whole new ballgame, great spirit at State!"