Donald Trump Vs. Video Games: Are His Game Violence Experts Qualified?
President Trump will meet with representatives from video game publishers, industry trade groups and critics of the industry Thursday, a summit announced as part of the administration's plan to address mass shootings, particularly at schools.
Eight days after a gunman killed 17 at Marjory Stoneman Douglas High School in Parkland, Fla., Trump has steered blame away from the correlation between guns and death from guns and on to video games, the sale of which has no demonstrable correlation with gun violence.
"I'm hearing more and more people say the level of violence on video games is really shaping young people's thoughts," Trump said last month. This contradicts research conducted by the U.S. Secret Service and the Department of Education, tailored specifically toward the prevention of school shooting attacks, that found a negative correlation between violent video games and school shooters.
Attendees representing the gaming industry include Robert Altman, CEO of ZeniMax Media (Fallout, Doom, Wolfenstein, Prey); Take-Two Interactive Software CEO Strauss Zelnick (Grand Theft Auto, Bioshock) and the presidents of two video game trade groups, the Entertainment Software Association (ESA) and the Entertainment Software Rating Board (ESRB). The two biggest video game publishers, Electronic Arts and Activision Blizzard, did not send executives.
The ESA dismissed the meeting in advance, releasing a statement which read, in part, "Video games are plainly not the issue: entertainment is distributed and consumed globally, but the U.S. has an exponentially higher level of gun violence than any other nation."
The list of meeting attendees speaking against video games include conservative activists and writers, whose beliefs and past statements are worth highlighting one by one.
Donald Trump's Video Game Violence Experts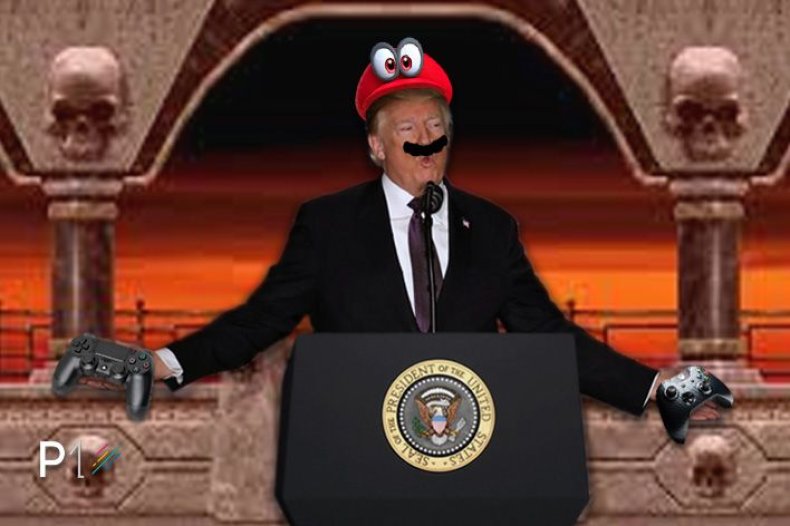 L. Brent Bozell III
Son of conservative activist L. Brent Bozell Jr., Bozell III is founder of the Parents Television Council and the Media Research Center, which seeks to "prove—through sound scientific research—that liberal bias in the media does exist and undermines traditional American values." He is also against gun control.
"Somehow, Democrats isolate the inherent evil of a gun almost as if it's self-shooting, while denying our violent media has any influence on these under-21 shooters," Bozell wrote in a 2013 column which also included a fresh attack on 1992's Mortal Kombat, "a pioneering ultraviolent game."
Bozell also has a long history of condemning gay marriage, denying the existence of transgender people, declaring shows like Queer Eye as "heterophobic," attacking LGBTQ comic book characters as "sexually perverted superheroes" and attacking Hollywood (especially Glee) for refusing to portray gay people as "morally wrong." (GLAAD has a complete rundown of Bozell and the Media Resource Center's attacks on homosexual and transgender Americans).
Bozell also endorsed the Senate campaign of alleged child molester Roy Moore and described former President Barack Obama as looking like a "skinny, ghetto crackhead" in a Fox News appearance. The opposite of a specialist on video games, Bozell is primarily a professional talking head.
Dave Grossman
Unlike Bozell, whose expertise has nothing to do with gaming, Grossman authored multiple books on the link between violence and video games, including On Killing: The Psychological Cost of Learning to Kill in War and Society; Stop Teaching Our Kids to Kill: A Call to Action against TV, Movie and Video Game Violence; and Assassination Generation: Video Games, Aggression, and the Psychology of Killing.
Grossman has made a career of ignoring sound research into the links between video games and violence, writing in Stop Teaching Our Kids to Kill that denying video games cause adolescent violence should "be viewed as the moral equivalent of Holocaust deniers." In 1999, Grossman told Fox News a school shooter had developed "supernatural, superhuman skill" from video games. He also claims, with zero evidentiary basis other than an online poll, that 15 percent of divorces are caused by video games.
Rather than writing about the actual research, Grossman prefers pseudoscientific coinages like "killology," "murder simulator" and his popular hierarchy dividing humans into sheep, wolves or sheepdogs.
That's made him a popular speaker with law enforcement and at NRA events. Grossman endorses the increased militarization of policing, describing cops as "frontline troops" in a war. "Cops fight violence," Grossman said in a Men's Journal profile, "What do they fight it with? Superior violence. Righteous violence."
Grossman specializes in hyperbolic and untrue calls to action, telling classes of law enforcement officers "the level of day-to-day violence in our cities has never been a fraction of what it is today" and "the number of cops murdered in the line of duty has skyrocketed." Both claims are false, with both overall violence and murders of police officers far lower than in previous decades.
"The far greater bias in our society today is a bias against cops," Grossman told Men's Journal. "In 10,000 TV shows and 500 movies, black people are almost never the bad guys."
Except when Grossman talks about them.
"If you can talk, you can breathe," Grossman also said in the interview, giving his views on the police homicide of Eric Garner. "The lesson is, don't fight cops when you have a heart condition."
He was marginally more generous with the 12-year-old Tamir Rice. "If you had a gun pointed at you…" he began, "that one's borderline. I'm not giving you that one." (Timothy Loehmann, the officer who murdered Rice, did not have a gun pointed at him.)
Grossman's preferred explanation for cops killing unarmed people, disproportionately black people? Sleep deprivation.
Melissa Henson
Unlike the long history of falsehoods and bigotry offered by Bozell or the police violence apologia of Grossman, Henson focuses mainly on television as a commentator and blogger for the censorship advocacy group, the Parents Television Council (an organization Bozell founded). Her contributions to the discourse on video games and gun violence include columns on how The Mick fails the #MeToo movement, swearing and PG material being too PG-13.
The condemnation of video games in response to gun violence is not unique to Trump or the attendees at Thursday's meeting, which was closed to the press, but instead the preferred tactic of pro-gun activists in response to multiple school shootings. In 2012, a week after the twenty-six children and staff members were murdered at Sandy Hook Elementary School, CEO of the National Rifle Association, Wayne LaPierre delivered a speech, saying, "There exists in this country, sadly, a callous, corrupt, and corrupting shadow industry that sells and stows violence against its people through vicious, violent video games." The faces and conditions change, but the rationalizations remain the same.