Donald Trump 'Should Feel Vulnerable' to 'Coup' by Republican Establishment, Steve Bannon Says
President Donald Trump should be fearful as he faces attacks within his administration and the Republican establishment over a "coup" to hinder his agenda, according to the president's former chief strategist Steve Bannon.
Bannon was speaking for a report based on Trump's apparent fears of resistance within his White House following the publication of an op-ed penned by a senior administration official who tried to assuage the public's fears about the president's competency to lead.
"The president should feel vulnerable because he is vulnerable—to those that fight him daily on implementing his agenda," Bannon told The Washington Post for a story published Thursday.
The report also touched on how Trump, his family members and supporters worried about whom they could trust following the release of journalist Bob Woodward's book Fear: Trump in the White House. The book portrayed an administration in chaos, headed by a leader that aides routinely blocked out in order to steer his conservative agenda and protect the country from his rash actions.
Bannon specifically noted the op-ed, published by The New York Times earlier this month, as evidence of a "coup" by the Republican establishment to stymie Trump.
"The Woodward book is the typed up meeting notes from 'The Committee to Save America,'" Bannon added. "The anonymous op-ed is the declaration of an administrative coup by the Republican establishment."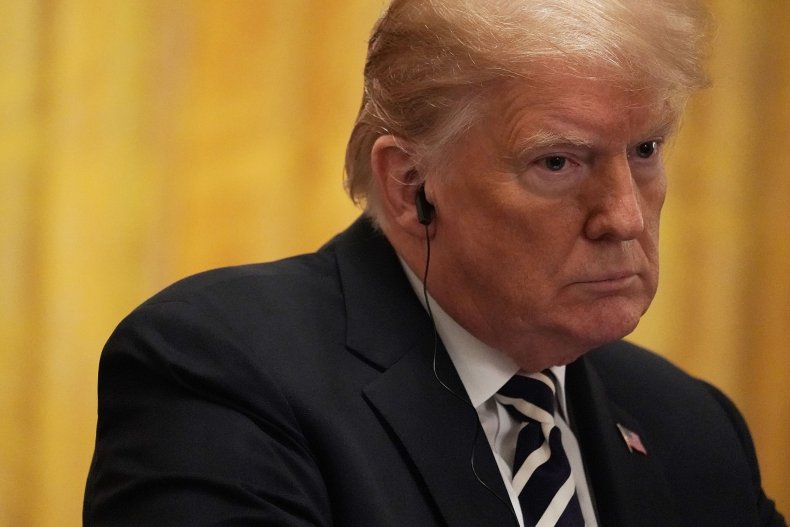 As he secured the Republican nomination for president in 2016, Trump ran as an antiestablishment candidate who would "drain" the Washington "swamp" and create a new order in the federal government. He was not fully embraced by Republicans in Washington until well after the party's convention and his successful victory over Democrat Hillary Clinton.
But the op-ed's author, who stated they were part of the "resistance" inside the White House, declared to the world that Trump's agenda, which included tax reform, was moving along well despite the president and his "amoral" nature.
"The root of the problem is the president's amorality. Anyone who works with him knows he is not moored to any discernible first principles that guide his decision making," the op-ed writer claimed. Woodward's book served to bolster the claims made in the piece.
Trump subsequently derided the Times as "fake" and the still-unknown author as a "coward" and "gutless," while the president's critics pointed to the piece as reason to believe Trump was unfit for office. White House press secretary Sarah Huckabee Sanders echoed the president's attacks on the op-ed writer.
In the weeks since the op-ed, the White House had reportedly conducted a probe to uncover who wrote the story but the official's name had not been revealed.