Donald Trump Walks Out of Walter Reed Hospital, Waves to Supporters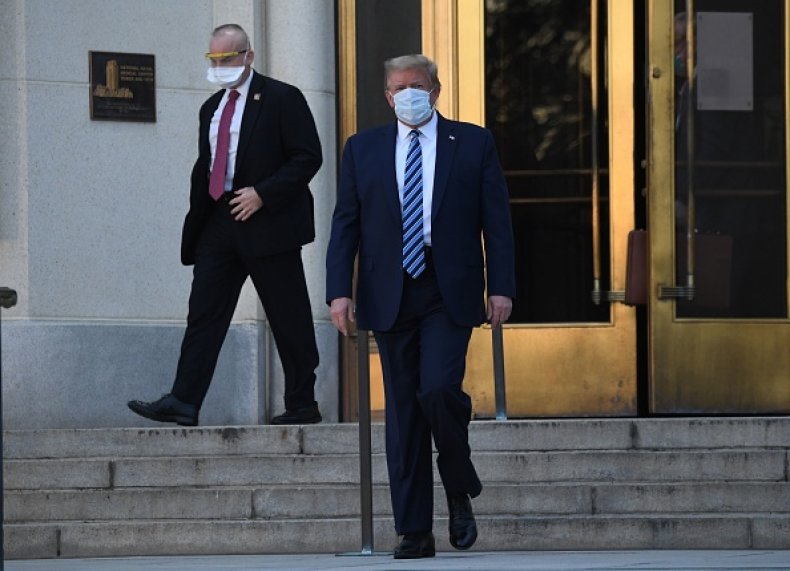 President Donald Trump is out of Walter Reed National Military Medical Center in Bethesda, Maryland, after being treated for the coronavirus for three days.
The president was seen walking out of the hospital's gold doors shortly after 6:30 p.m. and waving to nearby supporters before he entered a vehicle in a motorcade that took him to the Marine One helicopter. The president made no remarks when he left the hospital, but the press pool had gathered at the White House for the president's pending arrival.
One reporter said the president did a fist pump, and then grabbed one of the rails "for a moment then quickly pulled his hand away."
Prior to his release on Monday evening, the president tweeted on October 3 that he was feeling well and hailed the Walter Reed staff.
"Doctors, Nurses and ALL at the GREAT Walter Reed Medical Center, and others from likewise incredible institutions who have joined them, are AMAZING!!!Tremendous progress has been made over the last 6 months in fighting this PLAGUE. With their help, I am feeling well!"
On October 2, at roughly 1 a.m., Trump announced via Twitter that he and first lady Melania Trump tested positive for Covid-19. Later that day, he was admitted to Walter Reed, where he underwent Remdesivir therapy, an intravenous antiviral drug that is currently being evaluated—with modest but positive results—as a key drug for fighting the coronavirus. The president received Remdesivir therapy for about half of the anticipated five-day IV treatment, as well as a dose of Regeneron, an antibody treatment directed against the coronavirus.
Upon Trump's diagnosis, White House Physician Dr. Sean Conley said that the president initially had a mild cough, fever and congestion. In a press conference on October 3, Conley said the president was "doing very well" and had been fever-free for 24 hours, but did not indicate on whether the president was on oxygen at any point since his diagnosis. Most recently, the president's symptoms were clear of COVID-19 symptoms.
Due to several risk factors, including Trump's gender, age (74) and weight (244 pounds), experts have been closely monitoring the president's condition while at the Walter Reed Medical Center.
Since Trump's positive coronavirus announcement, several members of the Senate have reportedly tested positive for the virus, including GOP Senators Thom Tillis, Mike Lee, and Ron Johnson, as well as a few key figures within the Trump administration.
According to Conley, Melania Trump has a mild cough and headache and does not need to be admitted to a hospital at this time.