Donald Trump Tells Congress That 'Walls Work' and That's Why 'Rich, Powerful and Successful People Build Them Around Their Homes'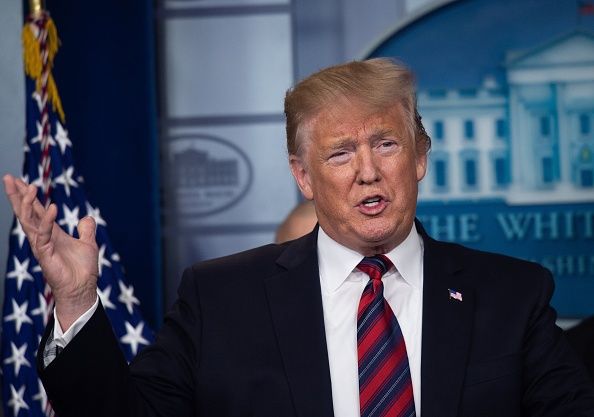 In a letter to Congress on Friday, President Donald Trump urged lawmakers to approve funding for his border wall, jusiftying it by writing: "Walls work. That's why rich, powerful, and successful people build them around their homes.
"Absolutely critical to border security and national security is a wall or a physical barrier that prevents entry in the first place," Trump wrote in the letter addressed to all members of Congress.
"All Americans deserve the same protection. In Israel, its 99 percent effective," the president added.
Trump's letter came on the 14th day of a partial government shutdown, with the president and lawmakers still at an impasse over border security. Trump has so far refused to sign a federal spending bill that does not include at least $5 billion to fund his long-promised border wall between the U.S. and Mexico. Democrats, who now control the House, have rejected the president's demand for wall funding.
Trump will hold more talks with congressional leaders at the White House on today to try to strike a deal to end the government shutdown. But Nancy Pelosi, the newly elected House speaker, said ahead of the meeting that Democrats would not bend on funding for a border wall.
"We're not doing a wall," Pelosi said on Thursday. "A wall is an immorality between countries. It's an old way of thinking. It isn't cost effective."
In one of their first acts as the new majority, House Democrats passed a set of bills that would reopen nine federal departments. The proposals do not include any money for the border wall. The White House called the plan a "nonstarter," and the Senate might not even put it to a vote because Trump said he wouldn't sign it.
In addition to the president's letter, which the White House said would be delivered to all congressional offices, lawmakers will also receive a copy of a presentation by Department of Homeland Security Secretary Kirstjen Nielsen on border security.
The presentation was held earlier this week but was quickly interrupted by top Democrats. House Minority Leader Kevin McCarthy told reporters that because of the disruption, lawmakers did not receive the complete briefing.
"I was a little disappointed with some on the other side. Once the secretary started, Senator [Chuck] Schumer interrupted her and they really didn't want to hear it," McCarthy said.
In his letter, Trump also encouraged lawmakers to consider legislation that would "close the legal gaps in America's defense." He called for the termination of the Flores Settlement Agreement and for amendments to the Trafficking Victims Protection Reauthorization Act.
"Now is the time—this is the moment—to finally secure the border and create the lawful and safe immigration system Americans, and those wanting to become Americans, deserve," Trump concluded.