Trump's Wall Means 'Let's Keep America White Again,' 'Morning Joe' Guest Says
A Morning Joe guest claimed the message President Donald Trump is trying to send with his southern border wall is "let's keep America white again."
During the MSNBC show on Friday, hosts Joe Scarborough and Mika Brzezinski compared images of House Democrats—the most diverse group of representatives Congress has seen—with Trump's briefing on his wall. Behind Trump were three bald white men in suits.
Read more: Trump presidency will not survive 2019, ex-GOP Congressman predicts
"That was very clear," said Donny Deutsch, an advertising executive, TV host, and Morning Joe contributor, reacting to images of Trump's briefing.
"You have four white men, you have four stoic, strong white men of a certain age—not smiling, by the way—and look, this is all Donald has left. He has one thing. This wall is not a wall, it is a 'let's keep America white again,' and basically he doesn't have the economy anymore.
"All the things he used to be able to point to and say 'well I'm a jerk but'...they're not there anymore. This is all he has left. That one metaphor.
"That one thing that talks to that 39, 40, 41% base that says either the black man, or the brown man, or the Jewish man, or the media man, or the banker man, is coming to take your life, and you're not in the position you're in because of you, it's because of everybody else."
Trump and the Republicans are locked in a funding battle with the Democrats over the border wall. Failure to agree a budget has caused the federal government to shut down on December 22.
House Democrats, who now hold the majority, are refusing to give Trump any of the $5 billion he is demanding to pay for his wall all along the U.S.-Mexico border.
Trump insists the wall is essential for border security, but the Democrats argue it is an expensive and inefficient gimmick playing on fears of a migrant crisis that does not exist.
As Republicans control the Senate, which must sign off on any budget for it to pass, neither side can force through their own plan, meaning they have to compromise if the government is to reopen.
But Democrats are resolutely refusing to allocate any money to the wall, and Republicans are under pressure from Trump not to back down.
Pelosi was asked on NBC's Today show if she would give Trump any of the money he wants for the wall in order to end the shutdown.
"No, nothing for the wall," Pelosi said. "We're talking about border security. We can go through this back-and-forth. No. How many more times can we say no? No—nothing for the wall."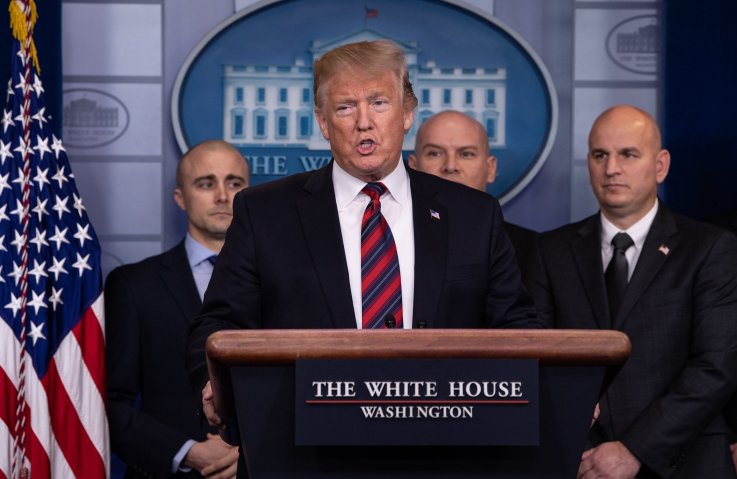 Trump's Wall Means 'Let's Keep America White Again,' 'Morning Joe' Guest Says | U.S.