Donald Trump Keeps Using Dead Americans to Score Political Points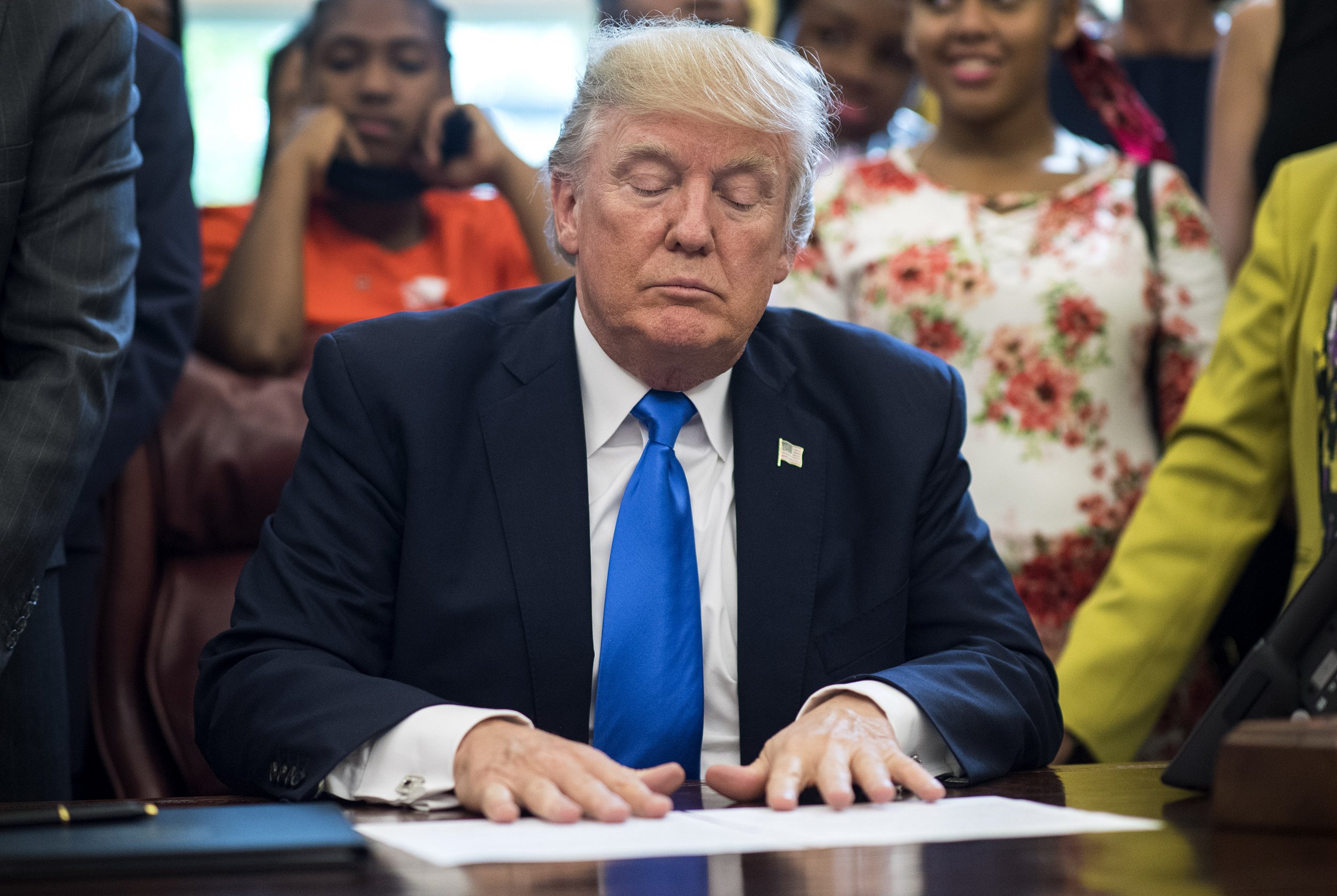 Donald Trump received a sharp rebuke from the widow of former NFL player and army serviceman Pat Tillman after the president retweeted a message seeking to politicize his death. Yet, 24 hours later, Trump was back tweeting about another dead American in an apparent attempt to advance his agenda. And, while politicians seeking to make hay off the backs of the dead is nothing new, the current man in the White House has long taken it to extreme lengths.
Related: Trump's NFL fight dates back to his failed USFL experiment in the '80s
On Tuesday morning, amid a flurry of scattered tweets about the NFL, a Senate race in Alabama and devastation in Puerto Rico, Trump wrote that he had just watched the first television interview with the parents of an American who died in June, just days after being released from a North Korean prison.
"Great interview on @foxandfriends with the parents of Otto Warmbier: 1994 - 2017. Otto was tortured beyond belief by North Korea," Trump tweeted.
Trump did not call for specific action off the back of the interview, but it would not be the first time he has used the young American's death to make a political point. Shortly after Warmbier died, Trump said that if he had been "brought home sooner, I think the results would have been a lot different," in an apparent rebuke of President Barack Obama, whose legacy Trump has consistently sought to undermine since taking office.
As well as taking shots at Obama, Trump has engaged in increasingly heated rhetoric with North Korea and its leader Kim Jong Un. At an address before the United Nations General Assembly last week, Trump threatened to "totally destroy North Korea." On Sunday, via Twitter, he again appeared to threaten to wipe out an entire country, or at least its leadership.
But, for many, Trump's use of Tillman's name to advance an agenda was even more galling. After two days of mounting criticism over the president's attacks on NFL players who engaged in peaceful protest against police brutality against blacks, Trump retweeted a pro-Trump account using the memory of Tillman to insist that everyone stand for the anthem and to encourage a boycott of the NFL.
Tillman gave up a lucrative NFL contract to serve in the military in 2002. His decision was immediately seized upon by the armed forces who sought to use him in marketing campaigns, something that both Tillman and his family rebuffed from the start. The politicizing of him continued following his death in Afghanistan in 2004, with the army initially telling his family that he died in heroic circumstances rather than the truth that he was killed by his own side in a tragic case of friendly fire.
However, Trump's use of Americans' deaths to his own benefit stretches back much longer than Tillman or Warmbier.
Trump's campaign for the White House began in the summer of 2015 off the back of attacking immigrants, specifically those from Mexico, and the supposed dangers they posed to Americans. Soon the outsider candidate found what he saw as the perfect personal tragedy to ram home his point.
At rallies, Trump regularly invoked the name and story of Kate Steinle, a 32-year-old who was killed in San Francisco by an undocumented immigrant. Yet Steinle's own brother accused Trump of "sensationalizing" his sister's death for political means.
Almost a year later, and this time as president, Trump invited the families of people killed by undocumented immigrants to meet with him at the White House, Unbeknownst to them, however, they were not just meeting with Trump, they were also being paraded before reporters at a news conference.