En route to his rally in El Paso, Texas, President Donald Trump was reportedly "upset" that the Republican Mayor Dee Margo contradicted his claim that a wall made the border city safer, and asked the lieutenant governor if he could call it "fake news."
Republican Texas Agriculture Commissioner Sid Miller, who rode with Trump in the presidential armored Cadillac to the El Paso County Coliseum Monday night, told Axios Wednesday that the president was "upset" with Margo.
Margo pushed back on Trump's claim during his State of the Union address last week that El Paso "used to have extremely high rates of violent crime—one of the highest in the country," and that "now, with a powerful barrier in place, El Paso is one of our safest cities."
"El Paso was NEVER one of the MOST dangerous cities in the US. We've had a fence for 10 years and it has impacted illegal immigration and curbed criminal activity. It is NOT the sole deterrent," Margo tweeted. "Law enforcement in our community continues to keep us safe #SOTU."
Miller reportedly told Trump to not worry so much about Margo's response because "they [El Paso] pad the books" and underreport crime rates.
"You mean like fake news?" Trump apparently said.
Miller replied, "Yeah! It was the first fake news."
"Can I say that?" Trump said ahead of the rally.
Miller said, "Yeah!" but Texas Lieutenant Governor Dan Patrick, who was also in the car, said, "No, no. You probably shouldn't."
Trump wound up refraining from calling Margo's comment "fake news" at the rally, but he still called him "full of crap."
"I don't care whether a mayor is a Republican or a Democrat—they're full of crap when they say it hasn't made a big difference," Trump said.
However, the president showed no restraint in calling the media "fake."
"I heard the same thing from the fake news," the president said. "They said, 'Oh, crime actually stayed the same.' Didn't stay the same. Went way down."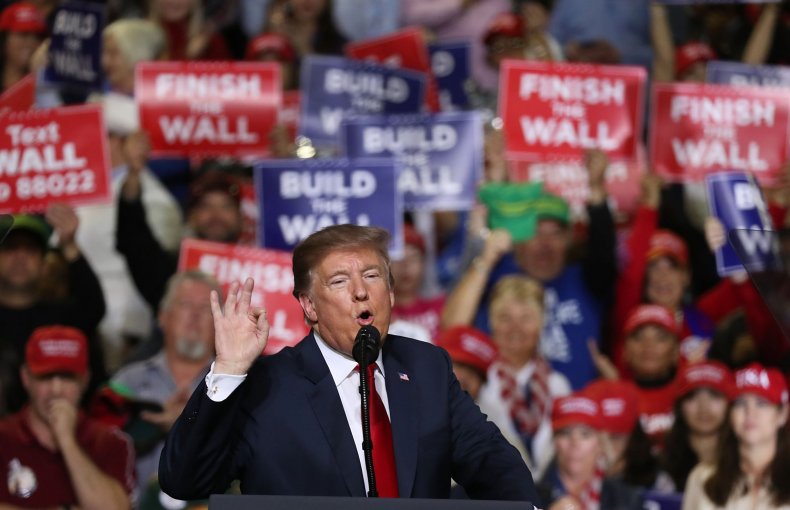 According to Miller, upon arriving to the rally, Trump approached Margo and "they had a few words."
"I wasn't close enough to hear, but they were within six inches of eyesight of each other," Miller said.
Margo's chief of staff Olivia Zepeda told Axios that "there was no confrontation" between the two and they "shook hands and greeted each other, and that was the extent of their encounter."
Texas Attorney General Ken Paxton apparently also rode in the Cadillac.
The White House did not immediately respond to a request for comment from Newsweek on Wednesday.