Donald Trump Wanted to Take $10 Billion Missile Defense System Out of South Korea and 'Put It in Portland'
President Donald Trump was unhappy that Washington gave South Korea a missile defense system to protect the country against an attack by North Korea and suggested that the system should be stationed in Portland, Oregon, instead, according to journalist Bob Woodward's new book Fear.
The Terminal High Altitude Area Defense System (THAAD) is an anti-ballistic missile defense system that can shoot down short and medium-range ballistic missiles similar to the ones North Korea might direct toward Seoul if a conflict were to break out. The U.S. decided to station the THAAD system in South Korea to protect both the country's urban areas from an attack and also the thousands of U.S. military personnel who would deploy to South Korea if the North wages war.
"In a major Korean conflict, tens of thousands of U.S. military personnel would deploy to Korea over time largely through the Pusan port area in southeastern Korea. They would be most vulnerable to a North Korean nuclear weapon attack while in the port area and while assembling to depart from Pusan. Not protecting exposed military personnel from the North Korean ballistic missile and nuclear weapon threat would be irresponsible, the United States concluded," according to a report from the Rand Corporation.
But Trump allegedly couldn't understand the benefit of stationing the THAAD system in South Korea, calling it a "terrible deal." During a spring meeting in the Oval Office, Trump asked national security adviser H.R. McMaster if South Korea had already paid for the system. McMaster informed the president that it was actually the U.S. that had paid for the missile defense system, and Trump demanded an explanation.
"'It's actually a very good deal for us,' McMaster said when he returned in the afternoon. 'They gave us the land in a 99-year lease for free. But we pay for the system, the installation and the operations.' Trump went wild. 'I want to see where it is going,' he said. Finally, some maps came in that showed the location. Some of the land included a former golf course," Woodward's book, which was obtained by Newsweek, details.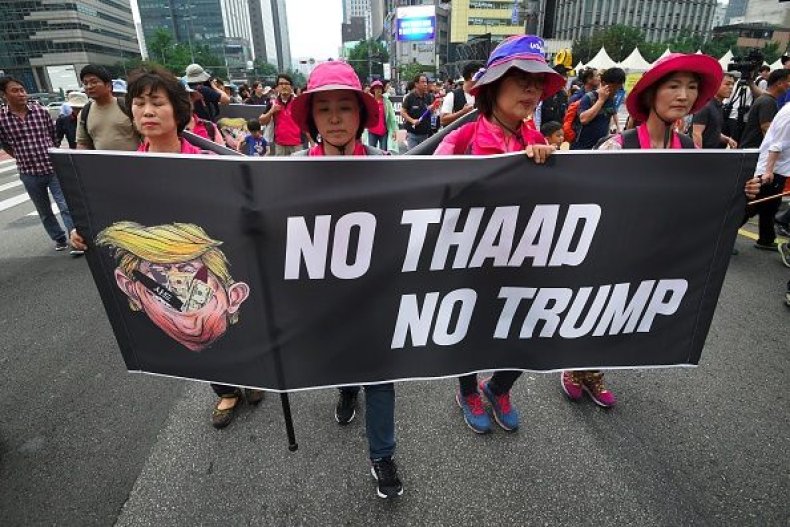 "'This is a piece of s*** land,' said the former golf course and real estate developer. 'This is a terrible deal. Who negotiated this deal? What genius? Take it out. I don't want the land.' The major missile defense system might cost $10 billion over 10 years, and it wasn't even physically in the United States, Trump said. 'F*** it, pull it back and put it in Portland!' Trump railed, according to the book.
For now, the missile defense system remains in place. But Trump's tirade caused the South Korean leadership to agree to begin renegotiating the United States–South Korea Free Trade Agreement known as KORUS.
The missile defense system, which was opposed by China, was also controversial in South Korea. Protesters staged numerous demonstrations last year against the missile defense system.