Donald Trump Wants Drug Tests Before Joe Biden Debates
President Donald Trump has suggested that he and Democratic rival Joe Biden should both be drug tested before they take the stage to debate in Ohio next month, comparing the debate to a boxing match.
"Well, it is a prizefight," Trump reportedly told The Washington Examiner in a one-on-one interview at the White House this week. "It's no different from the gladiators, except we have to use our brain and our mouth. And our body to stand. I want all standing; they want to sit down."
Biden's campaign didn't immediately respond to Newsweek's request for comment. The Examiner piece didn't include a response from the Biden team.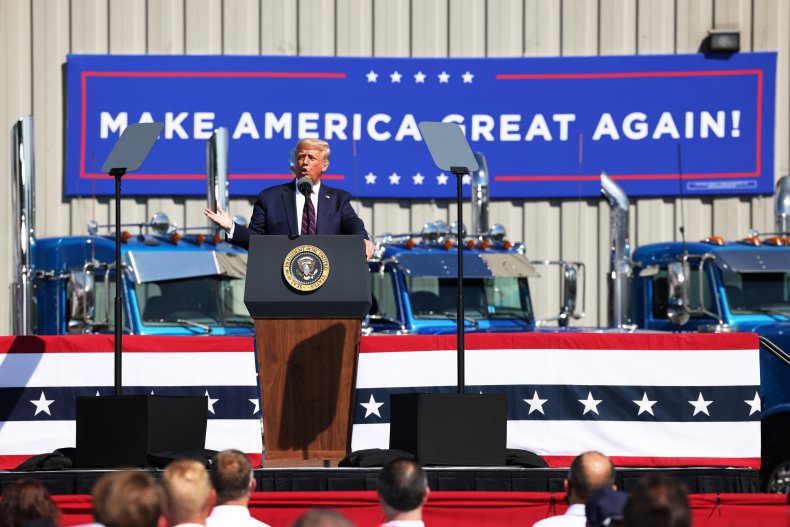 The first 90-minute debate between the two candidates is set to take place September 29 at Case Western Reserve University and Cleveland Clinic's joint health campus. Two other debates between Biden and Trump are also scheduled before the November 3 election—one in Miami, Florida on October 15 and another in Nashville, Tennessee on October 22.
Earlier this month the non-partisan Commission on Presidential Debates rejected a request from the Trump campaign for another debate to be held earlier.
In his Washington Examiner interview, the president suggested—without evidence—that Biden may have been aided by an unknown substance during a Democratic debate earlier this year. Trump's campaign has repeatedly sought to question Biden's mental acuity as the election enters its final stretch.
"I don't know if there is or not, but somebody said to me, 'He must be on drugs,'" Trump said. "I don't know if that's true or not, but I'm asking for a drug test. Both candidates. Me, too. I take an aspirin a day."
Trump, who is trailing Biden in several major swing states, is no stranger to making unproven allegations against his political foes, insinuating substance or mental health issues without evidence.
He similarly called for drug testing before a debate in 2016 when he suggested—without evidence—that then-opponent Hillary Clinton had been on drugs during an earlier debate between the two.
"We should take a drug test prior because I don't know what's going on with her," he told a packed New Hampshire rally crowd less than a month before the 2016 Election Day. "I don't know what's going on with her, but at the beginning of the last debate, she was all pumped up at the beginning, and at the end it was like, 'Uh, take me down.' She could barely reach her car."
Clinton's campaign accused Trump of trying to undermine the election just weeks before it was set to take place. No drug tests were conducted before their final debate.