Donald Trump Wants More Republicans to Challenge Him in 2024: Mary Trump
Mary Trump, a political analyst and niece of former President Donald Trump, theorized recently that her uncle is hoping for more Republicans to run against him in 2024.
Over the last several years, Mary Trump has emerged as the only member of the former president's extended family to be openly critical of his political career and rhetoric. She has also become a prominent voice against the increasingly extreme tendencies of the Republican Party.
On Sunday, she appeared on MSNBC's The Katie Phang Show to discuss the developing field of Republican candidates for the 2024 presidential election. Donald Trump was the first to declare his candidacy late last year, with former South Carolina Governor Nikki Haley also officially joining the race on Tuesday. A former United Nations ambassador during the Trump presidency, Haley has been criticized since announcing her candidacy for her seeming unwillingness to differentiate herself from her former boss.
Mary Trump said that Haley is attempting a difficult balance with her campaign, having to avoid being overly critical of Donald Trump while also selling herself as a viable candidate. She also suggested, not for the first time, that Haley's bid might be part of a long-term plan to become Donald Trump's 2024 running mate.
"It's a little mystifying to understand what [Nikki Haley's] run is about, unless, as is often the case, she's running for vice president," Mary Trump said. "But she needs to walk a very fine line, right? She can't be too anti-Donald and she has to sort of toe the GOP line. I think we're going to see a campaign that's sort of replete with Republicanisms. We've already seen this in her opening bid, the racism, the homophobia, and the entire ignorance of the reality of America's past and her unwillingness to grapple with that. So I don't think we're going to see much interesting or unique in her campaign at all."
She continued, claiming that Haley is "opening the door for other candidates," which she added would be "precisely" what her uncle wants, as more Republicans running against him might potentially help him win the nomination. As has been speculated by others, a greater number of non-Trump GOP candidates would potentially split the support of anti-Trump conservative voters, allowing the former president to succeed by retaining his loyal base.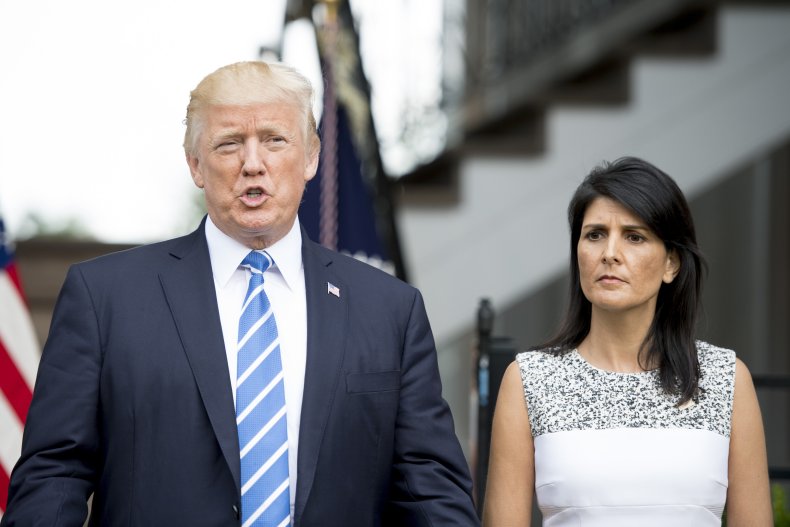 Meanwhile, Mary Trump made similar comments about Haley's bid on Friday during a broadcast of her own internet show, suggesting that Haley might have "a back room deal" with her uncle and questioning the point of her candidacy if she declines to differentiate herself from Donald Trump.
"She is going to have to engage Donald and [his supporters] the MAGA-ts, because if she can't draw a distinction, there's literally no point to what she's doing," she said. "Unless they have some secret back room deal, it's gonna piss him off anyway..."
Newsweek reached out to Haley's campaign for comment.