Donald Trump Really Wants You to Know He Won the Presidential Election
Are you alive? Did you rise from a deep slumber this morning? Last night, did you flicker to life a television? Do you own a radio or have you ever used Snapchat? On a clear, spring day, do your eyes ever pan across the blue horizon in search of a propeller plane pulling a sign behind it? Have you talked to as many as, but not limited to, one (1) human being at any point in the last 100 days?
If you answered yes to any of these questions, then you surely know Donald Trump was victorious in November's election and is now president of the United States.
Nevertheless, the president of the United States has a message he would like to relay to you, over and over again: He won the presidential election. And boy, was it terrific.
Some five months of eternity have passed since America watched the likes of Michigan, Pennsylvania and Wisconsin contribute to handing the White House to the billionaire reality TV star, and he's now some 7 percent through his first (and possibly only) term.
Yet Trump on Thursday couldn't help but remind reporters sitting in the Oval Office—which is inside the White House, mind you, otherwise known as the place where the president of the United States lives (well, at least on weekdays)—that he won the election, beating Democratic nominee Hillary Clinton. He splayed out maps diagramming his victory on the Resolute desk—newly modified with a button that alerts a lackey to bring the president a Coke at his whim—and boasted about the upset win that shocked the world.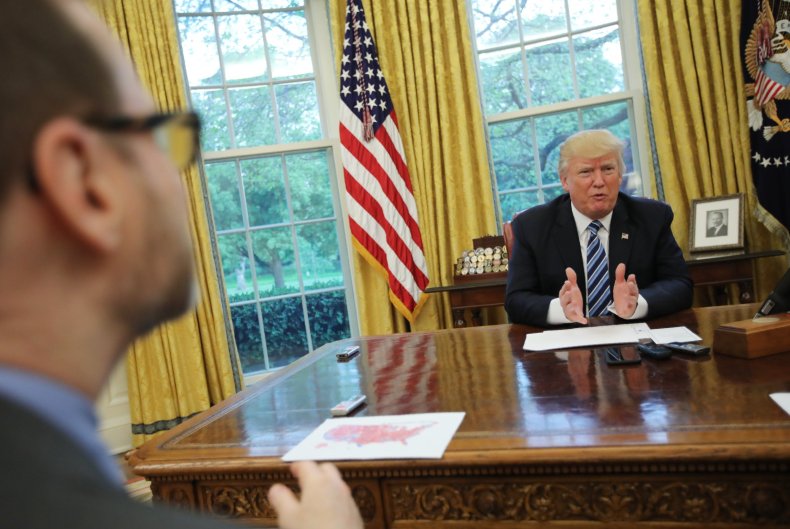 To be fair, Trump and the three reporters in the Oval Office were discussing something clearly tied to the 2016 election: his dealings with Chinese President Xi Jinping.
"We were talking...about President Xi and that relationship and then he sort of interrupted himself and handed out this map of the electoral college and said that these were the latest figures of the areas in the country that he had won in 2016," Jeff Mason, Reuters's White House correspondent, told CNN Friday. "It was just clear that the election...remains very much on his mind."
In a climate in which the president has been known to regularly change his mind, where seemingly nearly every flippant remark is accompanied by a flop in the opposite direction—take NAFTA, which this week was on the chopping block, until it wasn't 12 hours later—the prominence of the election has been the Trump administration's Plymouth Rock. It is an issue from which Trump's position will not budge: He killed it.
For instance, the Associated Press asked Trump this week about his long-promised border wall. In response, they got this:
"People want the border wall. My base definitely wants the border wall, my base really wants it — you've been to many of the rallies. OK, the thing they want more than anything is the wall. My base, which is a big base; I think my base is 45 percent. You know, it's funny. The Democrats, they have a big advantage in the electoral college. Big, big, big advantage. I've always said the popular vote would be a lot easier than the electoral college. The electoral college — but it's a whole different campaign (unintelligible). The electoral college is very difficult for a Republican to win, and I will tell you, the people want to see it."
That's far from an atypical comment by Trump. Most any subject matter can engender a remark that typically begins vaguely on point but eventually meanders back to the triumph of November.
A few of the many examples:
-During a tour of the National Museum of African American History and Culture: "I like the state of South Carolina. I like all those states where I won by double, double, double digits. You know, those states."
-Delivering a speech in front of the wall honoring fallen CIA agents: "The military gave us tremendous percentages of votes. We were unbelievably successful in the election with getting the vote of the military."
-While holding a joint press conference with Israeli Prime Minister Benjamin Netanyahu: "Well, I just want to say that we are very honored by the victory that we had—306 Electoral College votes. We were not supposed to crack 220. You know that, right?"
-Welcoming guests before making remarks on Black History Month: "Hello, everybody. These are a lot of my friends, but you have been so helpful. And we did well. The election, it came out really well. Next time we'll triple it up or quadruple it, right? We want to get over 51, right? At least 51. Well, this is Black History Month, so this is our little breakfast, our little get-together."
-Speaking with the National Rifle Association on Friday: "What fun that was—November 8. Wasn't that a great evening?... Not going to forget that evening... Big sports fans said that was the single-most exciting event they've ever seen. That includes Super Bowls and World Series and boxing matches. That was an exciting evening for all of us, and it meant a lot."
The president is never more than one abrupt gear shift away from bringing up his November win. And as long as Americans are able to wake in the morning and draw breath, Donald Trump seems hell-bent on reminding them of his victory even as conflicts and controversies pile up in the White House.
Meanwhile, Trump has said all that goes along with holding the most powerful position in the world has been more difficult than he imagined it would be. "This is more work than in my previous life," he told Reuters. "I thought it would be easier."
It would appear the old axiom holds true: Winning isn't everything.