Donald Trump Has Been 'Impatient' for Bush Memorials to End but Proud of Himself for Acting 'Civil': Report
President Donald Trump was reportedly eager for the memorials honoring former President George H.W. Bush to be over, but was also proud of himself for acting with basic civlity in what close aides said was a course correction to the way he responded when Senator John McCain died.
"Mr. Trump has been snappish with aides most of the week, according to administration officials, miffed in part by so many ceremonial events not related to him," The New York Times reported on Wednesday. "He was impatient for the memorials to end but expressed pride in himself for remaining publicly civil. People close to the president called it a course correction after his peevish reaction to Mr. McCain's death."
Trump faced criticism after the death of the Arizona senator, with whom he had frequently publicly clashed, in August. He initially lowered the White House flags for only two days, and neglected to say anything about the senator in his condolence message, tweeting instead: "My deepest sympathies and respect go out to the family of Senator John McCain. Our hearts and prayers are with you!"
Before attending Bush's funeral at Washington National Cathedral on Wednesday, Trump tweeted a much more personal message than he did for McCain, whose funeral he did not attend (the McCain family did not invite him).
"Looking forward to being with the Bush family. This is not a funeral, this is a day of celebration for a great man who has led a long and distinguished life," Trump tweeted. "He will be missed!"
At the funeral, Trump sat uncharacteristically silent for two hours, according to The Washington Post.
Trump sat with his arms crossed or with his hands between his knees and occasionally leaned forward as eulogist and former Canadian Prime Minister Brian Mulroney lauded Bush: "Let me tell you that when George Bush was president of the United States of America, every single head of government in the world knew that they were dealing with a gentleman, a genuine leader—one who was distinguished, resolute and brave."
The sitting president even laughed when former Senator Alan Simpson recounted serving in the White House with Bush and sang the line, "Don't cry for me, Argentina!" from the play Evita. Trump applauded at former President George W. Bush's emotional eulogy for his father.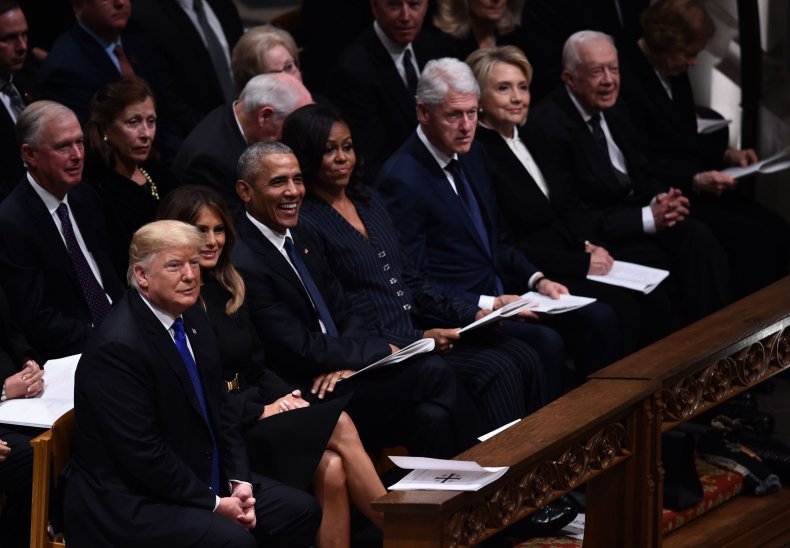 After the 41st president's casket was lifted out of the cathedral, Trump quickly left through a side exit and returned to the White House.
By Wednesday evening, Trump was back to praising himself.
"Working hard, thank you!" he tweeted, along with an image of himself with "50% approval rating," according to the Republican-leaning Rasmussen poll.