Donald Trump Watched Super Bowl With Cheerleaders — And Left Before Seeing Patriots, Tom Brady Lose
President Donald Trump and his wife hosted a Super Bowl viewing party at the Trump International Golf Club in West Palm Beach, Florida on Sunday night—complete with a private performance by college cheerleaders.
According to the Sun Sentinel, the Florida Atlantic University marching band was present to perform "Hail to the Chief," "Boogie Wonderland" and "Shut Up and Dance."
Trump thanked the cheerleaders and band after the performance. "Fantastic," he said. "So great, thank you so much. That was so great, great job, great talent, enjoy the game."
According to the White House pool report, Trump son-in-law Jared Kushner, son Barron, daughter Tiffany and social media director Dan Scavino also attended the lavish party.
During the performances, someone in the crowd shouted at the president and asked whether he was supporting the New England Patriots or the Philadelphia Eagles, according to the Sun Sentinel. Trump responded, "I better not get involved."
Before the game started, Trump honored U.S. service members, expressing appreciation for their sacrifices.
"Though many of our nation's service members are unable to be home with family and friends to enjoy this evening's American tradition, they are always in our thoughts and prayers," Trump said.
"We owe these heroes the greatest respect for defending our liberty and our American way of life. Their sacrifice is stitched into each star and every stripe of our Star-Spangled Banner. We hold them in our hearts and thank them for our freedom as we proudly stand for the national anthem," he added.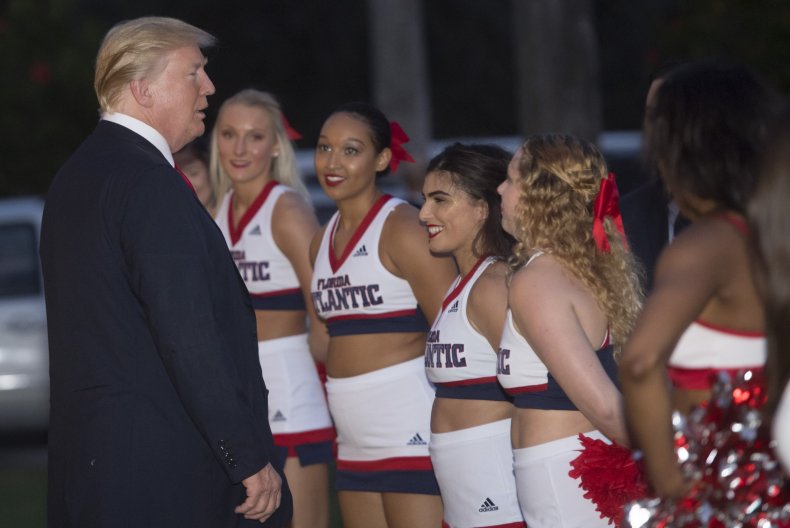 After the ceremony, Trump and his entourage went inside to watch the Super Bowl but reportedly left halfway through the third quarter to make the short journey to Palm Beach International Airport, where they boarded Air Force One to return to the White House.
Trump and the New England Patriots quarterback Tom Brady have been good friends for over 15 years. The Philadelphia Eagles' 41-33 defeat wasn't just a win for their supporters; many on Twitter have pointed out that the loss must have been a slap in the face for the president.
"Donald Trump can go ahead and skip that congratulatory tweet he was going to send his good friends Belichick, Brady and Kraft," one user tweeted.
After the game, Trump posted a short congratulatory tweet to honor the Eagles. "Congratulations to the Philadelphia Eagles on a great Super Bowl victory," he wrote.