Donald Trump Watches Hours of Television on Milestone Days in Mueller Investigation as Multiple Legal Enquiries Begin to Bite
President Donald Trump reportedly watches hours of television on days when developments break on the various investigations which seek the truth amid suspicion of widespread corruption and misdealing in his business, personal and political life.
Trump is "said to watch hours of television coverage on milestone days in the investigations," the Associated Press reported on Sunday.
Those hours spent watching TV, along with his frequent tweets about the investigations being politically motivated "witch hunts," suggest he is consumed by the scrutiny.
"It saps your energy, diverts your attention and you simply can't lead because your opponents are up in arms against you," Cal Jillson, a Southern Methodist University political scientist and historian, told AP. "It weakens your friends and emboldens your enemies."
Trump faces investigations within his administration, campaign, transition, inauguration, business and charity.
Perhaps the most notable is special counsel Robert Mueller's probe into Russian interference in the 2016 presidential election and possible collusion with the Trump campaign. "Individual 1" in Trump's former lawyer Michael Cohen's guilty plea was said to have gotten updates from Cohen as he worked on a Trump Tower project in Moscow until about a month before Trump secured the Republican nomination.
Trump is entagled in multiple other investigations and lawsuits besides the ones with federal prosecutors.
Congressional Democrats and Democratic attorneys general in Washington, D.C., and Maryland are challenging Trump Organization transactions with foreign and state governments amid allegations that he took payments from them without consent from Congress.
Trump also faces a lawsuit from Summer Zervos, a former contestant on his show The Apprentice, alleging defamation for accusing her of lying. Officials in New York are probing whether Trump or his charitable foundation misrepresented their tax liability. In another suit, New York authorities allege that Trump tapped into his charitable foundation illegally to settle his legal disputes.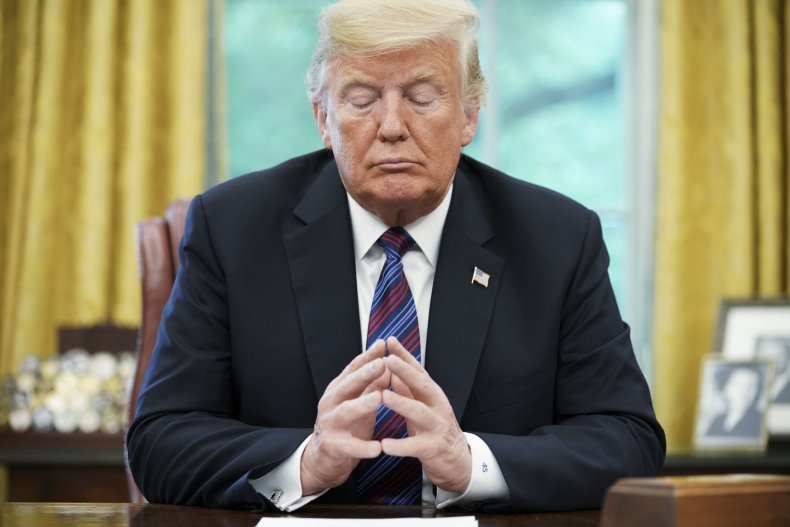 The report that Trump spends hours watching television when milestones on the investigations emerge comes after a New York Times report last year that he spends at least four hours and as many as eight hours per day in front of the TV.
Trump reportedly begins his day by turning on CNN around 5:30 a.m., then moves on to his favorite Fox News show Fox & Friends, and on some occasions switches to MSNBC's Morning Joe because it works him up.
He denied the suggestion. "I don't get to watch much television primarily because of documents. I'm reading documents. A lot," the president said at the time. "I actually read much more—I read you people much more than I watch television."