Donald Trump Was 'Weak' and 'Humiliated' at Press Conference, MSNBC's 'Morning Joe' Host Says
Joe Scarborough—co-host of MSNBC's Morning Joe—said on Thursday that President Donald Trump's confrontational press conference the day prior made the commander-in-chief look weak.
"Donald Trump was freaked out yesterday," the former Republican congressman turned TV host said on Morning Joe. "Everybody could see how freaked out he was. And it was—you know it was embarrassing, actually watching him fire Jeff Sessions.... It was embarrassing."
Scarborough added:
"There was a reason why he did it the day after he got trounced. The day after Republicans had their worst electoral beating since Watergate. Donald Trump was humiliated. He was weak. He was battered. He was confused—you could see him up there—he was just baffled. He didn't know what to do. He was just freakin' out. It was just like a little kid in a sandbox, trying to kick sand on other people when he was the weakest person there."
The press conference on Wednesday produced a number of confrontational, off-the-rails moments, including an exchange between the president and CNN reporter Jim Acosta. The reporter declined to give up a microphone as he asked a question about the president's characterization of a migrant caravan. Trump responded by insulting Acosta.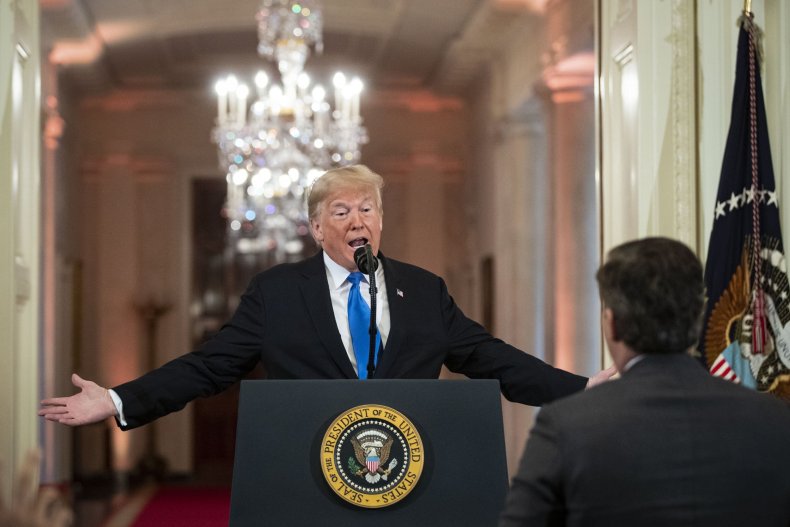 "I think you should let me run the country and let you run CNN," Trump said. "CNN should be ashamed for itself having you work for them. You are a rude, terrible person."
Trump also told an African-American reporter she had asked "a racist question," when she questioned the president about some folks reading his embrace of the "nationalist" label as supporting white nationalism.
The White House has since revoked Acosta's press credentials. The White House has claimed Acosta put his hands on a staffer trying to take the microphone from him, but video evidence does not support that claim. Press Secretary Sarah Huckabee Sanders did, however, share an apparently doctored video—​also disseminated by conspiracy site Infowars—that made it look like Acosta chopped at the arm of the staffer.