Donald Trump Turns Up in Another Wedding Picture
Former President Donald Trump has turned up at another wedding ceremony and was pictured with the suspected bride in an image that has begun to circulate on social media.
Donald Trump has faced mockery and praise for often being pictures and recorded at weddings that are held at his Mar-a-Lago estate in Florida.
Some critics have argued Trump is desperate for attention by appearing at the ceremonies, while others have defended his actions and insisted that if a couple were to hold their wedding at the venue they would likely be fans of the former President.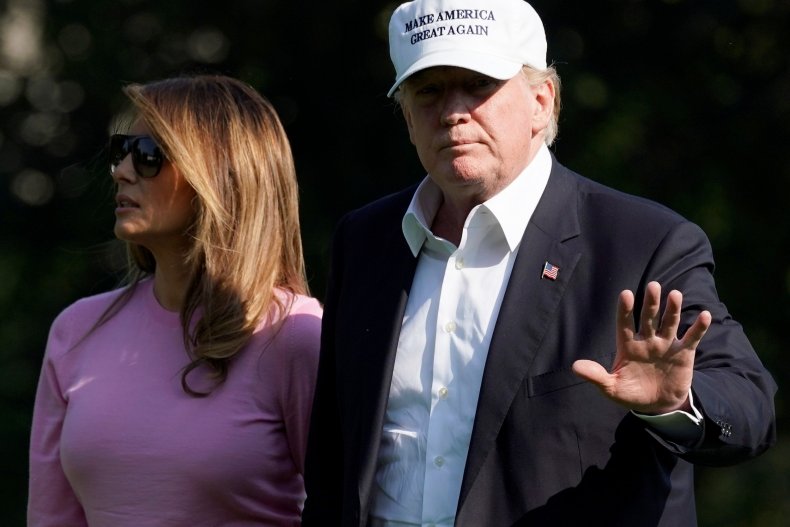 Political commentator Ron Filipkowski joked that Trump was "everywhere" as he shared the latest image of Trump at a wedding ceremony on Thursday.
In the picture, Trump and a woman who social media users suspected was the bride smiled as the picture was taken.
In the photo, Trump gives a thumbs up while also wearing his Make America Great Again red hat as well as a polo shirt with the words 'President Donald Trump' written on it.
Some social media users remarked the wedding was likely held at Mar-a-Lago, as Trump has previously made appearances at the venue. In the post, Filipkowski did not note when or where the photo was taken, however.
Last month a video of Trump allegedly "crashing" a wedding went viral on social media.
Filipkowski captioned the clip, which has been viewed more than 450,000 times, "The wedding crasher strikes again."
In this footage, Trump is seen with a mic speaking to a crowd while holding the bride's hand.
He goes on to congratulate the couple while also praising them for holding the wedding at Mar-a-Lago.
Trump then went on to ask the guests whether they had seen a more beautiful bride which resulted in cheers and laughter.
From the footage, it is not clear whether the former President was invited to the wedding or made an appearance as he was just at the resort at the time.
Trump has also been known to make appearances at weddings at his Trump National Golf Course in New Jersey.
A now discontinued brochure of the New Jersey club suggested that Trump may make appearances at celebrations if weddings are held at the property.
"If he is on-site for your big day, he will likely stop in & congratulate the happy couple. He may take some photos with you but we ask you and your guests to be respectful of his time & privacy," the brochure read.
Newsweek has contacted Donald Trump's Office via email for comment.