Video of Donald Trump 'Crashing' Another Wedding Goes Viral
A video of former President Donald Trump allegedly crashing a wedding at his Mar-a-Lago resort in Florida has gone viral.
The clip was posted on Sunday night by commentator Ron Filipkowski and has so far been viewed more than 150,000 times.
He captioned the clip: "The Wedding Crasher strikes again," seemingly in reference to the multiple videos that have circulated on social media showing Trump at people's weddings at Mar-a-Lago.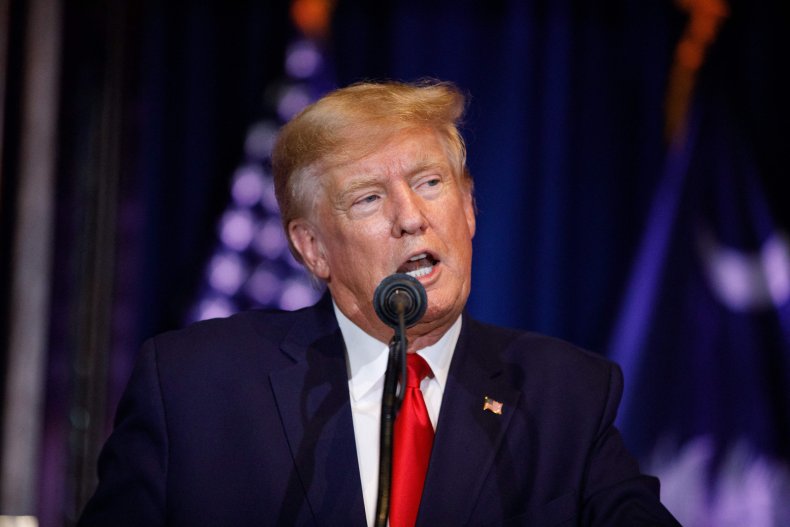 In the footage, Trump is seen speaking to the crowd while holding the hand of the bride. He congratulates the bride and groom while also thanking them for holding their wedding at Mar-a-Lago.
Trump goes on to praise the bride and asks the guests whether they had seen a more beautiful bride, much to the delight of the crowd.
It is not clear when the wedding occurred, or whether Trump was actually invited to the wedding or was just at the resort at the time and came to the celebration.
Filipkowski, who describes himself as a former Republican, has previously mocked Trump for his appearance at weddings following a clip that went viral earlier in the month.
On February 12 he shared another clip of Trump speaking to a bride at a wedding.
He captioned the video: "The DJ has arrived. You get to hear about rigged elections, World War III, and how everything is going to hell, in between a loop of 12 late-70s disco hits in the most romantic wedding ever."
In the older clip, Trump is seen briefly stopping to speak with the bride before walking off with an aide. The person recording also remarks how excited they are about Trump's appearance.
As Trump walks away, the bride and the woman standing next to her can also be seen smiling as they watch the former president leave.
Although some social media users have ridiculed Trump for his wedding appearances, others have noted that if weddings are held at Mar-a-Lago the newlyweds are likely fans of the former president and may welcome him "crashing" their event, or have invited him to do so.
Trump has also been known to make appearances at weddings held at his Trump National Golf Course in New Jersey.
A brochure of the New Jersey club, which has now been discontinued, suggested that Trump could make an appearance if a couple held their wedding at the property.
"If he is on-site for your big day, he will likely stop in & congratulate the happy couple. He may take some photos with you but we ask you and your guests to be respectful of his time & privacy," the brochure read.
Newsweek has contacted Donald Trump's office for comment.